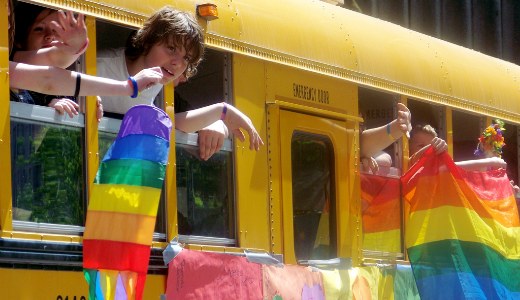 A bill to make sure the historical contributions of lesbian, gay, bisexual and transgendered people are accurately portrayed in public school teaching materials is wending its way through the California legislature.
The Fair, Accurate, Inclusive and Respectful Education Act, Senate Bill 48, written by state Senator Mark Leno, D-San Francisco, passed the Democrat-led state Senate on a party-line vote in mid-April, just before the legislature's spring recess. When the legislature returns next week, the bill will be heard in Assembly Committees.
Leno's bill would add the LGBT community to the underrepresented cultural and ethnic groups already listed in the state's inclusionary education requirements. It would also add sexual orientation and gender identity to existing bans on bias in school activities, instruction, and instructional materials.
Predictably, a number of religious and conservative organizations, including the California Catholic Conference and the California Family Council, oppose the bill and are encouraging their members to lobby against it.
If the Assembly passes the FAIR Education Act and Governor Jerry Brown signs it into law, California will become the first state to require teaching gay history in public schools.
"Most textbooks don't include any information about LGBT historical figures or the LGBT civil rights movement, which has great significance to both California and U.S. history," Leno said. "We can't tell our youth that it's OK to be yourself and expect them to treat their peers with dignity and respect while we deny them accurate information about the historical contributions of Americans who happened to be LGBT."
The bill is co-sponsored by Equality California and the Gay-Straight Alliance Network.
"We're thrilled the Senate approved SB 48, recognizing that inclusion of LGBT Americans in instructional materials will teach all students to respect each other's differences, reduce bullying and increase safety for all students," Carolyn Laub, executive director of the Gay-Straight Alliance Network, said in a statement.
Jim Carroll, interim executive director of Equality California, said the measure "will ensure all students understand the diversity of our state and its history, and it will foster greater awareness, respect and safer schools for all students."
Isaiah Baiseri, a senior at Glendora High School in Glendora, Calif., told a Senate committee he struggled with his identify for years. "In school, I never learned that people like me had achieved great things like leading a civil rights movement," he said. "Instead, I only learned stereotypes." He thanked the Senate for passing the bill, "so someday other students like me can learn our history."