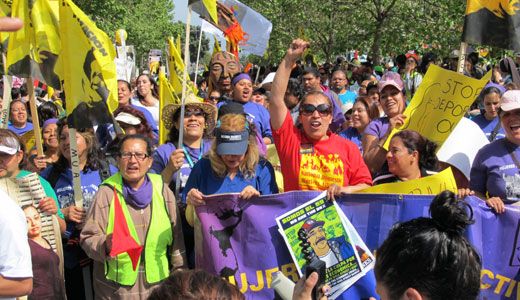 OAKLAND, Calif. – As immigrant rights advocates marched in over 180 locations around the country Oct. 5, demanding that Congress take up comprehensive immigration reform, Gov. Jerry Brown, D.-Calif., announced he had signed eight bills giving new protections and rights to the state's undocumented immigrants.
"While Washington waffles on immigration, California's forging ahead," Brown said in announcing the signings. "I'm not waiting."
The most sweeping measure, Assembly Bill 4, the Trust Act, by assembly member Tom Ammiano, D-San Francisco, provides that only undocumented immigrants charged with or convicted of a serious crime could be placed on a 48-hour hold and transferred to federal immigration authorities for possible deportation.
Ammiano noted that nearly 100,000 immigrants, most of whom were not serious offenders, had been deported under the federal Secure Communities program, intended for deportation of dangerous criminals.
"With the Trust Act," Ammiano said, "Gov. Brown is recognizing the importance of immigrants to the economy, culture, and vitality of the entire state."
An earlier version was vetoed by Brown last year, to the great dismay of immigrant rights advocates. He pledged then to work with the legislature to craft a law he could sign in the future.
In several California locations, including Los Angeles, San Francisco and Santa Clara Counties, law enforcement officials already follow such practices. Late last year, the Obama administration said it would no longer seek to deport undocumented immigrants arrested for minor crimes.
During its travels from the state Assembly to the governor's desk, the Trust Act received much local and national attention. A letter signed by 28 California Democratic lawmakers, including U.S. House of Representatives Minority Leader Nancy Pelosi, called on Brown to sign the bill, while demonstrators' actions included a sit-in at Brown's office in September.
Under Senate Bill 666, introduced by state Senate President Pro Tem Darrell Steinberg, D-Sacramento, employers who retaliate against workers on the basis of citizenship and immigration status could lose their business licenses and be liable for a fine of as much as $10,000 per violation.
AB 1024, by Assemblymember Lorena Gonzalez, D-San Diego, allows undocumented attorneys to practice law. The bill was inspired by the case of Sergio Garcia, brought to California when he was 17 months old by his farmworker parents, and later earned a law degree and passed the bar exam, but could not obtain a license to practice law in the state.
At 36, Garcia is too old to qualify for President Obama's deferred action program for young people brought to the U.S. as children. He applied for a green card in 1994 and was approved, but remains stuck in a huge backlog of Mexican applicants.
Other measures limit the kinds of individuals and organizations that can charge a fee for helping people file an application under the federal deferred action program, and impose restrictions on people offering services related to comprehensive immigration reform.
Earlier this month, the governor signed a bill allowing undocumented people to obtain drivers' licenses. Ten other states have similar measures. Though California's license will carry a special designation – a condition that has concerned many immigrant rights advocates – AB 60 by Assemblymember Luis Alejo, D-Watsonville, bars discrimination based on the license and states that it can't be a basis to arrest someone for being undocumented.
It is estimated that 1.4 million people – or about half the state's estimated undocumented residents – might seek drivers' licenses over a three-year period.
Two years ago, Brown signed legislation allowing undocumented students to receive state scholarship funds.
Immigrant rights advocates cheered the legislative advances, while urging further progress.
"As one of the leading forces who fought to pass the Trust Act, we could not be prouder of this victory. As the Washington Post put it, the signing 'put California at the vanguard of change. But this is just the beginning," the Asian Law Caucus said on its Facebook page.
Neidi Dominguez of the California Immigrant Youth Justice Alliance said of the Trust Act, "Today we took a step in creating just the floor, not the ceiling, to continue to protect our families from deportation…This is our victory and we are prepared to do much more."
Photo: Marilyn Bechtel/PW