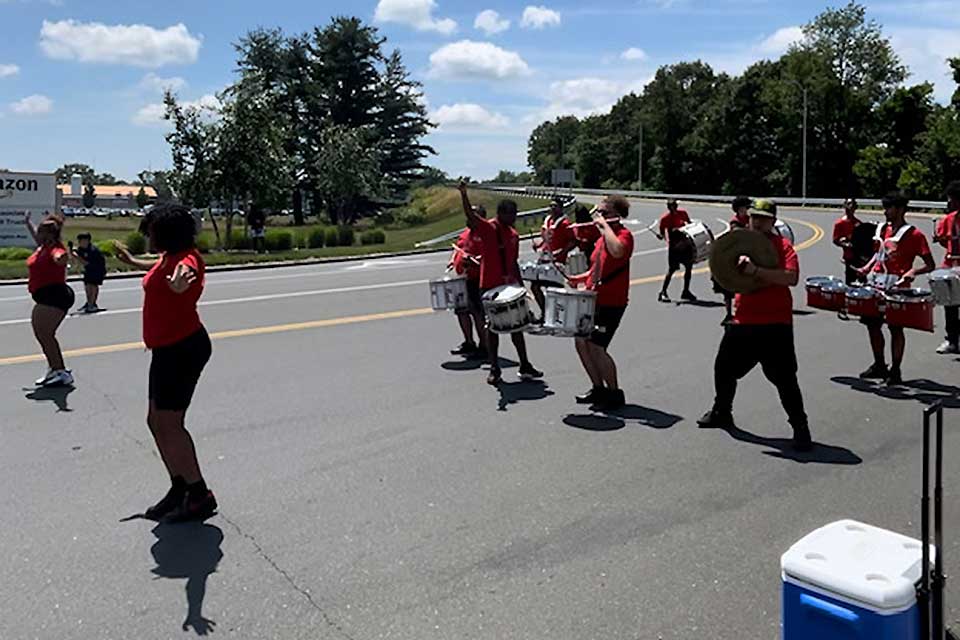 NORTH HAVEN, CONN. — Connecticut union members and community supporters came out strong in solidarity with striking Amazon delivery drivers and dispatchers from Palmdale, California as the Teamsters extended their picket line to this state on July 7.
Members of the Teamsters Union from Boston, Rhode Island, New York, and New Jersey were among those who converged at the warehouse in the midst of a heat wave, holding signs supporting the demand for a $30-an-hour wage.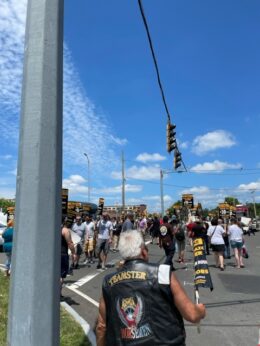 Walking the picket line, Mark, a retired Teamster, said Amazon has hurt small businesses and is responsible for many workers losing their jobs.  "Bezos has the money to go to space.  They should be able to pay reasonable wages."
Also showing up in support of the Amazon drivers were members of the Magisoul Drumline from Hartford who performed at the picket line outside the Amazon plant. The members, all high school students, said that they were there to show solidarity with the picketing workers.
"We don't work here," one of them said, "but we have worked at Walmart and other places and the working conditions are all the same. They ask you for an arm and leg but don't give anything in return."
The Palmdale strikers are demanding the e-commerce giant stop its unfair labor practices. In a press release the Teamsters pledged that "the growing strike will continue until Amazon reinstates the unlawfully terminated Palmdale employees, recognizes the Teamsters, respects the contract negotiated by the workers, and bargains with the Teamsters Union to address low pay and dangerous working conditions."
"I've been bitten by a dog and felt close to fainting in the back of Amazon's sweltering vans, but Amazon only cares about whether the packages get delivered," said Cecilia Porter, a striking Amazon driver from California who traveled to Connecticut for the picket line. "Our safety is not Amazon's priority, so we are protecting ourselves by organizing a union. We are going to continue our unfair labor practice strike until Amazon respects our rights."
Asked why she came to Connecticut, Porter told the People's World, "We're extending our picket line to every Amazon. Wherever they are we'll be there."
Amazon drivers and dispatchers began their unfair labor practice strike at an Amazon delivery station in Palmdale on June 24. The North Haven facility was the sixth Amazon warehouse Palmdale Teamsters picketed, before going on to  Norwood, Massachusetts.  Before coming to Connecticut they picketed an Amazon sortation center in New Jersey and several warehouses in California.
In a release in support of the Palmdale strikers, Victor Mineros, Secretary-Treasurer of Teamsters Local 396 in Los Angeles said, "These Amazon workers organized a union for fair pay and safe jobs, but Amazon illegally refused to recognize their union or bargain with them."
"The support from communities around these warehouses and other workers in this industry has been tremendous, said Mineros. We are going to hold this corporate criminal accountable for how it treats the workers who wear its uniforms and deliver its packages."
The Teamsters union is also taking on the giant UPS corporation, with a looming strike at the end of the month.  A UPS driver from the Bronx, NY, was among those who picketed the North Haven Amazon warehouse the day after UPS walked out of negotiations with the Teamsters.  "We are ready to go out if we have to," he said. "This could be the biggest strike in US history," referring to the July 30 contract negotiations deadline between the Teamsters and UPS.
The 84 workers in Palmdale joined Teamsters Local 396 and bargained a contract with Amazon's Delivery Service Partner (DSP), Battle-Tested Strategies (BTS), in April. Despite the absolute control it wields over BTS and workers' terms and conditions of employment, Amazon has refused to recognize and honor the union contract. Instead, Amazon has engaged in dozens of unfair labor practices in violation of federal labor law, including terminating the entire unit of newly organized workers.
Amazon drivers in Palmdale organized with the Teamsters to protect their safety in extreme temperatures, which regularly exceed 100 degrees Fahrenheit during Palmdale summers. Their Teamster contract guarantees the rights of workers to drive safe equipment and refuse unsafe deliveries. Making the contract's protections a reality will require an overhaul of Amazon's exploitative labor practices.