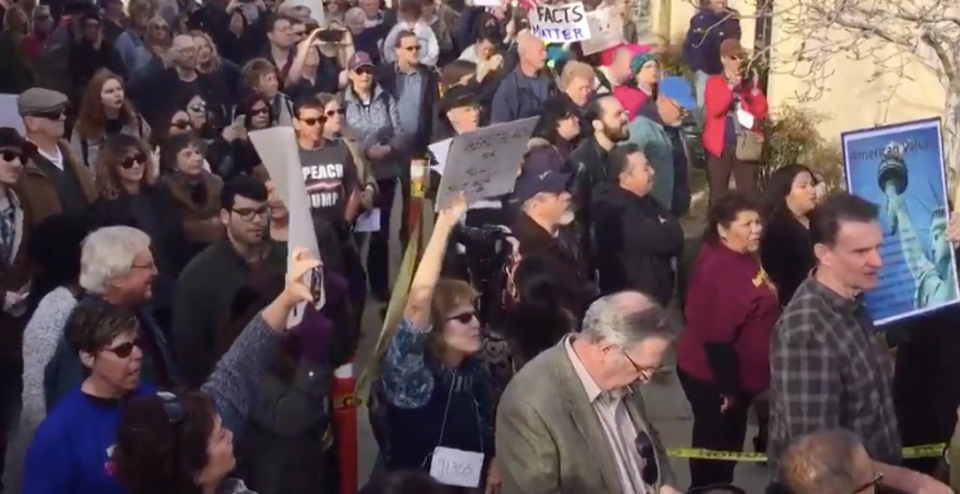 It started as a challenge by a handful of activists who were demanding an accounting on ACA, and the handful turned into more than 500 residents of the 25th Congressional District demanding answers of Rep. Steve Knight for his Republican Party leader's Executive Orders and legislative policies.
The challenge then took the form of demands for a "town hall." After numerous protests, Congressman Knight agreed to do so. Or, did he?
The "town hall" he scheduled was set for Saturday, March 4th, from 8:30 A.M. to 9:30 A.M. at the Chimbole Community Center in Palmdale, some 40 miles from Santa Clarita, the center most city of the District, and some 55 miles from Simi Valley, the far west end of the District. Doors opened at 7:30 and I.D. was necessary to prove you live in the District. Seating was first-come, first-served. No signs or placards allowed, and no clapping.
This is a town hall?? For the entire district, on a Saturday morning, at the easternmost city? And you want working people to get up at 6:30 in the morning to maybe or maybe not get a seat in a hall that seats 250?
Congressman Knight showed the voters no respect in conducting a town hall in this venue at this time on that day. Whether he understood that or not, someone on his staff should have recognized that. The district deserves more than this, Congressman.
Of course, the people of Palmdale deserve to hear your thoughts on issues, including voting rights, jobs, immigration, and health care. And that can't be accomplished in one hour at that time of the day for so limited a population. Or is it the case, Congressman, that you do not intend to review the concerns of Antelope Valley any more than you intend to address the concerns of Santa Clarita and Simi Valley?
This "town hall" was not really a town hall, as originally conceived, i.e. a place where leaders present their views on a variety of issues facing the people of that constituency. The time, date, and location of your town hall was a calculated means of dismissing the changing political climate – one in which voters are beginning to see the logical consequences of your views and those of your party's leaders. You have chosen to emulate not only their views but their behavior while further alienating yourself from the very people you're supposed to be representing.
— Jim Soliz