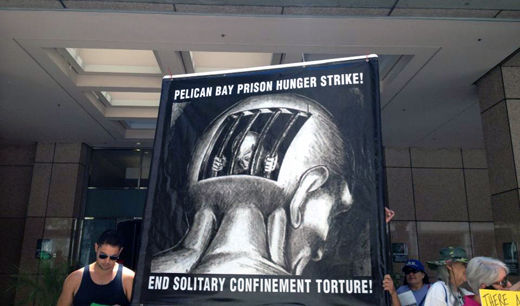 California's prisons are making news this week on two counts: thousands of inmates July 8 renewed a hunger strike begun in 2011 to protest prison practices they say amount to torture, and it was revealed that between 2006 and 2010, nearly 150 women inmates were sterilized without required state approvals.
Inmate leaders at Pelican Bay State Prison's Secure Housing Unit (SHU) launched the renewed action just days after the two-year anniversary of a three-week hunger strike in 2011 over inhumane conditions including keeping inmates in isolation indefinitely.
Over 4,500 inmates are held in "segregation" cells at four state prisons, including 1,180 at Pelican Bay.
Some inmates have been in solitary confinement for over 20 years over allegations they are affiliated with a prison gang.
Prison officials said some 30,000 inmates at 22 of the state's 33 prisons, and four out-of-state lock-ups, refused meals on Monday.
A committee of Pelican Bay SHU inmates had warned of a new strike because, they said, state corrections officials had failed to meet five core demands: an end to group punishments for individual rules violations, modification of gang status criteria and an end to "debriefings" requiring inmates to make allegations about other inmates, ending long-term isolation, providing adequate food, and more constructive programs and privileges for indefinite SHU inmates.
The committee of four Pelican Bay SHU inmates said the new action would be "a combined hunger strike and work stoppage," to continue indefinitely until the core demands are fully met.
"We have kept our word, while patiently waiting for the CDCR to keep theirs. However, at this point, it is clear to us that the CDCR has no intention of implementing the substantive policy changes that were agreed to 15 or 16 months ago," Todd Ashker and three other inmates wrote in a late June statement. At the same time, they pledged to keep lines of communication open with the governor and CDCR administrators up to their July 8 deadline, and afterwards during the renewed strike.
The original three-week hunger strike in July 2011 spread to 13 other state prisons and involved some 6,600 male and female inmates. Prisoners renewed the strike two months later, again ending it after three weeks when California Department of Corrections and Rehabilitation (CDCR) said they would start talks over the inmates' demands.
A federal class action lawsuit filed in May 2012 by the Center for Constitutional Rights charges that prolonged solitary confinement violates Eighth Amendment bans against cruel and unusual punishment, and the absence of meaningful review for SHU placement violates prisoners' right to due process. The suit is still pending.
Meanwhile, the Center for Investigative Reporting's money and politics reporter Corey Johnson revealed in a July 7 article that between 2006 and 2010, physicians under contract to CDCR sterilized nearly 150 female inmates at two California prisons without getting required state approvals.
The surgery was performed at the California Institution for Women at Corona, or at Valley State Prison for Women in Chowchilla, while the women were pregnant.
Former inmates and inmate advocates said prison medical staff pressured the women to agree to the procedure. One former Valley State inmate, imprisoned for two years for auto theft, said the prison's obstetrician-gynecologist urged her to have a tubal ligation. Now back at home, she says that though she agreed at the time, she wishes she had "never had it done."
The CIR report noted that the recent incidents were reminiscent of the compulsory sterilizations of some 20,000 California women and men as part of a "eugenics" movement that between 1909 and 1964 targeted minorities, the poor, disabled, mentally ill, and criminals in 32 states.
Photo: Rossana Cambron/PW