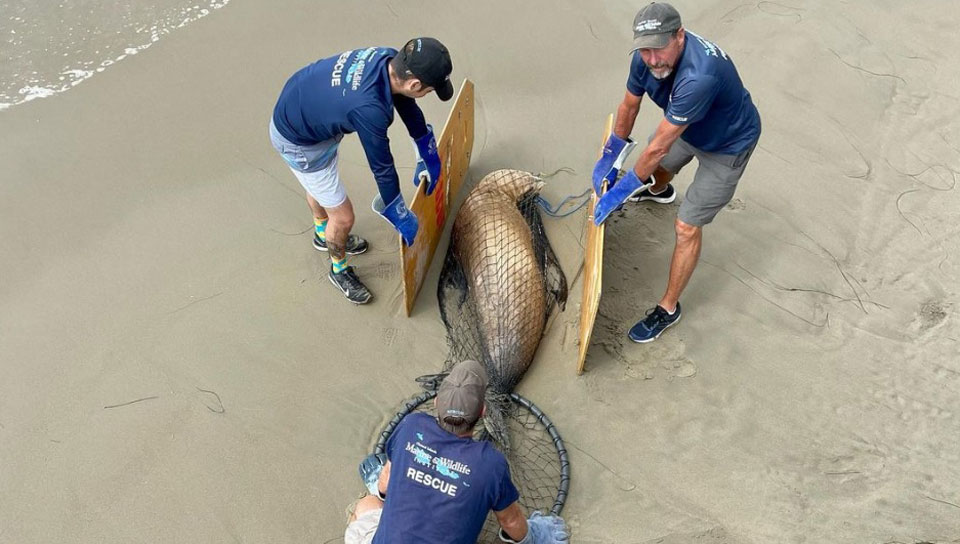 More than 60 California sea lions have washed up disoriented on the beaches of Southern California since mid-August.
The reason? A bloom of the toxic algae Pseudo-nitzschia, which can cause the marine mammals to sicken and, in some cases, die, the National Oceanic and Atmospheric Administration (NOAA) explained.
"We are now managing about 100 calls a day," the Channel Islands Marine & Wildlife Institute (CIMWI) wrote on Instagram August 26. CIMWI works to rescue stranded marine mammals in California's Ventura and Santa Barbara counties.
The organization first announced the poisonings in an Instagram post from August 21 and said that they had begun to receive an increase in calls about sick sea lions on August 15. CIMWI determined that the poisonings were caused by dominic acid (DA), a neurotoxin produced by the algae Pseudo-nitzschia that is also known as "red tide."
DA makes it from the algae to the sea lions and other larger marine predators including birds when the larger animals eat fish like anchovies, sardines, and squid, NOAA explained. The toxin can cause brain damage, seizures, and occasionally death. Sickened sea lions will exhibit strange behaviors like bobbing their heads, foaming at the mouth, and swaying from side to side.
As of August 30, CIMWI said on Instagram that it had encountered 101 sea lions and one fur seal that had likely been poisoned by DA.
"It truly is a crisis in Ventura and Santa Barbara counties for these sentinel species and for CIMWI," the organization wrote.
At least one sea lion died after it was discovered seizing on a beach near Ventura Pier, according to NOAA. However, the symptoms of the toxin will usually abate in around 72 hours as the sea lions expel it from their systems via urine, CIMWI said.
"Our extremely dedicated, skilled, and caring team of volunteers is working from sunrise to sunset responding to all of the sea lions and evaluating each animal individually," CIMWI Managing Director Ruth Dover told NOAA. "Some animals are put under observation in a safety perimeter with educational signs and we monitor their symptoms. Some animals are rescued based on their condition. We are sending team members to these animals as quickly as possible and we appreciate your patience."
In addition to responding to the immediate crisis, scientists want to understand why this particular outbreak was so extreme and how the climate crisis will impact future "red tides," The Guardian reported.
While blooms of the DA-producing algae are a regular occurrence in Southern California, the timing of this one is unusual, Southern California Coastal Ocean Observing System director Clarissa Anderson told The Guardian.
"We expect that more to peak in April or May," she said.
It's also possible that the release of DA may become more common as ocean temperatures increase.
"We have evidence that these cells do well when the water is warm, and we have evidence they do well in nutrient-depleted environments that are followed by rapid nutrient inputs," NOAA scientist Vera Trainer told The Guardian. "And that's likely to happen more and more as the climate changes."
That said, Anderson noted that Pseudo-nitzschia actually prefers colder waters and that temperature was only one of many factors that made a bloom more or less likely. Whatever the cause, though, the blooms are a growing problem.
"Over the last 20 years, they have become more prevalent and more toxic," Anderson said.
This article was reposted from EcoWatch.