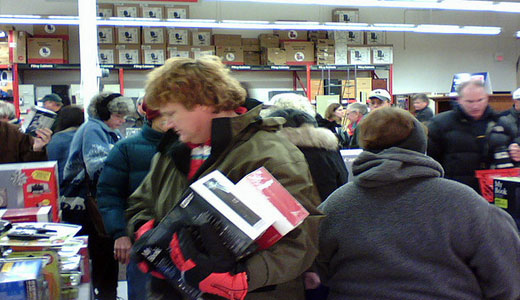 RIVERSIDE, Calif. – Warehouse workers vowed to walk off the job this week if retaliation at a Walmart-contracted warehouse does not end. They plan to hold a rally and picket line Thursday morning in Mira Loma, California.
"I was fired for trying to make the warehouse where I worked safer," said David Garcia, a warehouse worker. "It's been tough. My kids need food, school supplies and an apartment to sleep at night, but right now it is difficult to provide them these basic things."
Since workers went on strike to protest unfair labor practices and marched 50-miles from Southern California's Inland Empire to Downtown Los Angeles to win safe jobs this September, working conditions have started to improve, but workers have experienced continued retaliation including terminations, demotions and a drastic reduction in hours.
"Because workers have spoken out about inhumane working conditions, the warehouse company is now scrambling to rent fans, add water coolers and fix broken equipment," said Guadalupe Palma, a campaign director with Warehouse Workers United. "While it's good they have acknowledged workers' concerns about safety are legitimate, it does not excuse the fact that workers who bravely spoke out are being severely retaliated against."
Workers-who do not have a recognized union-are prepared to strike this week to calling for an end to retaliation and unfair labor practices. Workers load and unload goods at a warehouse operated by NFI industries in Mira Loma, California.
Within the last week, NFI has been frantically installing new ramps, a heavy metal panel that connects shipping containers to the warehouse for loading and unloading, water coolers, fans and fixing other equipment. In September Walmart spokesman Dan Fogelman told news outlets: "Based on our conversation with our providers and visits to many of the facilities, we believe the complaints are either unfounded or, if legitimate, have been addressed."
"Clearly Walmart's statement that workers' claims were false was actually false," said Guadalupe Palma, a director of Warehouse Workers United, an organization committed to improving warehousing jobs in Southern California's Inland Empire. "Walmart must intervene to uphold its own stated "Standards for Suppliers" and involve workers in order to eliminate inhumane and illegal working conditions."
Workers are employed by NFI and a temporary labor agency, Warestaff. One hundred percent of the merchandise that flows through the facility is destined for Walmart stores. As the largest retailer in the world, Walmart dictates the standards of operation in the logistics and distribution industry.
More than 85,000 workers labor in warehouses in Southern California, unloading merchandise from shipping containers that enter through the ports of Los Angeles and Long Beach and loading it onto trucks destined for retail stores like Walmart. The National Labor Relations Board is currently investigating numerous federal charges filed by the warehouse workers.
This article was reposted from the official website of Warehouse Workers United.
Photo: Walmart made enormous amounts of business during Black Friday 2011. Workers could make a lot less money this year due to the company's greed. Flickr