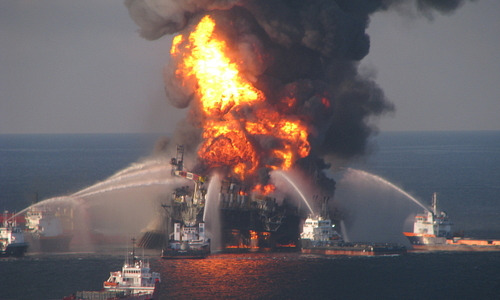 In a dramatic turnaround from a year ago, Californians' opposition to offshore oil drilling has soared in the aftermath of the BP Deepwater Horizon oil spill in the Gulf of Mexico, a new poll by the Public Policy Institute of California shows.
The survey also found that two-thirds continue to support the state's 2006 pace-setting climate change law, AB 32, and by 2 to 1 believe it will create more, not less, jobs.
The law mandates a reduction in greenhouse gas emissions by about 25 percent, reaching 1990 levels by 2020.
The findings present a challenge for the state's Republican candidates as well as an opportunity for the Democratic contenders, and will likely be a factor in the November midterm elections.
U.S. Senate Democratic incumbent Barbara Boxer is a strong environmental and green job proponent opposed to offshore oil drilling. On the other hand, her Republican challenger Carly Fiorina has called for overturning the state's climate change law, saying it's a job-killer, and supports offshore oil drilling as a revenue source for the state.
At the same time, Republican gubernatorial candidate Meg Whitman, who also likes the idea of drilling as a revenue source, has suggested she would suspend the environmental law for a year and consider not reinstating it after that period because of its adverse effects on business.
Undoubtedly feeling the pinch from the Gulf spill disaster, Whitman recently suggested further study regarding the environmental effects of offshore drilling.
Both Republican candidates are billionaires and former hi-tech industry CEOs, Fiorina with Hewlett-Packard and Whitman with eBay.
Solid Republican opposition as well as wavering by a few conservative Democrats – pressed by lobbyists for the energy industry – dashed any hope for federal environmental legislation, however modest, before the August congressional recess.
The next opportunity for considering any legislation – not to mention meaningful legislation – depends on the outcome of the November elections.
Which major political party comes out on top in the congressional elections, and the extent to which it gains seats, will determine in large measure whether the new Congress considers environmentally sustainable legislation and, if so, its nature and scope.
California is one of a handful of battleground states with a contentious Senate race, as well as several competitive congressional contests, critical to the election outcome.
The poll shows a close race for the U.S. Senate seat and for governor among likely voters here. After pouring millions of their own money into their respective campaigns, Fiorina lags behind Boxer (39 to 34 percent) and Whitman trails Democratic rival Jerry Brown (37 to 34 percent), with many voters undecided (22 and 23 percent respectively).
The survey conducted July 6-20 reveals the overwhelming majority (79 percent) of California's likely voters consider candidates' views on the environment "at least somewhat important."
If current public opinion trends persist, ballot Proposition 23 could be in trouble. The oil industry-backed initiative aims to suspend the state's climate change law, AB 32, until unemployment drops to 5.5 percent or below for a year.
But while over three-quarters of poll respondents continue to favor AB 32, respondents appear to waver somewhat when it comes to jobs and the environment, a factor that may be in the calculations of Prop. 23's backers.
To be sure, by a nearly two-to-one margin Californians believe the state's activities to reduce global warming will result in more jobs. (Forty-five percent say more, 23 percent say fewer and 24 percent say the number of jobs wouldn't change).
At the same time, while 53 percent of Californians say the state government should act now to curb global warming, 42 percent favor action later when the economy and employment improves. Among likely voters, the number is equally split, 48 to 48 percent.
While California has been a groundbreaker in promoting environmentally sustainable measures and green jobs, its steps towards a sustainable economy are still modest when measured against the depth of the current economic crisis and the speed with which global warming is overtaking the planet, and the implications this has for the quality and the sustainability of human life.
The political climate in the nation's and the state's capitols lags behind the views expressed by the majority of Californians, the poll shows.
A whopping majority of Californians favor a federal and state government role to address global warming.
Overwhelming majorities favor increasing federal funding to develop wind, solar and hydrogen technology (83 percent) and requiring automakers to significantly improve fuel efficiency (83 percent).
Californians support government regulation of greenhouse gases including from power plants, cars and factories (76 percent), and increased use of renewable energy sources by utilities (85 percent).
In the wake of the Gulf disaster, 59 percent of Californians strongly oppose offshore drilling, a 16 percent increase from just over a year ago.
Mark Baldassare, the Public Policy Institute's president and CEO, noted, "After consistently opposing more offshore oil drilling, residents began to waver as gas prices increased. But events in the Gulf appear to have renewed opposition."
Meanwhile, the San Francisco Chronicle reported that the Bay Area-based energy giant Chevron Corp. "continues to hit on all cylinders," surging to second-quarter profits of $5.41 billion that were triple those of a year ago, according to investment firm analyst Brian Youngberg.
In part, the profit surge reflects a cut in 935 jobs in the San Francisco Bay Area and 570 positions in Houston.
Youngberg wrote the company will be able to "easily fund both an accelerated capital expenditure program and grow its dividend."
Chevron cited aggressive efforts to develop energy and increase production (of oil and gas, both greenhouse-generating fossil fuel sources) in an array of areas in the world, from Canada to Australia. No mention was made of an "accelerated capital expenditure program" in alternative environmentally sustainable energy sources.
"We believe the moratorium should be lifted," said George Kirkland, a Chevron vice chairman, referring to the president's suspension of drilling operations in the Gulf of Mexico. And, despite scientific estimates to the contrary, he added, "we believe that deep water drilling can be done safely and reliably."
The upcoming elections are a critical juncture influencing which way the nation and, given our country's role in the world, which way the globe will go – towards a more environmentally sustainable political and economic order or towards ever more menacing catastrophes, like the Deepwater Horizon disaster or worse.
Let's hope the powerfully progressive strands among a majority of Californians that this poll reveals will carry the day at the real polls on November 2.
Photo: Fireboat response crews battle the blazing remnants of BP's offshore oil rig Deepwater Horizon, April 21. (U.S. Coast Guard)