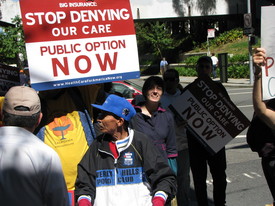 As a delegation prepared to enter the building to insist Wellpoint's CEO, Angela Braly, agree to their demands, rally participants' health care stories galvanized the crowd.
A 30-year-old woman, employed but unable to afford insurance except with help from her inlaws, was diagnosed with lupus, a chronic autoimmune disease. Now she cannot afford the treatments, and is trying to find a job with benefits. "In this economy?" she said. "Apparently Blue Cross' solution for sick people is, cross your fingers."
A psychiatric nurse employed at a major university medical center contracted hemolytic streptococcus from a homeless patient. The nurse was repeatedly sent home by a medical facility without tests or hospitalization. He died at age 44. "If he had antibiotics within the first few days, he wouldn't have died," his widow told the crowd. "We need single payer health care," she added. "We are dying without it."
Dr. Allison Mulcahy, a resident in emergency medicine at Highland Hospital, Oakland's public hospital, told of the man who has had two heart attacks in the last two years.
Dr. Allison Mulcahy
Dropped by Anthem Blue Cross when he lost his job after the first heart attack, the man was treated at Highland in January after the second attack. He has come to the hospital three times since, Dr. Mulcahy said, but each time has left against medical advice after receiving only emergency treatment "because he was terrified of the costs his family would incur if he stayed to get care."
On the fringes of the crowd, holding a sign: "UK single payer saved my baby," was a woman whose story took a happier turn. Juliet Mohit, standing beside the stroller in which sat her 20-month-old son, Milo, said she and her husband were living in London when she became ill early in her pregnancy.
Juliet Mohit and son, Milo
"Excellent care" including home visits during the pregnancy and after Milo was born were completely free.
On returning to California, however, Mohit's husband was initially denied insurance because he had once been treated for acne. Just as he was finally able to buy coverage, he was diagnosed with a sinus tumor. While the family is grateful not to have to pay the full $50,000 bill for his treatment, Mohit said, "now we have $9,000 in credit card debt."
Meanwhile, the delegation had returned, telling the crowd how they made their way to the executive office suite, only to have the door closed in their faces.
Wellpoint, described by rally organizers as the largest insurer in the country and in California, is a key opponent of meaningful health care reform including a strong public option. The firm has spent millions on federal lobbying, and earlier spent over $2 million to defeat proposed health care reform in California. Anthem Blue Cross of California, a Wellpoint subsidiary, reportedly has half the state's market for individual health insurance policies.
The rally was organized by Health Care for America Now, with participation of the California Labor Federation, SEIU, ACORN, MoveOn and Health Access California. Protests were also held in Sacramento, Los Angeles and other California cities.