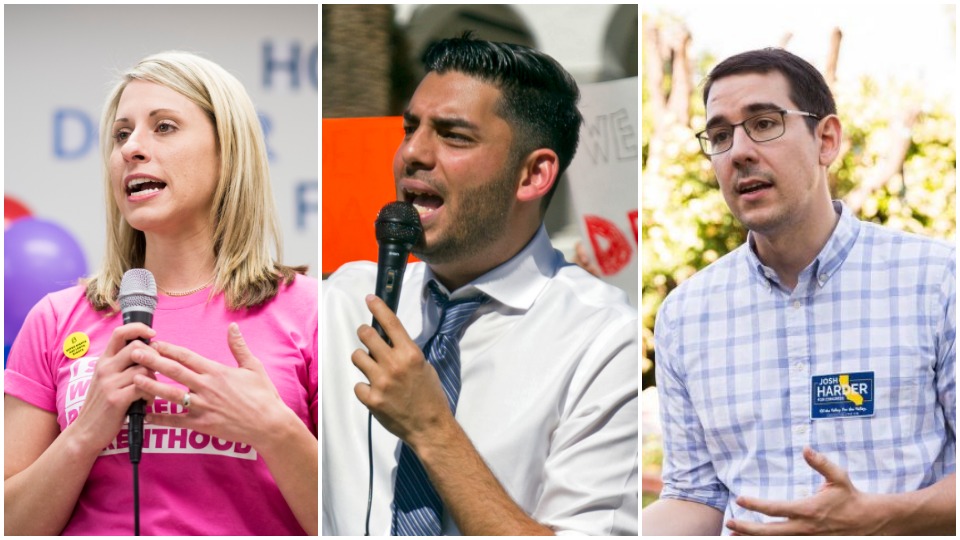 This is the first of a two-part article highlighting the major races of the November elections in the state of California. Here, the major state and federal campaigns are covered. In part two, the measures and bonds that will be on the ballot for voters' approval will be analyzed.
LOS ANGELES—As Americans all over the country are coming to understand, this year's November 6 midterm elections will affect our national future just about as much as any U.S. presidential election. Midterms traditionally see a far lower voter turnout than the quadrennial vote for president, as many do not consider the stakes to be anywhere near as high.
The (s)election of Donald J. Trump two years ago has altered voters' perceptions. It does matter who's in the Senate, and who's in the House of Representatives. It also matters who your governor is, and who will sit in the many other state, county, city, and town offices. On local matters, elected officials for education, police review boards, housing and prison commissions and the like can make significant differences in ordinary people's lives. It pays to be an informed voter.
On the federal level, the number of Democrats and Independents in the House of Representatives, as well as in the Senate, will determine the president's capability to pass legislation that he favors. A Democratic majority in either—or both—houses will serve as a powerful brake on the worst of Trump's divisive ideas, and may if the Senate is able to hold out long enough, kibosh his latest U.S. Supreme Court nomination.
Statewide races are predictable
The race for governor of California was contentious back in primary season, when Lieutenant Governor Gavin Newsom faced strong pushback from former Los Angeles Mayor Antonio Villaraigosa, both Democrats, who were potentially poised to snag the primary's top two positions.
But Villaraigosa came in third, behind Republican John Cox, a venture capitalist who has made unsuccessful runs for U.S. president and for Barack Obama's Senate seat in Illinois. He is a free market advocate for fewer regulations and lower taxes. In an overwhelmingly Democratic state (with its red pockets to be sure), Cox's chances of winning the election run from poor to nada.
Confident of a win in November, Newsom knows that his effectiveness in the state is conditional on the makeup of the federal government, and he's devoting time to bolster the campaigns of fellow Democrats trying to unseat Republican incumbents in the House. "It would not be much of a victory, from my perspective, winning the governor's race and continuing the status quo as it relates to Trump," he recently said.
California has a U.S. Senate race this year. Incumbent Sen. Dianne Feinstein, a Democrat, kept voters in the state guessing until almost the last minute as to whether or not she intended to run again or retire. Now 85, if elected again she would be 91 when her next term ends. Recent hearings concerning Judge Brett Kavanaugh showed Feinstein respectably firm of mind and speech as the oldest serving U.S. Senator.
Feinstein has her defenders among California Democrats, who argue that her long years of experience outweigh her cautious, centrist Democratic stances. But she did not receive the endorsement of the California Democratic Party, among whom significant numbers felt she should have made room for up-and-coming leaders. In the primary, she won the highest vote count, followed (at some distance) by State Sen. Kevin de León, who positions himself as more of a Trump "resister," calling for a more outspoken progressivism. They will face the voters on Nov. 6. Right now polling consistently shows the veteran Feinstein significantly ahead.
The race for state attorney general is dominated by incumbent Xavier Becerra, who resigned his seat in Congress to take his present job after Kamala Harris left the attorney general's office to become the junior U.S. senator from California. "My job is to do everything I can to defend California's families and values," Becerra says, and "these days, it also means protecting those values against attacks from wherever they may come, including Washington, D.C." He has sued the Trump administration more than 40 times on any number of issues, including healthcare, immigrant rights, and most recently the administration's negligence concerning sewage washing up from Tijuana to San Diego.
He faces Republican Steven C. Bailey, who opposes California being a sanctuary state and is running on a law and order platform emphasizing crime and drugs. Bailey was quoted as being concerned chiefly with three major issues: "public safety, public safety, and public safety." In a state known for its progressive policies, Becerra is expected to win this race handily.
Almost an eighth of the House
As the most populous state in the nation, California has 53 Congressional districts, by far the largest delegation, amounting to almost one-eighth of the House of Representatives. Reflecting the general "blueness" of the state, and also painting a picture of the more left-leaning coastal and urban counties, California currently has 39 Democrats in Congress and 14 Republicans. But half of those Republican seats are in districts that Hillary Clinton won in 2016. Democrats have focused on those seats as potential, if not likely, "red-to-blue" conversions.
President Barack Obama recently kicked off his nationwide endorsement tour for Democrats in California to lead the way in overturning GOP rule in the House. Almost a third of the 23 seats Democrats would need to win the House are in the Golden State. Incumbent Democrats are generally considered safe for re-election. During Obama's presidency, Democrats lost both the House and the Senate, and over a thousand seats in state legislatures, with extremely deleterious results—gerrymandering and voter suppression in many states, for example. He has been criticized for not having paid sufficient attention to his party leadership role. By placing himself visibly at the helm of the 2018 Democratic campaign, an uncharacteristic role for a former president, Obama may be trying to compensate for his earlier lapses.
The most hopeful campaigns in California to defeat Republicans in the House include the following:
UC Irvine law professor Katie Porter is vying to capture the Orange County seat of Rep. Mimi Walters in the 45th Congressional District. In early September, she pulled ahead in the polls with a three percent lead. There is also a range of others in a variety of districts across the state that are worth watching.
Katie Hill, 30, who served as executive director of PATH, the largest homeless services organization in the state, is trying to unseat Rep. Steve Knight with a no corporate money campaign. His 25th C.D. in northern Los Angeles County was the last stronghold of conservatism in the county, but demographic changes, with almost 40 percent of residents now Latino, and a rising African-American population as well, have given Democrats the edge in party registration by nearly 14,000 voters.
In lockstep with Donald Trump, Knight has called Social Security "a bad idea" and voted to repeal the Affordable Care Act. He won re-election in 2016 with 54 percent of the vote. This year he is considered a vulnerable candidate, the last Republican to represent L.A. County. A half-hour documentary about women running for Congress in 2018 features Katie Hill here. A feature in The New Yorker also attracted national attention to her campaign.
Ammar Campa-Najjar (he says "camp in a jar") seeks to overturn incumbent Duncan Hunter in the 50th C.D. The challenger, 29, is of mixed Mexican-Palestinian background and is a committed Christian churchgoer—"at least I don't have 'Hussein' in my name," he quips. He supports single-payer healthcare and legislation to combat climate change.
This district went for Trump over Clinton by some 15 percent, so this may be a problematic race. Duncan Hunter has been in Congress for a decade; he succeeded his father (with the same name), who occupied his seat for 28 years. The district sits in the northern and eastern reaches of San Diego County, among the most conservative areas of the state. Hunter won first place in the primary with 47 percent of the vote, compared to Campa-Najjar's second-place 17 percent.
However, on August 21 Hunter was indicted by federal prosecutors on 60 counts for diverting $250,000 in campaign funds to his and his wife's personal use—including $250 paid to United Airlines to fly a pet rabbit cross country for a family vacation. And thousands of that quarter of a million dollars have also gone toward vacations, dinners, and overnight stays in various resorts carousing with unnamed individuals in his circle of "personal relationships." The campaign tried to disguise personal expenses and purchases as charitable donations to veterans' groups. He blames his wife Margaret, who was in charge of the campaign finances, which he supposedly knew nothing about, and says the prosecution is a Democratic "witch hunt."
Even all that—with its strong echoes of Trumpian "Christian conservative" hypocrisy—may not suffice to keep Hunter's base voters from faithfully turning out to re-elect him. Trump himself has criticized his own attorney general for allowing the Department of Justice to indict Hunter right before the midterm election. In ordinary times, Campa-Najjar—who has been seen attending Hunter's arraignment hearings—should score a historic landslide upset. He says, "Give me two years. You don't like it, kick me out." As of one poll released Sept. 13, the candidates are tied at 46 percent. But given the circumstances, Hunter may yet pull off a victory. If he goes to jail, of course, there will have to be a new special election.
Harley Rouda came in second in the 48th C.D. primary that included incumbent Rep. Dana Rohrabacher, who is mired in his own scandals. Sitting in Congress since 2003, Rohrabacher is a former speechwriter for Ronald Reagan and, like his former boss, a champion for "economic freedom, limited government, and individual liberty."
He has been identified even by fellow Republicans as, next to Donald Trump himself, Vladimir Putin's best friend in America. Rouda calls him "a man who favors Russia over our national interests. A man who doesn't understand democratic principles like truth and justice. A man who puts partisanship and loyalty to Trump ahead of law enforcement efforts to get to the bottom of corruption and election tampering." Recently, Rohrabacher joined Trump in criticizing Attorney General Jeff Sessions, calling upon him to resign for not being loyal enough to the White House. There are signs that Orange County residents are finally getting embarrassed by their congressman now that the demographics of the district have shifted so dramatically toward Democrats.
Rouda, who only a decade ago moved to California, is not an especially progressive Democrat. In fact, he was a Republican for decades; a real estate executive, he opposes rent control. But the district is not especially progressive either. While Clinton won the district by a slim 2 percent, Rohrabacher won by 17 percent. Rouda supports Medicare for All, a $15-an-hour federal minimum wage tied to inflation, and tuition-free public college, but qualifies his positions as not ideological but merely fiscally responsible. Obviously appealing to moderate swing voters, he is at the moment the only alternative to Rohrabacher. Republican PACs are investing heavily in trying to keep this seat in the GOP ranks, but as of Sept. 13, a New York Times poll has them running at 45 percent each.
Josh Harder, 32, is opposing Rep. Jeff Denham in the Central Valley's 10th C.D. Harder is a fifth-generation son in the area around Modesto and Turlock, one of the poorest regions of the country, where a large Mexican-American population picks our nation's crops. His challenge to Denham is based on the incumbent's votes in Congress—a solid GOP line. "Nonpartisan estimates," Harder says, "calculate that 100,000 individuals in the CA-10 would have lost healthcare coverage as a result of Jeff Denham's vote. He even voted in favor of allowing insurance companies to make pregnancy a pre-existing condition for which coverage may be denied. I will work to improve our healthcare system, not devastate it."
"Denham supports Trump's wasteful and ineffective wall," Harder says. "Furthermore, he's remained silent while this administration has broken up families and deported law-abiding immigrants who own businesses and create jobs." Harder's other campaign themes concern water policy, women's rights, ending Citizens United, education, reducing gun violence, housing, and veterans' issues. Trump has said he will contribute to re-elect Denham, who has been in Congress since 2010; Obama has endorsed Harder. The most recent polling shows the race to be neck-and-neck.
In C.D. 21, another district based on agriculture, T.J. Cox is challenging Rep. David Valadao. Cox is a professional engineer who has built dams and water conveyance systems and expresses particular interest in righting the water problems in the Central Valley, where more than half of the 300,000 Californians without access to clean water live. Last May, he criticized Valadao for abstaining on an all-important Farm Bill.
As a boy, Cox's father was tragically killed in a car accident, but Social Security's Survivor Benefits for Children were there to help him and his family. He is committed to protecting Medicare and Social Security and promises to fight back against any attempt to privatize or cut these programs. He is not accepting corporate PAC money for his campaign. On another critical issue for his district Cox's campaign says:
"There is no congressional district in America that has suffered more from the senseless immigration policy of Trump's Administration than California's 21st. In Congress, he will fight to ensure hardworking families don't have to live in fear of being torn apart and are valued for their contributions to our economy and communities. For our local businesses and region to thrive, we need an immigration system that actually works. T.J. will work tirelessly for common-sense immigration reforms that include a path to citizenship and protections for DACA recipients. T.J. doesn't see the diversity of our nation as a problem—but as our promise."
Gil Cisneros is running to replace the retiring Republican Ed Royce in the central Orange County 39th C.D. and has vowed not to take corporate contributions. Cisneros served in the Navy for 11 years, then earned a B.A. in political science and an M.B.A. He worked as a shipping and manufacturing manager for Frito-Lay until he was laid off in 2010. Weeks after he was laid off, Cisneros won a Mega Millions jackpot worth $266 million. He and his wife became philanthropists, establishing endowments for Latino college scholarships. He then earned an M.A. in Urban Education Policy. A former Republican, Cisneros became a Democrat in 2008.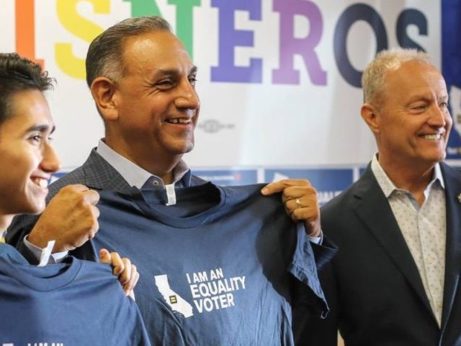 He declared his candidacy against Ed Royce after the congressman voted to repeal the ACA. Then, realizing how vulnerable his seat had suddenly become, and how little stomach he had for fighting to retain it, Royce announced his retirement. The June 2018 primary attracted 17 candidates to replace him. Cisneros advanced to the November runoff, finishing second in the June primary election to Republican Young Kim, who had served as Royce's Director of Community Relations and Asian Affairs. Except for her support of DACA recipients, she has an otherwise consistent right-wing agenda, including a host of anti-LGBTQ views. This election is listed as a "toss-up" by the Cook Political Report and Sabato's Crystal Ball.
Mike Levin is campaigning to replace the wealthy Rep. Darrell Issa (he made his fortune in car alarms) in the 49th C.D. in northern San Diego County and parts of Orange County. Issa has been a fervent Trumpie, but he only barely scraped by in his last election, so he decided to save himself some grief and retire. Levin is an environmental attorney and activist who for a number of years served as the executive director of the Democratic Party of Orange County.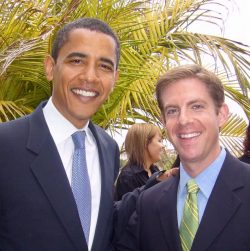 With no incumbent, a total of 16 candidates ran in the June 5 primary. Democrats feared they might get locked out by the top two Republicans, but Levin came in second to Diane Harkey. However, Democrats collectively won 51 percent of the vote. Harkey has had a 30-year career in corporate banking and finance and is currently a member of the California State Board of Equalization. As of 2008, Harkey had received an "A" lifetime rating from the NRA. As of 2013, she had a 100 percent rating from the Capitol Resource Institute, a conservative interest group in California. She also has a 100 percent rating from the right-wing California Taxpayers Association, and an "A-" grade from the anti-tax Howard Jarvis Taxpayers Association for the six years she served in the California State Assembly. The Cook Political Report and Sabato's Crystal Ball both have rated this race as "Lean Democratic."
Andrew Janz, 34, a prosecutor with the Fresno County District Attorney's Office, is standing up to eight-term C.D. 22 incumbent Devin Nunes, chairman of the House Intelligence Committee. Renowned for his extreme partisanship, Nunes is often referred to as Donald Trump's self-assigned chief defender and errand-boy. He has said his job is to destroy Robert Mueller's corruption investigation. He has not held a town hall in years.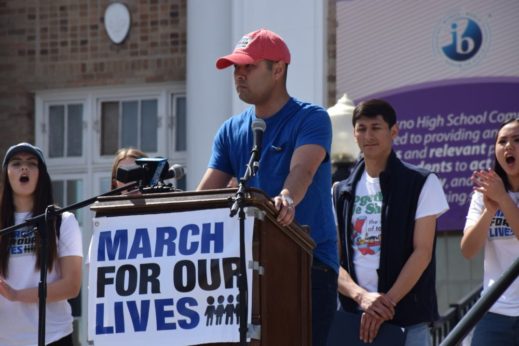 Until recently, political forecasters did not foresee much hope for Janz to win, as Nunes surpassed Janz by nearly 26 percentage points in the June primary, and easily beat all other challengers. Republicans outnumber Democrats in voter registration by nearly 10 points. "Look," Janz told the Fresno Bee, "we've given Devin Nunes eight terms in Congress. I'm only asking for one. We've tried Devin's way for nearly 20 years. Let's try something new." A poll released on Sept. 13 shows Janz and Nunes only 5 points apart, so the blue tide may be flowing in.
Gas tax recall
In a curious twist of politics, last June 5, the day of the statewide primary election, there also appeared on ballots in Democratic California Sen. Josh Newman's Fullerton district (Orange County, and parts of Los Angeles and San Bernardino counties) a recall against him aiming to punish him for supporting an increased state gas tax. The recall was a cynical Republican attempt to remove a freshman Democrat who had been narrowly elected in order to deprive the state senate of a Democratic supermajority.
The ploy worked, for who wants to pay higher gas taxes? Yet studies showed that the average motorist would pay only about $60 per year from this tax, money which goes to repair roads and bridges in the state. The cost of one encounter with a nasty pothole would far outweigh that modest tax. Republican challenger Ling Ling Chang successfully replaced Newman in a bait-and-switch maneuver that recalled Arnold Schwarzenegger snatching the governorship from Gray Davis in 2003.
In the aftermath of the Newman recall, four of the Democrats challenging GOP Congressmembers—Katie Porter, Josh Harder, Ammar Campa-Najjar, and Jessica Morse—have said they too are opposed to the gas tax increase (see number 6 in part two tomorrow), which of course is not a federal issue but serves to signal empathy with beleaguered middle-class voters (Morse is running in the 4th C.D. against incumbent Republican Tom McClintock, a possible candidate to replace Paul Ryan as Speaker of the House should the GOP retain its majority).
The Republican incumbents' dogged fealty to the Trump agenda seems overall to be working against them. They appear to be more responsive to their party, its ideology, and its standard-bearer Donald Trump than to the interests of their own constituents. Without bending in the least to separate themselves from almost any policy from the administration, they are effectively declaring that if they win in November they will simply go on voting straight party line. Some hardcore voters may appreciate that steadfastness, but it appears that many more want responsible representation in Congress.