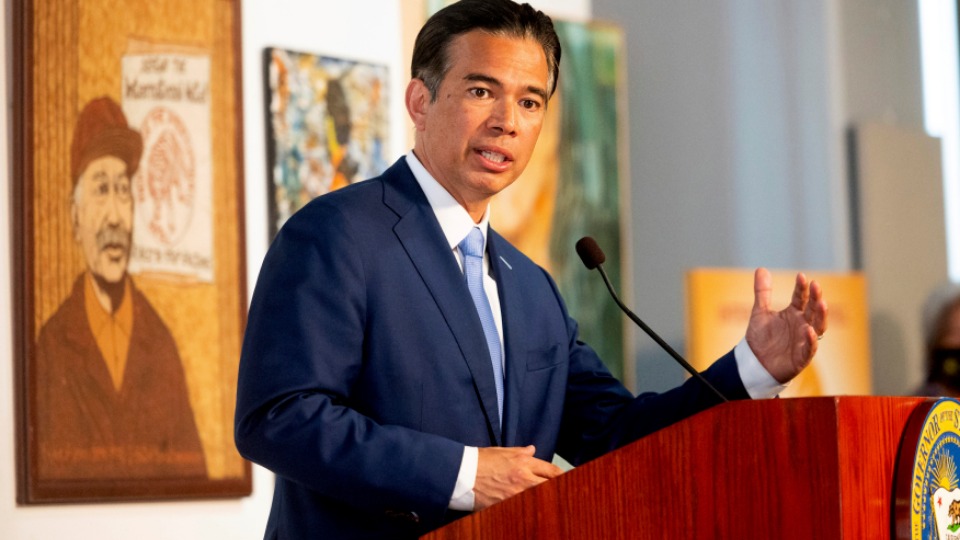 California's new Attorney General, Rob Bonta, took the podium at his first news conference on May 11 to announce the formation of a Racial Justice Bureau, charged with addressing bias and hate "at their roots" and strengthening responses to hate crimes throughout the state.
The Bureau, which will initially bring together six new attorneys and a new deputy attorney general as part of the Department of Justice's Civil Rights Enforcement Section, comes into being as Californians throughout the state deal with a pandemic-related surge of hate crimes against Asian Americans, white supremacist activity, and repeated instances of police violence.
"Throughout California's history, too many of us have felt the sting of hate and discrimination, and the fact is that no part of California is immune to hate," Bonta, a Democrat, told reporters. "Too many Asian, Latino, Black, Native American, and people with disabilities, LGBTQ, Jewish, Muslim, and Sikh Californians, all across the state, are hurting.
"And make no mistake: right now we're in a full-on state of crisis, a full-on state of emergency when it comes to hate violence against the Asian Pacific Islander community."
In its latest report covering March 19, 2020, through March 31, 2021, the nonprofit Stop AAPI Hate said some 6,600-plus hate incidents had been reported in the U.S., with physical assaults making up 12.6% of the total, and with a big surge in March. Some 40% of the reported incidents took place in California.
Bonta said the Bureau will emphasize four areas: white supremacy and hate organizations, explicit and implicit bias in policing, issuing guidance to law enforcement and other public agencies, and helping to implement the new Task Force to Study and Develop Reparation Proposals for African Americans authorized by Assembly Bill 3121, which became law at the beginning of this year.
"Complementing our internal efforts," he said, "we'll also be hosting a convening with Big City Mayors at the end of the month," with a focus on sharing information and working to identify "new, innovative solutions for tackling shared challenges with regards to hate."
The members of the mayors' coalition come from the state's 13 largest cities: Anaheim, Bakersfield, Fresno, Los Angeles, Long Beach, Oakland, Riverside, Sacramento, San Diego, San Francisco, San Jose, Santa Ana, and Stockton; the current chair is San Jose Mayor Sam Liccardo. The 13 cities account for over a quarter of the state's population.
Rob Bonta was sworn in as California's attorney general on April 23, taking the place of former Attorney General Xavier Becerra, who is now U.S. Secretary of Health and Human Services.
Bonta had served in the California Assembly since 2012; before that, he was a deputy city attorney for the City and County of San Francisco. He is the first person of Filipino descent and the second Asian American to serve as California's attorney general. Born in Quezon City, Philippines, he immigrated to California with his family as an infant.
At the press conference, he told reporters he took inspiration from his parents, both leaders in the farm workers' movement, who taught him "that when something isn't right, it's time to fight, and that injustice against one is injustice against all."
During his years in the Assembly, Bonta introduced and supported many bills to strengthen justice in the state's legal system. Among them: Assembly Bill 32, which made California the first state to do away with private prisons and detention facilities; Senate Bill 10, to end cash bail—signed into law by then-Gov. Jerry Brown, it later went down in a referendum; AB 1196, banning police chokeholds; and AB 1506, mandating independent review by the DOJ of officer-involved shootings.
Though at this writing, Bonta has only been California's Attorney General for three weeks, he has already taken a number of actions. Among them: