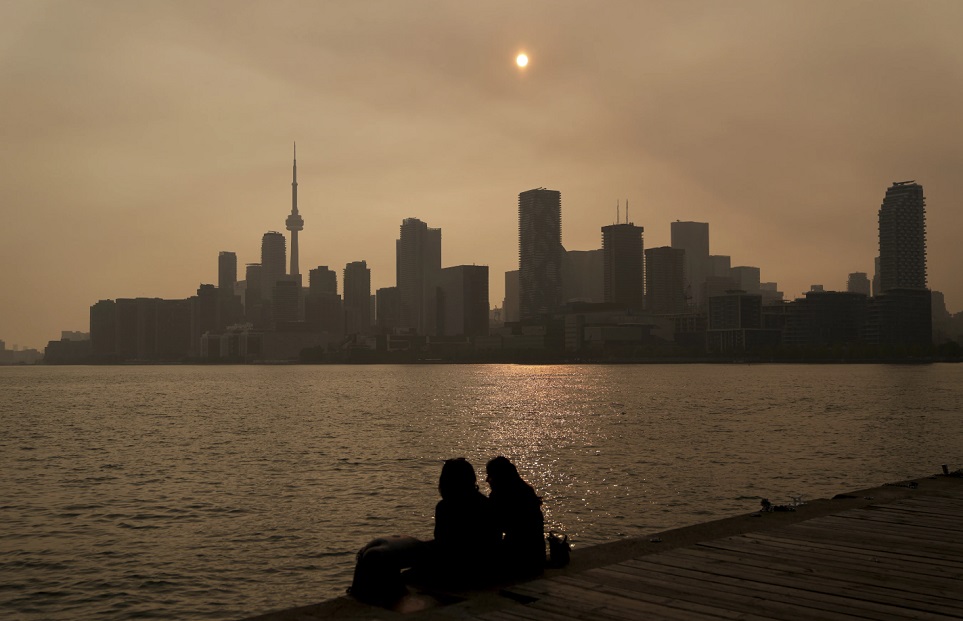 Canada is currently experiencing its worst wildfire season ever, and on Monday smoke from the hundreds of blazes once again drifted across the border into the United States, prompting another round of air quality warnings.
The new bout of smoke and haze led to air quality alerts being issued for around 70 million people in 32 states and the District of Columbia, from Montana across to Vermont and all the way down into Northern Alabama, reported CNN and The New York Times. Cities affected included New York, Cleveland, and Chicago.
"We are acutely aware that the recent weather events prominently impacting our City this summer are the direct result of the climate crisis," said Chicago Mayor Brandon Johnson, as The New York Times reported.
Precautions like wearing masks and limiting time outside were recommended by officials. Wildfire smoke can irritate the nose, throat, and eyes, and can lead to breathing issues. Exposure has also been associated with increased risks of heart attack, lung cancer, stroke, and cognitive decline.
"The advice to limit strenuous activities is because when your respiratory rate is higher, you inhale more particulates," said Yale Medicine's Dr. Carrie Redlich on the Yale Medicine website. The tiny particles from the smoke "get everywhere through the bloodstream and trigger inflammatory pathways, which can exacerbate a number of underlying cardiac and respiratory conditions."
Redlich said the best kind of mask to wear to protect yourself from the poor air quality that comes with wildfire smoke is an N95 or P100.
According to the Canadian Interagency Forest Fire Centre, 904 active fires were burning across Canada on Monday, with 587 out of control and 203 under control. In British Columbia (B.C.), officials reported 391 active fires, with 125 in Alberta and 107 in Québec, according to CBS News.
In some parts of the country, "light to moderate" smoke is forecast to hang around through mid-week, ABC News reported.
In the past week, two firefighters have lost their lives battling the epic blazes, prompting an outpouring of tributes and thanks for those on the front lines of the thus far untamable and relentless fires, reported The Guardian.
Of 19-year-old nursing student Devyn Gale, who had been helping to combat a fire near her hometown in B.C., the B.C. wildfire service said, "She was one of us. She was the heart of us," as The Guardian reported.
"When they burn like this there's no way to even put people in front of it to stop the fire, there's no amount of resources on the ground or from the sky that's going to be able to stop… these fires when they get the momentum," said Matt Rau, an incident commander with the U.S.-based Southwest Area Incident Management Team, according to CNN in another report.
Some days, wildfire crews can work as long as 16 hours battling the unrelenting blazes.
Currently, fire crews from Mexico, New Zealand, the U.S., and, most recently, Australia are helping to fight the blazes alongside Canadian firefighters.
This article was reposted from Ecowatch.
We hope you appreciated this article. At 

People's World

, we believe news and information should be free and accessible to all, but we need your help. Our journalism is free of corporate influence and paywalls because we are totally reader-supported. Only you, our readers and supporters, make this possible. If you enjoy reading 

People's World

 and the stories we bring you, please 

support our work by donating or becoming a monthly sustainer today

. Thank you!