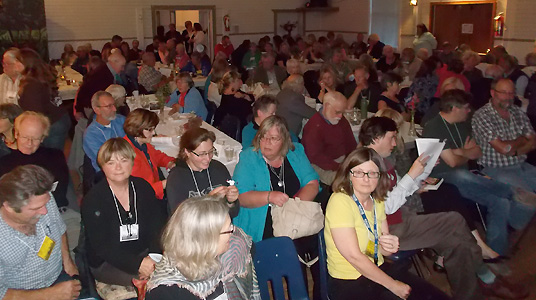 SOINTULA, British Columbia — This Canadian fishing village lived up to its name, which means "place of harmony" in Finnish, hosting more than 100 visitors Sept. 20-22 for a conference on utopian socialist colonies in the Pacific Northwest.
Sointula, itself was the center of attention for the conference titled "Culture Shock: Utopian Dreams, Hard Realities."
Attendance was standing room only in both plenary and breakout sessions. Participants traveled from across British Columbia and from Washington State, Oregon and California. Several historians gave lectures including keynote speaker, Dr. Edward S. Dutton from Oulu University in Finland. Over two dozen members of the Masala Youth Theatre flew in from Finland to perform their original play, "Sointula" a three-hour production, all in Finnish. It was the premiere performance in North America of the play by Tuomo Aitta.
Anne Marie Koch, who presided over the conference, welcomed the crowd to Finnish Organization Hall, an old clapboard building extensively renovated in recent years. The people, she said, still live by the egalitarian principles of the original socialist colony established in 1901 and have not lost their never-give-up spirit expressed in the Finnish word, "sisu."
Koch told this reporter that 100 volunteers worked tirelessly, cooking delicious meals, providing housing, decorating, organizing the program. Saturday night, they grilled fresh sockeye salmon caught in Broughton Strait just offshore by Sointula fishermen.
In his keynote, Dutton told the crowd that the late Dr. Kalervo Oberg an eminent Canadian anthropologist born in Nanaimo was brought to Sointula as an infant by his parents, August and Hilma Oberg. The father was a Nanaimo coalminer so dedicated to the teachings of the socialist founder, Matti Kurikka, that he became the treasurer of the colony.
A disastrous fire in 1903 destroyed the community hall, killing 11 residents. August Oberg's two young daughters — Kalervo's sisters — were among the seven children who died.
Dutton argued that the tragedy, coupled with other traumas, was central to Kalervo Oberg's theory of "Culture Shock" now widely accepted in anthropology to explain the roller coaster emotions experienced by newcomers forced to adapt to a new culture.
Although Oberg never mentioned the personal basis of his theory, "we can understand why Kalervo Oberg chose to write his 1928 undergraduate dissertation at the University of British Columbia about Sointula and we can see why culture shock might have fascinated him," Dutton said. "Sointula was culture shock."
He added, "Oberg's culture shock bears Kurikka's stamp. It implies that all cultures are equal — just another way of living … it implies that you can change how you feel just by thinking differently and Kurikka believed in the power of mind over matter."
"And it implies that we are free. We can overcome our culture shock just as Kurikka believed we could improve humanity. We are not limited by some inherited human nature."
Historian, Charles Pierce LeWarne, author of "Utopias on Puget Sound, 1885-1915," spoke about several utopian colonies in Washington State including the Puget Sound Cooperative Colony in Port Angeles, Equality near Bellingham, and Home, on the Kitsap Peninsula. LeWarne challenged the idea that these utopian experiments can be dismissed since they died so quickly. "I think it's a mistake to judge them on how long they survived," he said, arguing that the colonies promoted concepts of equality and solidarity that led to victories long after they were gone.
"I would like to write another book about the children of the colonists," he said. "There was a woman born in the Home Colony who came close to winning a Nobel Prize for her medical research. I can't remember her name."
I was sitting at the other side of the room and said under my breath, "Violet Russell's sister."
LeWarne overheard me. "That's right! Russell was the name I was trying to remember."
Rose Payne, born Rose Russell, in the Home Colony, was a research biologist at Stanford University who broke new ground on tissue compatibility, knowledge vital to organ transplants. She died in 1999. Her sister, Violet Russell, also born in Home, was a lifelong member of the Communist Party of Washington State.
Sointula was founded by a band of Finnish coal miners from Nanaimo about 200 miles south. The miners were so desperate to escape the brutal exploitation of mine owner, Robert Dunsmuir, that they formed a collective, Kalevan Kansa, (Socialist Pioneers). They contacted Kurikka and convinced him to come and lead the colony.
The 200 men and women rowed to remote Malcolm Island. They cleared the forest, set up a sawmill, constructed the wooden town, built a fleet of fishing boats. The town stand stands today, dominated by the Sointula Coop, the first cooperative general store in western Canada, still providing groceries and other necessities.
Just before we boarded the ferry back to Port McNeill, we walked down Sointula's main street to the cemetery and found an old weather-worn marble headstone with the epitaph, "Maria Hantula and her children, Herman, Ilmari, Aili. Died in the Sointula fire Jan. 29, 1903."
conference photo by Tim Wheeler/PW