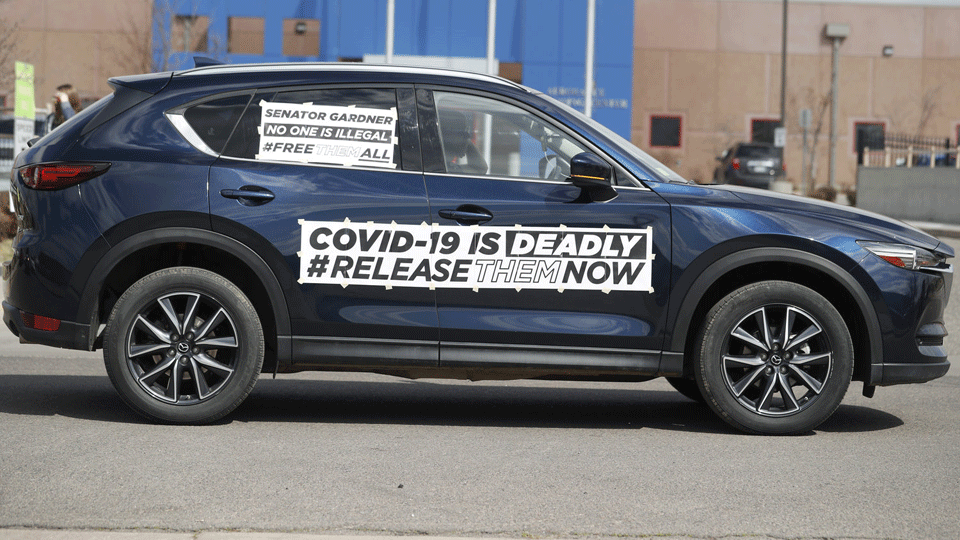 TUCSON, Ariz. — Over 200 cars carrying protesters rallied outside the Eloy and La Palma immigrant detention centers in central Arizona on Friday, April 10, demanding the release of all immigration detainees.
The rally was organized by the Puente Human Rights Movement, No More Deaths and Trans Queer Pueblo.
All detainees are at high risk of contracting the coronavirus, simply by being in detention.  Medically vulnerable detainees are at even greater risk of serious health consequences.
Detainees are not able to practice social distancing and have only recently been provided with one mask per person, which they must sign for.
By April 20, there were 15 confirmed cases of COVID-19 within Arizona immigration detention facilities and many more are suspected of having the illness but not showing symptoms.
Guards are reportedly not consistently wearing PPE (personal protective equipment) and if they do, they wear the same PPE as they move from unit to unit, potentially spreading the infection from the areas where there are confirmed cases to other areas of the facilities.
Detainees who work in the foodservice sections are required to deliver meals to and pick up trays from the sections where there are confirmed COVID 19 cases, without being provided PPE.
Demonstrators maintained social distance during the protest, most staying inside their cars while speakers presented, musicians played drums, and cars honked their horns.  Speakers called on ICE Field Director Enrique Lucero to release all immigrants from Arizona detention centers and to stop removal operations and deportations.
Thousands of community members who could not be present joined the event via live stream on Facebook and were urged to make calls to the ICE Field Director.
Only a handful of people have been released from Arizona immigrant detention centers during the ongoing coronavirus pandemic.
The groups behind the caravan, along with others continue, on a daily basis, to submit documents requesting bond hearings and humanitarian parole for detainees.
Author's note: See Communist Party USA Immigrants' Rights Subcommittee Statement here.