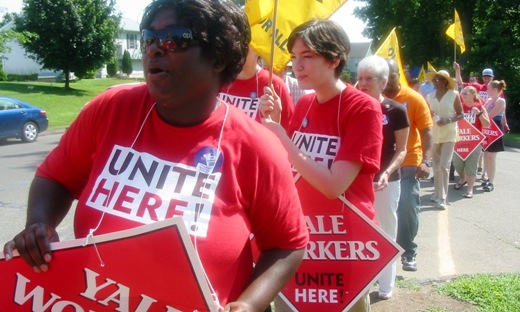 NEW HAVEN, Conn. — Elected officials, union members and community supporters piled into a school bus and seven cars last Saturday, July 24, for a 10 mile solidarity caravan from Connecticut cities of New Haven to Ansonia and Derby in support of nursing home workers on the 101st day of their strike.
Braving a heat wave, the contingent carried food and drink to the picket lines at Hilltop and Birmingham nursing homes, two of four facilities owned by Spectrum corporation on strike since mid-April.
"Our members have devoted years of their lives to the patients inside," exclaimed Carmen Boudier, president of 1199 New England. During contract negotiations the company put many take backs on the table including a cut in pay to $10 an hour for any worker injured on the job. OSHA has cited the company as one of the worst health and safety violators in Connecticut.
"These workers are fighting to give the best health care. They deserve to be treated with respect," she concluded to cheers.
One striker with 30 years seniority said angrily that she learned one of her patients with dementia is only getting changed once a month. Families of the patients have formed a group to support the strike. Their website reports on gross violations of patient health and safety since the strike began.
As family members drove up to the entrance, the picket line parted with the chant, "up with the families, yea, yea; down with the bosses, boo, boo."
After walking the line at Hilltop in Ansonia, the caravan continued on to Birmingham in Derby with more food and solidarity.
"It's hot, but we have to turn up the heat," said State Rep Gary Holder-Winfield of New Haven. "You may feel invisible, but we see you," he said. "We will come back and bring others."
Speaking of the union household he grew up in, State Rep. Michael Lawlor of East Haven lauded the workers for "blazing a trail for all health care workers in our state."
Gathered under a canopy to hear the remarks, Boudier reminded everyone that the state and national budgets are critical for the well being of Medicare patients. She called on everyone to participate in the primary elections on August 10 and then to unite for a massive effort to get out the vote in November.
"Forward always, backward never," chanted the crowd led by Ray Pompano, representing 40,000 members of UE union, urging the workers to "stick together in solidarity."
The New Haven strike support committee was formed two weeks earlier to organize the caravan which left from the New Haven Peoples Center. A large contingent from Unite Here, representing the workers at Yale University, participated in the action to support the striking members of 1199 New England, SEIU. During two years of strife between the two internationals, solidarity between workers in New Haven remained firm.
Also joining the action were State Comptroller Nancy Wyman and East Haven Mayor April Capone.
Large solidarity actions have taken place at the two striking homes in Hartford and Winsted including a civil disobedience with arrests of 21 community leaders and elected officials.
The 400 nursing, dietary, housekeeping and laundry workers went on strike April 15, more than one year after their contracts expired. During that time Spectrum Healthcare fired, suspended and intimidated dozens of workers who no longer had full union protections. Union charges of unfair labor practices and illegal permanent worker replacement have been upheld by the National Labor Relations Board.
All other 40 unionized nursing homes in Connecticut settled their contracts without a strike.
Photo: Members of Unite Here at Yale University were among 50 union members, community supporters and elected officials bringing solidarity to nursing home workers, members of SEIU 1199NE. The support caravan travelled from New Haven to the nursing homes in Ansonia and Derby, Conn. (Art Perlo/PW)