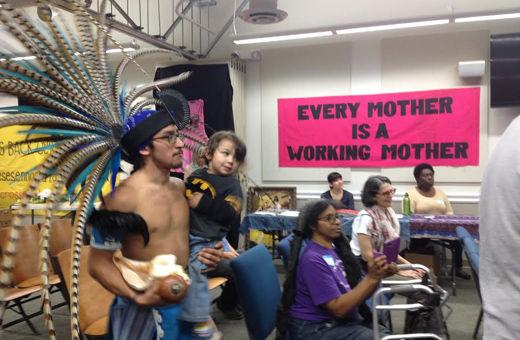 LOS ANGELES – The global theme of this year's Mar. 7 annual International Women's Day event was "A Living Wage for Mothers and All Caregivers." In Los Angeles it was expanded to specify "No to Austerity, Poverty, Prisons and War."
"I came from Missouri to be here today because I want to let you know that what you all are doing really, really matters," Cathy Smith told the audience as she accepted a certificate of appreciation for the care she gave to her son Tomas Young. Tomas was a veteran shot while on duty in Iraq. The bullet to his spine paralyzed him, and she cared for him until his untimely death.
The certificate read in part, "you are honored by those of us gathered in Los Angeles, Milwaukee, Philadelphia, Oakland, London England, Galway Ireland, Lima Peru, Chhattisgarh India." The ceremony was part of a global effort by a coalition representing many organizations to bring to light the work that mothers and other caregivers do. And that such work should be valued at a living wage, whereby mothers and other caregivers would not have to risk poverty and their health to care for a loved one.
Among those being honored were historical figures, "those whose shoulders we women stand on," explained Margaret Prescott, of the Pacifica radio program "Sojourner Truth."
Caregivers recognized included a husband who cares for his wife who suffered a stroke after child protective services threatened to remove their children from their home.
Other honorees included victims of violence and the families that care for them, such as the women of Juárez and women victims of domestic violence.
Also recognized was Enietra Margette, who to this day is the only known survivor of the Grim Sleeper, the nickname for a suspected and accused serial killer in Los Angeles believed to be responsible for at least ten murders. The Anderson family were also honored. Their daughter was killed by the Grim Sleeper and they are always present to demand a speedy trial, which victims are also entitled to, and to be compensated for the police failure to stop this murderer, as well as to lend a hand during a campaign to set up a memorial for the many women who have been murdered.
"My heart is filled today," Margette told the crowd. "It really matters that I matter. Your presence verifies that their lives matter," she added, referring to the other women murdered by the Grim Sleeper.
A conscious decision was made to honor not only historical figures on this International Women's Day but to honor the mothers and caregivers who usually go unnoticed. The mood at times was very emotional, at times not a dry eye could be found as honorees shared in the sacrifice that caregiving entails.
The event served to launch a global petition to all governments calling for a living wage for mothers and other caregivers. "Caring for others is the foundation of every society, yet this work done mostly by women is devalued and underfunded," the petition reads. "We demand that every worker is paid a living wage, including mothers and other caregivers, and that national and international budgets redirect financial support and resources to mothers and other caregivers."
You can sign the petition here.
Photo: Rossana Cambron/PW