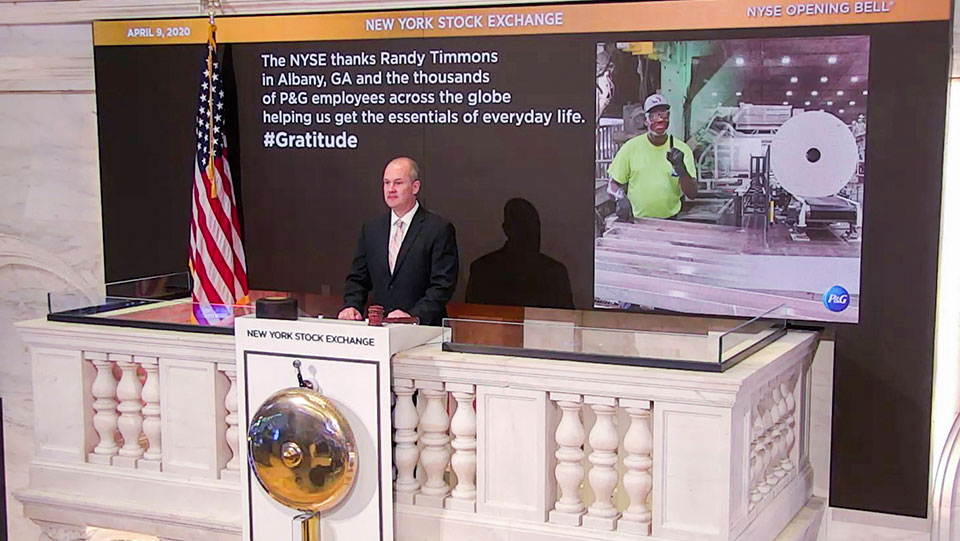 WASHINGTON—As if it's not bad enough that Wall Street wants workers back on the job before it's safe, the latest "guidance" on social distancing from the Centers for Disease Control seems to be backing them up.
The latest federal guidance to "essential" workers on whether they should go back to their jobs or not, endangers their health and safety in the name of continued business operations, the National Council for Occupational Safety and Health (NACOSH) and a coalition of academic specialists on the issue say.
It's so bad, says NACOSH co-Executive Director Marcy Goldstein-Gelb, that "this unsound guidance sends the message to our critical frontline workers that their government and employers view them as expendable."
The Centers for Disease Control issued the guidance on April 9, superseding its prior advice. CDC now says such essential "critical infrastructure workers" could go back on the job as long as they were pre-symptomatic or asymptomatic, even if they had been exposed to a virus victim within the prior 48 hours.
CDC "fails to protect essential workers" and its new advice "is weaker than previous guidance, and is not based on scientific evidence. Reports of essential workers dying on the job from the COVID-19 pandemic underscore the need for additional protections, not less," NACOSH and its allies said.
The push to get everyone back to work regardless of the danger was taken up by Trump again yesterday at his daily televised propaganda session when he put forward the notion that the country should be ready for this by the end of the month.
Wall Street financiers and their operatives in the Trump administration began pushing for this in earnest already last month. At the time Trump was talking about packing the churches for Easter White House domestic policy director, Joe Crogan, the entire leadership of the Blackstone Group and the leaders of the New York Stock Exchange were meeting with the president, telling him the "cure" (shutting down the economy) can't be worse than the virus itself.
These days it is Treasury Secretary Steve Mnuchin and even Attorney General William Barr who are adding their voices in favor of a premature end to the life-saving social distancing policies. It's profits before people for top officials in the Trump administration who are backing their push by Wall Street financiers.
Dr. Anthony Fauci warned yesterday, however, that it is too soon to talk about ending these policies. The death rate across the country continues to rise, he noted.
As of this morning, COVID-19, the official name of the disease caused by the coronavirus, has sickened 468,647 people and killed 17,000 in the United States.
CDC said essential infrastructure workers whose lives it is willing to risk include law enforcement workers, hazmat workers, 911 call center workers, janitors, custodians and "workers – including contracted vendors – in food and agriculture, critical manufacturing, informational technology, transportation, energy, and government facilities."
"To ensure continuity of operations of essential functions, CDC advises critical infrastructure workers may be permitted to continue work following potential exposure to COVID-19, provided they remain asymptomatic and additional precautions are implemented to protect them and the community," CDC said. "A potential exposure means being a household contact or having close contact within six feet of an individual with confirmed or suspected COVID-19. The timeframe for having contact with an individual includes the period of time of 48 hours before the individual became symptomatic.
But if the asymptomatic essential worker is exposed to someone with the coronavirus, the worker should still have their temperatures taken daily, wear masks, monitor themselves while on the job, maintain social distance, and clean and disinfect workplaces, CDC said. If they get sick, bosses should immediately send them home.
That gives too much leeway in the fight against the pandemic, says NACOSH, the nationwide advocate for workers on safety and health issues.
"With the number of COVID-19 cases continuing to rise, this guidance threatens to undo any gains made by states working desperately to prevent deadly exposures and save lives," Goldstein-Gelb said in a statement.
CDC instead should yank that guidance and substitute even stronger protections for workers, NACOSH said. New guidance should also include paid sick and family leave, "immediate protective safeguards," and a presumption that if a worker gets sick on the job from coronavirus that the job environment caused it – and the worker should be eligible for workers comp. And the workplace should be decontaminated and disinfected, NACOSH added.
Whether the CDC will listen to workers is dubious. If it doesn't, Goldstein-Gelb said by phone, expect more workers to walk out and hit the streets, even if they're wearing masks, to make their point.
"Workers are used to being ignored, to being brushed off and to fighting back," she added. "People are being incredibly creative and expressing their absolute horror" at being forced to toil in unsafe – and sometimes deadly – conditions due to the coronavirus spread.
"They're saying, 'I'm not walking into a death trap.'"