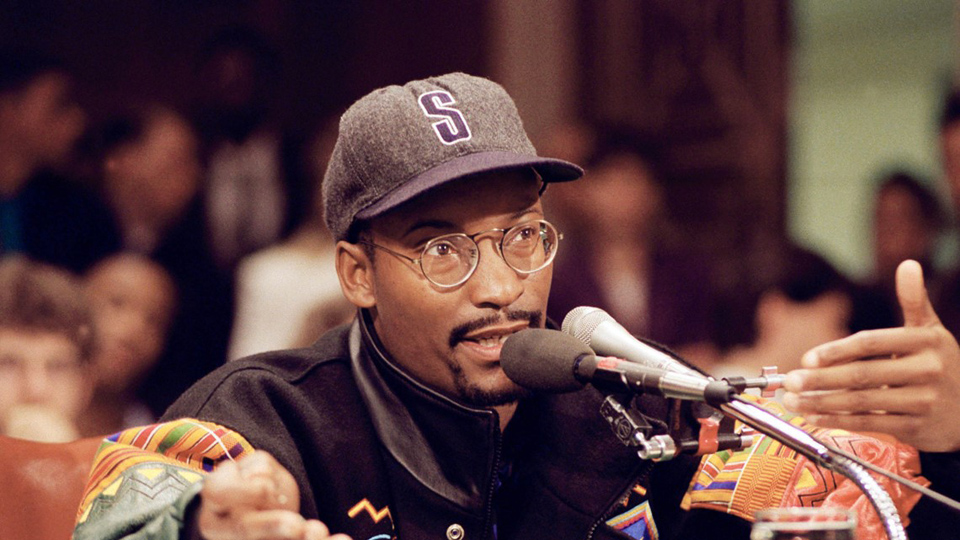 The history-making Black film director, screenwriter, and producer John Singleton has passed away at the age of 51 after suffering a stroke on April 17. Singleton used his talent to shine light on Black urban life, blazing a trail for many filmmakers, such as Ryan Coogler and Jordan Peele. His work centered the narrative of the Black experience.
Singleton rose to fame with his first film, Boyz n the Hood, in 1991. It featured an array of Black Hollywood actors that would go on to be stars in their own right, such as Ice Cube, Morris Chestnut, Cuba Gooding Jr., Laurence Fishburne, Nia Long, Regina King, and Angela Bassett. The film focused on a group of Black teenagers living in South Central Los Angeles maneuvering between gang violence, poverty, police harassment, and trying to succeed despite the odds stacked against them.
It was a film that gave nuanced layers to its teenage characters, their struggles, defeats, and triumphs. Singleton, who wrote and directed the feature, dared the audience to take a look at the dangers and trials inner-city Black youth faced in a gritty and unapologetic way. He did all of this at the age of 24, which earned him Academy Award nominations for Best Original Screenplay and Best Director. Singleton made history not only as the youngest person ever to be nominated for Best Director, but the first African American as well.
The filmmaker would go on to use his influence to testify before a Senate subcommittee at a hearing titled "Children at War: Violence and America's Youth," in 1992. Along with other witnesses, Singleton gave testimony on the possible causes for the then rising homicide rates among America's youth. Singleton highlighted illegal drug trafficking and gun violence and bought attention to those most affected by them.
At the hearing, he stated, "My intention is to shed light on some things that may not be getting emphasis [at this hearing] when speaking to the violent conditions our children in this country are going through now…. The conditions in which these children [in large American cities] live in did not just pop up like magic. They were created. Most of the guns that children receive are acquired through illegal means, and many trickle down from organized efforts. And it is a fact that the drug trade in this country is largely, and intentionally, concentrated in most urban areas…and is not in the control of those that live in these cities, or those most adversely affected."
Singleton would go on to create a number of iconic movies that centered young Black people in the narrative. Poetic Justice, starring Janet Jackson and Tupac Shakur in 1993, displayed the power of love and hope in the midst of violence and tragedy. His 1995 film, Higher Learning, explored the themes of the Black experience in predominantly white spaces, sexuality, white supremacy, and education under an oppressive system.
The story focused on Black and white students at the fictional Columbus University. One of the most notable quotes from the film, from the main character Malik, a young Black man, speaking his feelings about living in the U.S. and attending college:
"As a Black man in America, my stress comes from everywhere. Recognize. Take a look around you. Look at this, Columbus, it disgusts me. Fool wasn't nothin' but a thief, mass murderer. He done slaughtered millions of Native Americans, and we done got a holiday and university named after his honor."
In 1997, Singleton brought the story of the 1923 Rosewood massacre to the mainstream public. His feature film Rosewood was a historical fiction drama based on the racially-motivated massacre of Black people residing in Levy County, Florida. With a possible death count as high as fifty or more, the predominantly African-American town of Rosewood was destroyed by racist white hysteria. This moment in history was hidden for decades until the 1980s, and it wasn't until Singleton's film that the story was disseminated widely.
Singleton stayed busy with a number of projects since the 1990s, such as Shaft (2000), Baby Boy (2001), 2 Fast 2 Furious (2003), and Four Brothers (2005). He co-created the American crime drama television series Snowfall, which focuses on the crack epidemic of the 1980s and its impact on the city of Los Angeles.
A quote from an interview Singleton gave to the Guardian in 2017 perhaps best describes the legacy in film he leaves behind:
"Drugs devastated a generation. It gave me something to write about, but I had to survive it first. It made me a very angry young man. I didn't understand why I was so angry, but I wasn't someone who took my anger and applied it inward. I turned it into being a storyteller. I was on a kamikaze mission to really tell stories from my perspective—an authentic Black perspective."
Singleton's films centering the Black experience will live on, inspiring future Black storytellers and showing that these stories can be told, despite the odds.