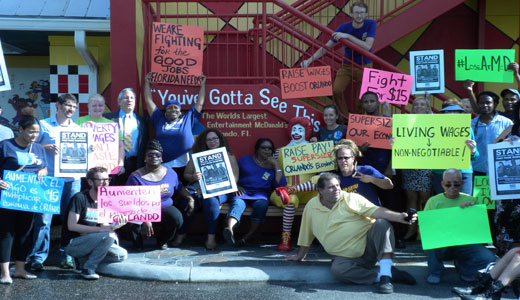 ORLANDO, Fla. – Chants of "You can't survive / Off of $7.79" [Florida's minimum wage] echoed from the sidewalk in front of the "world's largest" McDonald's in Orlando's tourist corridor as local progressive forces held a demonstration here Dec. 5 to highlight the fact that fast-food workers earn some of our economy's smallest wages.
"We're out here today to show our support, and to point out to the CEOS of these huge corporations that this is a national movement and that workers are going to be demanding respect, better wages and the ability to earn a living," said Laura Johns, of community group Organize Now!, which sponsored the action.
Central Florida's "Low Pay Is Not Okay Solidarity Rally" was one of more than 100 actions around the country that day calling for $15 per hour wages for fast-food workers and the right for them to organize without retaliation from bosses. The Low Pay Is Not OK/ Fight for $15 movement, organized by fast-food workers with support from the Service Employees International Union, began last year in New York City with a series of one-day strikes by workers there.
About 40 people participated in the noon-time action in front of the two-story McDonald's with a 25,000-square-foot play area, which bills itself as the "World's Largest Entertainment McDonald's and PlayPlace." It is one of 24 Central Florida McDonald's franchises owned by privately held Oerther Foods, Inc.
"Companies like McDonalds's are making big profits by paying poverty wages," said Timothy Murray, of Organize Now!
"While they make big money, more than half [52 percent] of all fast-food workers make so little that they have to rely on public assistance to make ends meet," said Murray, referencing a study released in October 2013 by researchers at the University of California-Berkeley and the University of Illinois-Urbana-Champaign.
"When profitable companies pay so little, it hurts our community and slows down our economy," said former fast-food worker Lubriel Torres, who spoke at the rally. "When workers have money in their pockets, they can spend it at local businesses and get the economy going again."
Torres worked part-time at the "world's largest" McDonald's for four years, starting at $6.30 an hour, eventually rising to $8.50 an hour. It was one of two jobs he held to support his wife and children.
"The overwhelming share of jobs in the fast-food industry pay low wages that force millions of workers to rely on public assistance in order to afford health care, food, and other basic necessities," noted the authors of an October 2013 report from the National Employment Law Center.
That report, which looked at the 10 largest fast-food companies in the United States, found that their low wages and lack of benefits cost taxpayers an estimated $3.8 billion annually in public assistance. The report's authors estimated that by itself the McDonald's Corp.-America's largest fast-food company, with more than 700,000 workers and more than 14,000 outlets-cost taxpayers $1.2 billion annually in public assistance for its underpaid workers.
The median hourly wage for "front-line" fast food workers-cashiers, cooks and crew-is $8.94 an hour, according to a July 2013 report from the National Employment Law Center. If they work full-time in fast food, these workers' yearly median earnings would be just $18,600.
By contrast, McDonald's CEO Donald Thompson enjoyed a compensation package worth $13.7 million in 2012. Combined, the total compensation for the CEOS of the seven publicly held chains among the U.S.'s Top 10 fast-food companies-McDonald's, Burger King, Yum Brands (Pizza Hut, Taco Bell, KFC), Wendy's, Dunkin' Donuts, Sonic and Dominos-was around $53 million in 2012 (equivalent to the yearly earnings of more than 2,800 fast-food employees working full-time at the median hourly wage of $8.94).
Those companies made combined 2012 profits of $7.5 billion and used $7.7 billion of their revenues for dividends to shareholders and for stock buybacks. McDonald's recently reported 2013 profits of $1.5 billion through the third quarter of this year, which ended Sept. 30. The company also announced that it expects to use at least $4.5 billion of its 2013 revenues for shareholder dividends and for stock buybacks.
The situation for low-wage workers in Central Florida-indeed, for low-wage workers across the Sunshine State-is particularly bleak. A recent review by The Orlando Sentinel of federal data on wages found that the Metro Orlando area, with an economy reliant on tourism and service industries, including fast-food, ranks No. 2 among the top 100 U.S. metro areas for the number of local jobs–37 percent-that pay less than $25,000 a year. (The 2013 guidelines from the federal Department of Health and Human Services state that a family of four needs a yearly income of at least $23,550 to be above the poverty threshold.)
A December 2013 study by the Alliance for a Just Society-released in Florida by Organize Now!–noted that the Sunshine State's ultra-right Gov. Rick Scott "has put forth an agenda that prioritizes high-profit financial interests over the interests of workers" and that "median wages cross the state continue to be among the lowest in the nation."
"With 13 job-seekers for every projected living wage job opening (and as many as 53 for each job that supports a worker, his or her spouse and two children), workers in Florida," noted the study's authors, "will continue to struggle to provide for their basic needs in the absence of further [public] policy innovations," such as higher minimum wages, living wage ordinances or measures that mandate benefits such as earned sick time.
The study defines a "living wage" in Florida in 2013 as $16.84 an hour for a single adult, and $19.74 an hour for two working adults in the same household supporting two children. Those rates are more than 50 percent greater than Florida's current minimum wage of $7.79 an hour ($4.77 for tipped workers). Florida is one of 19 states plus the District of Columbia that set minimum wages higher than the federal rate of $7.25 hourly.
Photo: Ben Markeson/PW