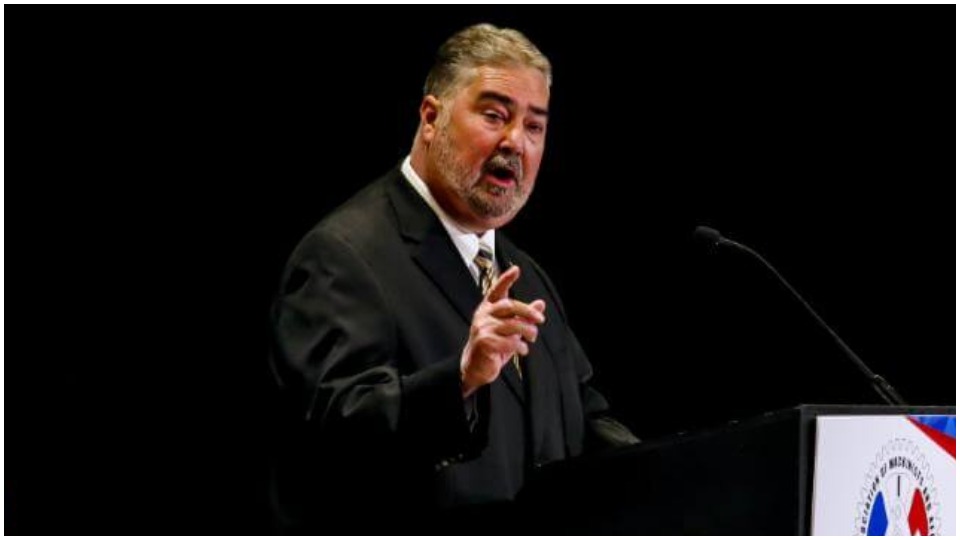 WASHINGTON (PAI)—A demand by 14 representatives who style themselves "new Democrats" for a quick House up-or-down vote on Donald Trump's "new NAFTA" has irked the Machinists, one of the Trump pact's staunchest foes.
And the so-called "new Dems" may not get their way, either. That's because the leader of the eight-person Democratic team negotiating over legislation to implement the controversial so-called "free trade" pact told her hometown paper during the recent congressional recess that the new NAFTA won't come up this year.
Machinists President Bob Martinez sent the union's letter on Sept. 9 to the lawmakers after he learned of their prior demand to House Speaker Nancy Pelosi, D-Calif.
In their missive to Pelosi, the 14, led by Rep. Colin Allred, D-Texas, supported the talks Pelosi's bargaining team are holding with top Trump trade negotiator Robert Lighthizer.
But they warned "it is imperative we reach a negotiated agreement early in the fall" and vote "by the end of the year."
Veteran pro-worker lawmaker Rosa DeLauro, D-Conn., an outspoken foe of prior anti-worker "free trade" pacts and a renowned "nose counter" among her colleagues, leads the bargainers. She's already told interviewers for one of her hometown papers in Connecticut that a vote—if there is one—won't occur till next year.
Martinez, in his letter to Allred and the other pro-NAFTA Democrats, says there shouldn't be a vote until the "new NAFTA" is drastically rewritten to help workers, not corporate interests.
"NAFTA 2.0 will foster the continuing outsourcing of U.S. jobs to Mexico, as companies seek to take advantage of workers who do not enjoy fundamental rights.
"Strong and enforceable labor standards, which are missing from the agreement, must be included in its text. Other provisions that would remove the incentive to outsource U.S. manufacturing jobs must be addressed.
"In aerospace and related industries alone, thousands of jobs that could have been created in the U.S. are now contributing to more than 40,000 jobs that have been created in Mexico."
Martinez explained the "new NAFTA's" labor chapter, which is actually part of the agreement's text, is still weak. He said it's been copied from the current U.S.-Korea Free Trade Agreement, another weak "free trade" pact.
He also said the new NAFTA will still deny Mexican workers basic rights, including the right to organize, collectively bargain, and "be free from child labor and forced labor."
"We can do better. We must do better," Martinez wrote the lawmakers.
Organized labor, in general, has made those same points to Pelosi, DeLauro, other lawmakers, and Lighthizer. Though Trump is also pushing for a "new NAFTA" vote—on the implementing legislation, not the pact itself—by the end of this year, DeLauro's statement and labor's opposition appear to put that goal in doubt.
Besides Allred, Martinez's letter went to Democratic Reps. Scott Peters, Kendra Horn, Haley Stevens, Anthony Brindisi, Joe Cunningham, Lizzie Fletcher, Ben McAdams, Josh Harder, T.J. Cox, Luis Correa, Sharice Davids, Susie Lee, and Greg Stanton.