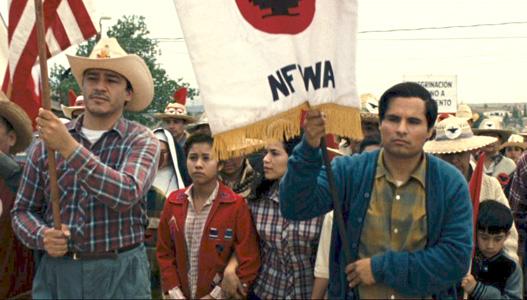 More than anything, the Cesar Chavez film highlights the courageous commitment and unwavering dedication of one historic union organizer and his fierce companions who faced incredible odds and seemingly insurmountable opposition.
The 1965 campaign to organize farm workers in California for better working conditions, a voice on the job and the right to form a union is an important piece of U.S. history that every American should appreciate.
Cesar Chavez was a Mexican-American civil rights leader who grew up working in the farm fields. It was obvious to him as a child that the poor working conditions that farmworkers endured were not acceptable and were inhumane. And the only way these exploitative conditions were going to change was to build worker power and to organize the farmworkers. Chavez' passion to organize farmworkers became the face of American labor history during the 1960s and 70s.
Throughout the film, Chavez, played by Michael Peña, narrates his experience growing up as a farmworker after his family lost their farm and were forced to work in the fields to survive. Chavez decides to leave a comfortable union office job and moves back to Delano, Calif., so he can be where the farmworkers are in order to organize them. He and his impressive team of activists, including his wife, an unknown leader in her own right, begin to talk with farmworkers at their homes. The film shows the immense poverty and lack of educational opportunities these workers and their families endured due to the horrible conditions farmworkers lived with every day they were picking in the fields.
An interesting twist on the film is the relationship between Chavez and his eldest son. The film depicts how the commitment to a social justice movement affects the family life of such activists for both good and bad. It's no secret that Chavez was immersed in his work to improve the lives of farmworkers. However viewers witness how such a life takes a toll on his marriage and his role as father.
Chavez' wife, played by America Ferrara, recognizes her valuable and inspiring role in the organizing campaign and her commitment to the movement. Although her name is never mentioned throughout the film, her role in the movement was immense and larger than life. At one point viewers note Chavez' machismo when his wife volunteers to be the first of many to get arrested during the historic strike. Chavez reacts negatively to her volunteering, saying she should stay home and look after the children. He ultimately agrees with his wife after activist and leader Dolores Huerta, played by Rosario Dawson, supports Chavez' wife.
Present day labor leaders and community organizers can relate to the challenges brought by the commitment and sacrifice an activist life can lead.
John Malkovich does an outstanding job as the wealthy farm grower who leads the union busting campaign against Chavez and the striking farmworkers. Malkovich's superb acting is very convincing and relevant. His role demonstrates many modern day employers and multimillion-dollar companies that show little respect for their workers demands to collectively bargain in good faith about their working conditions.
The farmworkers movement and their eventual victorious union campaign, which took decades to win, continues to inspire the present day low-wage worker campaigns nationwide at giant multimillion dollar companies such as Walmart and McDonalds. Present day low-wage worker's at such companies should see this film and witness the heroic obstacles farmworkers endured leading to their eventual triumph.
The film also shows the relationship between the Chavez and Democratic U.S. Senator Robert Kennedy. Using the selfless tactics of past notable civil rights leaders such as Dr. Martin Luther King Jr. and international figure from India, Mahatma Gandhi, Chavez goes on a hunger fast urging his supporters to commit to non-violence as a means to win their cause. Throughout the film Kennedy is portrayed as one of Chavez' strongest allies in Washington. After Kennedy's assassination, viewers get a clear depiction of the reactionary policies of Republican President's Richard Nixon and later Ronald Reagan's anti union and pro big business approach to the farmworkers movement.
Directed by Mexican born actor Diego Luna, the film is by no means Oscar worthy. The acting is exceptional, but the screenplay is mediocre at best. However the message of this film is monumental. The movie shows how Cesar Chavez and his supporters overcame incredible odds and obstacles through sacrifice and life threatening circumstances to win a union contract for farmworkers. The message of workers going on strike for decades and the tactic of the grape boycott, which became an international cause, to win their contract is a historic triumphant period of American labor history.
This film is a must see and I encourage you to support it at your local theater. It demonstrates the critical role Mexican American's like Chavez and hundreds of thousands of men and women like him who positively contributed to develop the U.S. labor movement in the South and Southwest. More importantly the film emphasizes the historic and ongoing fight against structural racism and national oppression people of color faced and continue to overcome in this day.
It underlines the power of unity among all workers. It confirms the power of union solidarity noting that unions are only as powerful as its members. Families of all nationalities and workers of all trades can learn from this important tale in American history.
Chavez' legacy will always stress how far we have come and remind us the struggle is not over — we still have a long way to go. La lucha sigue! Si se puede!
Cesar Chavez
Directed by Diego Luna, Screenplay by Timothy J. Sexton and Keir Pearson
Starring:
America Ferrera as Helen Chávez
Rosario Dawson as Dolores Huerta
Rated PG-13, 101 mins., 2014