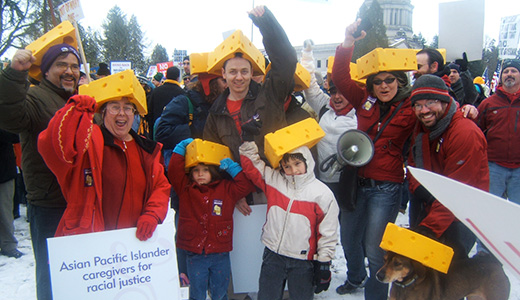 OLYMPIA, Wash. – Nearly 3,000 union workers and their allies converged on the state capital, Feb. 26, in a loud demonstration of solidarity with Wisconsin public employees fighting to defend their union rights.
A capacity crowd of over 1,000 jammed the Capitol rotunda and galleries, their chants echoing under the dome: "The people, united, will never be defeated." They held up signs that proclaimed "Recall Scott Walker" and "Union rights are human rights."
They were referring to Wisconsin Gov. Scott Walker whose attempt to strip public employees of collective bargaining rights has ignited a nationwide fightback. The AFL-CIO and a broad coalition that included MoveOn, USAction and other grassroots organizations called for solidarity demonstrations Feb. 26 in 66 cities including all 50 state capitals to protest the Republican union-busting orgy. At least 100,000 demonstrators braved frigid wind and snow in Madison, the Wisconsin capital.
The Olympia crowd rallied in the snow in front of the Capitol with a handful of counter-demonstrators across the street holding signs that read, "Union Greed" and "We stand with Scott Walker."
"Shame on you!" the union members roared, jabbing their fists at the right-wingers and chanting, "What's disgusting? Union-busting!" and "Recall Walker!" Soon the sad little tea party handful disappeared.
The solidarity demonstration here was swelled by hundreds of union firefighters, and by members of the State, County and Municipal Employees (AFSCME), Service Employees International Union (SEIU), Washington Education Association and American Federation of Teachers, Machinists (IAM), Electrical Workers (IBEW) and United Food and Commercial Workers.
They marched to Tivoli Fountain for a rally. A fire engine, its lights flashing, was parked nearby. "See that fire engine?" said Olympia firefighter, Kelly Fox, president of the Olympia firefighter's union. "That is the face of public servants helping someone who has fallen on the ice. The firefighters stand with all public workers, in Wisconsin and everywhere. We didn't cause this recession. It was the unchecked greed of Wall Street that caused this recession."
The drive to strip workers of their union rights, he added, "is an attack on us; it is an attack on public safety."
Kate Severson, a nurse at Western State Hospital and a leader of SEIU Local 1199NW, said, "What the Wisconsin governor and others like him are doing is a frontal assault on patients, our communities and on the values that made this country. It is not right when billionaires like the Koch brothers pour millions of dollars into elections to put in office politicians who hand out billions in tax breaks for the rich."
A delegation of Democratic legislators came out of the Capitol where they are in session grappling with a multi-billion-dollar deficit and ultra-right initiatives that hogtie the legislature from raising taxes on corporations and the rich. "I stand in solidarity with my colleagues in Wisconsin," said one. Rep. Mike Seils, a Democrat from Everett, told the crowd, "They are not going to gut collective bargaining in this state, not on my watch."
Many in the crowd wore Green Bay Packer "cheesehead" foam hats, symbolizing how the "Cheddar Revolution" has spread nationwide from America's Dairyland. Livia Salvi, a freshmen at Evergreen College, held a hand-lettered sign reading, "Union Workers Won the Superbowl." She told the People's World, "I grew up in Madison. My mom was on the University of Wisconsin faculty. So I come from a union family. It is a huge shock that the governor and legislature are trying to take away collective bargaining rights. This is going to hurt so many Wisconsin families."
Indira McDonald, a public school teacher in Renton, Wash., was here with her husband and children. She assailed Republican smear attacks on public workers as "greedy" with "Cadillac" health care and pensions. "Public employees give their lives for other people," she told the World. "Teachers in my district earn between $30,000 and $40,000 in annual salaries. It's absurd to call us greedy. All we want is to be able to buy food, pay for our homes."
Will Parry, 91, perhaps the oldest person in the crowd, held one end of the Puget Sound Alliance for Retired Americans banner, an organization he helped found. Parry, revered as a moving force in the labor movement, and a lifelong member of the Communist Party, said, "This is only the start of a great movement that is going to sweep the country and make tremendous gains for the people."
Photo: PW/Tim Wheeler