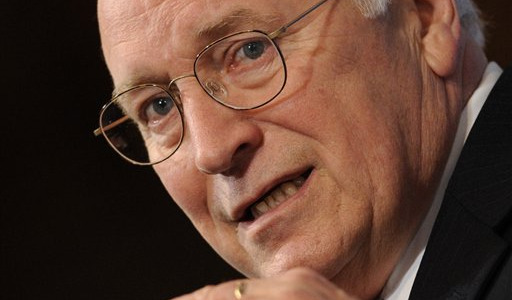 Women who have spent their lives fighting oil company pollution and profiteering angrily denounced former Vice President Dick Cheney and the company he once headed, Halliburton, for their role in the oil spill now spreading across the Gulf of Mexico.
They reacted to reports that Cheney's secretive White House Energy Task Force during George W. Bush's tenure blocked a requirement that offshore oil wells be equipped with a sound-activated shutoff valve that would close in the event of an explosion.
Environmental attorney Mike Papantonio told Ed Shultz on MSNBC's "Ed Show" that it was Cheney's Energy Task Force that rejected the proposal on grounds "that the switches, which cost $500,000 were too much of a burden on the industry."
Halliburton is directly implicated in the disaster since the Houston-based oilfield services corporation was under contract to pump cement around the wellhead to seal any leaks. Workers had just completed the cementing process when the well exploded. Ironically it was Earth Day, April 20.
Diane Wilson, a former Gulf fisherwoman and a veteran environmental activist, spoke to the People's World from her home in Seadrift, Texas, a fishing village on the Gulf Coast. "It was only $500,000 to pay for those acoustical-triggered valves and here are these billionaires saying it is too expensive," she said. "I'm familiar with Dick Cheney. I once crashed a fundraiser with Cheney when he came down to Texas to endorse Tom DeLay." She was referring to the corrupt Texas oil Republican forced to resign from Congress. "Inside, they were chanting 'Halliburton, rah-rah-rah."
The oil gusher currently pumping 25,000 barrels of oil into the Gulf each day "is a huge catastrophe," she continued. "But the people who live in the villages along the Gulf from Florida to Texas see this on a daily basis. Over half the nation's oil refineries and chemical plants are located on the Gulf coast. These plants release 5 million gallons per day into the Gulf."
Luci Beach, executive director of the Gwich'in Steering Committee, on Alaska's North Slope, who remembers well the disastrous 1989 Exxon Valdez oil spill off Alaska's coast, was in Washington, D.C., when BP's rig exploded. "I decided I had to go down to the Gulf to see for myself, to talk to the people," she said, "I went to Venice, La., and Biloxi and Gulfport, Miss. The Exxon Valdez was a tanker with a finite amount of oil. This is a well gushing at the rate of 210,000 gallons every day. It took Exxon 20 years to compensate the people and even then they got only a pittance. Dig down into the sand on Prince William Sound and the oil is still there. It is just heartbreaking."
She said the Gwich'in people are fighting to preserve the last stretch of Alaska's North Slope. "Drill here! Drill now! Drill baby drill," she exclaimed. "The oil companies try to convince the American people using scare tactics and intimidation. But they are putting America's food-basket at risk. The Arctic National Wildlife Refuge is the last intact Arctic and sub-Arctic ecosystem left in North America. It contains more biological diversity than anywhere else in the circumpolar north. Birds from all 50 states and six continents nest there. It's the birthing ground of the porcupine caribou herd, the sacred place where life begins."
I asked her about the role of Cheney's Energy Task Force in killing the acoustical valve. "It's criminal," she retorted. "They could have prevented this but they were too greedy and shortsighted."
She added, "They should be made to go down there and clean up the mess they have made. Corporations are not people. They are about the 'bottom line.' They care only about profits. We have given these corporations way too much leeway. I am going to a meeting this afternoon at the Interior Department on the Arctic Refuge. There should be no more gambling with America's most precious areas. This is a human rights issue."
Carol Hoover of Cordova, Alaska, the staging-ground for the Exxon Valdez cleanup, has been struggling to restore the once-pristine Prince William Sound since the disaster occurred on "Good Friday, March 1989," she told the People's World. "That spill and its aftermath has sowed havoc in the lives of the people ever since," she said. "I know the same thing is going to happen to the fishermen and all the people on the Gulf Coast."
Photo: AP/Susan Walsh