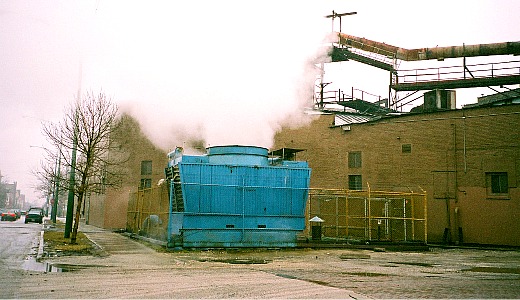 CHICAGO – Leila Mendez has been living in the Pilsen community here on the city's southwest side for more than 40 years. She said she almost died in 1998 due to a very rare tumor that was found in her left breast. Doctors at the time could not pinpoint what caused the tumor. Mendez however, is almost certain that area pollution is to blame for her near death experience.
Health problems had also affected her entire family. One sister became ill with a rare blood disorder. Her father was diagnosed with emphysema, a long-term progressive lung disease. "My father had never smoked a cigarette in his whole life," said Mendez. Another sister survived thyroid cancer and yet another sister died at the age of 21, due to a rare brain infection.
Now a community activist, Mendez says the root of her family's health problems are the high levels of pollution coming directly from nearby lead emitters, the H. Kramer and Co. smelter and the Fisk coal-fired power plant.
Pilsen is a low-income community and has been predominantly Mexican American for decades.
Jerry Mead-Lucero, a community organizer with the Pilsen Environmental Rights and Reform Organization says his group has been working on this issue for years. The organization and a coalition of community groups including the Sierra Club and Greenpeace have been demanding that the Environmental Protection Agency look into the matter.
After years of community campaigns, investigations and pressure, the EPA finally confirmed high levels of toxic lead in the air and around local schools, says Mead-Lucero, also a Pilsen resident.
In 2006, the EPA fined H. Kramer and Co. for air pollution violations and the company was forced to invest over $500,000 in new pollution controls.
Activists argue H. Kramer and Co. continues to be the largest source of lead pollution in Pilsen.
Lead is a toxic heavy metal and is one of the most dangerous forms of environmental pollution, especially for children and pregnant women. Its contamination causes nerve damage and can affect almost all systems within the body. Exposure to lead on young children can be especially severe, including developmental delays, lower IQ levels and increased behavioral problems.
According to Mead-Lucero the spread of tiny particles of soot or little specs of dirt, when contaminated with lead, can harm humans, lead to respiratory tract diseases and even penetrate the blood stream. It also leads to asthma, heart attacks and strokes.
Last year, after considerable community pressure, the EPA set up air monitors on top of a local school in Pilsen. It found Pilsen has the second highest lead pollution levels in the entire state.
Average lead levels at one Pilsen school were above federal limits during three-month periods in 2010, according to recent data. Lead pollution exceeded health standards during a fifth of the days monitored and, on one day in December, spiked more than 10 times higher – findings that even alarmed veteran investigators.
Mead-Lucero says he wants the EPA to do a thorough investigation in order to get a good sense of where the pollution is actually coming from. No matter what standards are set, any amount of lead pollution is unacceptable, he said, and area power plants must be held accountable.
Lastly, he hopes the Chicago City Council passes the Clean Power Ordinance, which would require power plants in the city to undergo major modifications to upgrade their pollution controls. Activists note emissions from the two plants in the city, including the Fisk one, have caused 41 premature deaths and 550 emergency room visits annually for ailments like asthma, heart disease and cancer.
Meanwhile, a joint investigation by the U.S. and Illinois EPA is underway and the process could take months, even years, said Mead-Lucero.
But for Mendez, the only solution is to close them down completely.
"People have the right to live and breathe clean air," she said. "My life was almost cut short and the owners of these companies only care about their profits, not people."
The health related issues she and her family have suffered are not coincidental and people's lives are at stake, she says.
"It makes me angry that these business owners have been getting away with this for so long," she said. "It has to stop. And the only way is to shut them down."
For more information or to get involved, visit the PERRO website.
Photo: Metallic-smelling steam spews from the H. Kramer and Co. smelter plant located in the Pilsen community of Chicago. Courtesy of www.pilsenperro.org.