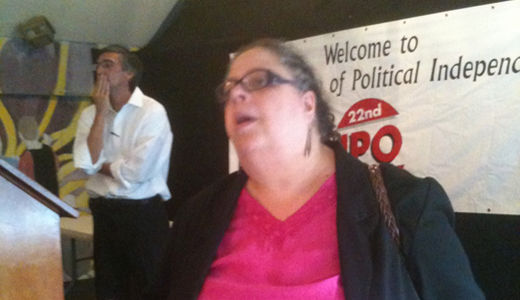 CHICAGO – More than 100 activists with the 22nd Ward Independent Political Organization (IPO) came together here July 13 at a southwest side cafe to renew the group's citywide efforts in creating multi-racial unity for progressive and community empowerment.
The meeting was packed with young and veteran Black, Latino and white activists.
The IPO was founded in the Little Village community in 1983 to advance the needs and basic rights of working families. The grassroots community based 22nd Ward organization under the leadership of Alderman Ricardo Muñoz has been a leading voice for broad unity, worker's rights and political independence throughout the Chicagoland area.
Karen Lewis, newly elected president with the Chicago Teachers Union and leader of the Caucus of Rank and File Educators was a guest speaker at the meeting.
Lewis said because of massive school closings too many students were being forced to relocate.
"They were ripped from their teachers and their community," said Lewis.
We got together to figure out what was going on and we realized that behind the closings was the privatization and gentrification of our neighborhoods, she said.
"So CORE was born out of this struggle and we became a very progressive caucus by listening to our students, parents and members," she said.
We went to every Board of Education meeting and we were able to successfully remove six public schools off the chopping block, notes Lewis.
"We said no more and we wanted to stop the privatization scheme, which ultimately doesn't have our students best interests at heart," she said.
It's not right that the business elite is deciding education policies, added Lewis.
"They steal the joy of learning in public education. What matters most is that we fight for what's ours especially the future of our precious children. Public education is the best form of democracy because it's open and transparent. And that's why Local School Council's are so important," she said.
"We need to ensure our voices are heard throughout the corridors of power."
Lewis said the CTU under her leadership would continue to fight for "professional autonomy" so that teachers who are trained to do their job have a voice at the workplace.
She added that the union would not let student achievement be tied to one single test score and that children should not be vilified by standardized exams.
We will fight against the "ranking and sorting" of our children, she said.
Lewis said the union would also ensure that highly qualified teachers instruct every student.
Also at the meeting was Chicago Sun-Times columnist Laura Washington who spoke about the history of the IPO and the 2010 statewide elections. Washington noted that since the early 1980s IPO leaders and others were instrumental in laying the groundwork for progressive and independent politics on a municipal, county, state and federal level including the election of President Barack Obama.
She also highlighted upcoming important electoral battles including the state's gubernatorial and U.S. Senate races.
She congratulated IPO activists for their valiant effort in the Feb. 2nd Illinois primary election that nearly brought Rudy Lozano Jr. to state office in the 23rd legislative district. Lozano, in his first bid for office lost by 434 votes to state Rep. Dan Burke, one of the most powerful and politically connected machine families in the state.
Speaking to the crowd Lozano, an educator and community organizer thanked his supporters. He said not to worry, "I will be back." Lozano notes his efforts to run again will not be intimidated by the machine's attempt to silence an emerging sleeping giant ready to take back the electoral districts on the southwest side.
Also addressing the crowd was Jesus "Chuy" Garcia who won in a decisive victory over Mario Moreno in the Democratic primary for Cook County Commissioner of the 7th district. Garcia, a leader and founding member of the IPO was the first Mexican American elected to the state senate during the 1990s.
"This last election cycle demonstrated a tremendous amount of community power," said Garcia. "It was a monumental display that proves our communities will do the right thing."
Garcia notes in the 22nd Ward both Lozano and his campaign garnered 75-83 percent of the vote over their opponents with the help of 500 volunteers on Election Day.
"People are ready for an alternative and searching for answers. Now is the time that we continue to fight for self-determination, political empowerment and multi-racial coalition building," he said.
Photo: CTU President, in foreground, speaks to the 22nd Ward Independent Political Organization, as Alderman Rick Muñoz listens in background.