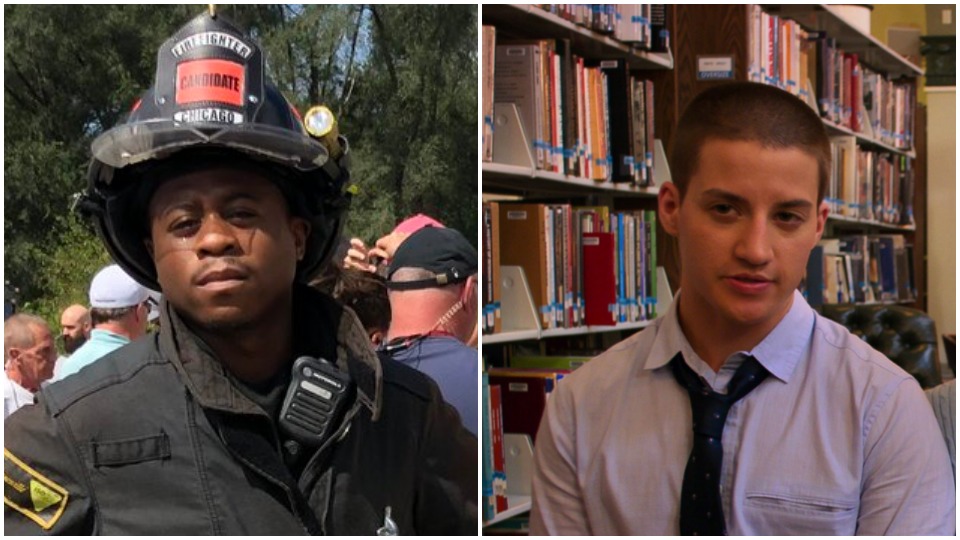 Friday, Oct. 11, marks the annual recognition of National Coming Out Day. First observed in 1988, the day is dedicated to raising awareness of civil rights for the lesbian, gay, bisexual, transgender, and queer community. With the current administration occupying the White House threatening to strip away LGBTQ rights, being "visible" remains an inherently political tool in shifting the public discourse around sexuality and gender identity.
People's World talks to two openly queer actors who are currently helping challenge misconceptions of queerness by pushing the boundaries of LGBTQ representation on television.
Daniel Kyri (He/Him)
Chicago Fire made waves last week when Darren Ritter (played by Daniel Kyri) came out on the popular NBC drama. Kyri joined the cast of Chicago Fire last season and quickly became a fan favorite, so it came as no surprise that fans embraced the news that Ritter has a boyfriend. People's World spoke to Kyri about the significance of having an openly Black queer character on a mainstream cable television network.
"You go into something like this and try not to have expectations," says Kyri about the days leading up to the reveal.  The openly LGBTQ actor said that although he differs from his character Darren in a lot of ways, this was one of the intersections that overlapped with his own. "Watching the scene felt personal because it felt like I was the one coming out to the world on national television."
Ritter's "coming out" was mostly received positively by audiences, who rallied in support of the character's development. While he prepared for the worst, Kyri was "pleasantly surprised" to see the outpouring of support online. "To see fans tweet the network and applaud them for being inclusive—it feels like a step in the right direction."
The vulnerability of the scene hit close to home for Kyri, although he says his own experiences as an openly queer Black man have been less affirming. "I'm not playing myself; Darren does a bazillion things I would never do," he insists, "so when this became part of the story I became protective, especially since my own experiences have not always been so glamorous."
Still, the actor says he felt a "measure of gratitude" for the delicacy and simplicity of the televised moment. "The way it was written was so simple and such a non-issue; it brought actual tears to my eyes," says Kyri, wondering out loud why acceptance of people's sexuality can't always go like this.
The 25-year-old actor has already been recognized as an exceptional talent. Kyri was nominated for a 2017 Joseph Jefferson Equity Award for Principal Actor in a Play for Objects in the Mirror at the Goodman Theatre in Chicago, Illinois. Last year, Kyri also co-wrote and co-created an independent web series called the T. The show follows a trans woman and a Black queer man (played by Kyri) who discovers he is HIV positive.
Although Kyri has been acting for over a decade, he says stepping into the role as Darren Ritter forced him to navigate parts of his career that he hasn't previously encountered. "I'm obviously proud and open, but I also understand how the business works," he says in reference to his concerns about being typecast.
Although Kyri says it's not uncommon for viewers to conflate him with his character, he says he's learning to navigate those expectations. "There's Daniel, who I am, and there's Daniel the actor wants to be marketed in a certain way." Like many marginalized actors, Kyri wants to make sure he isn't pigeonholed into the same types of roles. "I want to be believed in whatever character I choose to slip into," he says of his career aspirations.
Despite any hesitation, Kyri says he is proud to be a champion of representation for his communities. Having hardly any Black queer role models on television growing up, Kyri is inspired to seek out parts that are well represented in the intersections of his identity. "I can't say I had very many examples, of Black queer people growing up" he states, " I spent a lot of my youth lost at sea, reconciling with my sexuality."
In light of the current political discourse around LGBTQ rights, Kyri maintains that having positive queer content creation is more important than ever. "There is no world in which you can drop a stone in the water and there not be ripples," says Kyri of the impact that queer actors have made.  "Is there enough representation? Probably not, but it is making people curious!"
Although Kyri agrees that there has been a shift in public sentiments towards LGBTQ communities over the last decade, he insists that there is more work that needs to be done. "I think empathy is such an important part of being human that so many of us are lacking," says the actor thoughtfully. Kyri reflects on the ways in which his Chicago Fire character has made an impact. "It doesn't matter who or how you love; we need to see the humanity in all people," he reflects, "I hope that Darren Ritter has shown that to people."
Theo Germaine (They/Them/He/Him)
Ryan Murphy's most recent passion project, The Politician, was released on Netflix last month to rave reviews. The series features a star-studded cast that includes names like Ben Platt, Gwyneth Paltrow, and Jessica Lange. The real breakout star, however, is up-and-coming Chicago-based actor Theo Germaine, (they/them/he/him). Germaine plays James Sullivan, Payton Hobart's (Platt) best friend and high school campaign advisor. Germaine is as brilliant as they are hilarious, depicting James's characteristically dry wit and unrelenting drive.
Despite landing a lead role in a hit Netflix series, Germaine is relatively new to television. Germaine moved to Chicago in 2015 in hopes of pursuing more professional opportunities and began by juggling multiple part-time jobs. They were nearing the end of their shift at The Wormhole Coffee, in Wicker Park, when they received the call from their agent that they had landed the part of James.
One of the many things that attracted Germaine to the role of James was the fact that he was written like any other character in the series and not typecast. "James gets to be secretive and shitty and cool," says Germaine, "I was just like, 'Is this what it's like for cisgender actors?'"
Although it is easy to spot how personable and charismatic they are, Germaine says opportunities for trans actors are finite, "I was just clawing at anything I could get," they recall of their prior auditions. Germaine spent years sending taped submissions for the limited trans masc roles available. "All of us have auditioned for the same stuff, which is why we all know each other," states Germaine.
Landing the role on Murphy's show has been exciting, and at times intimidating for Germaine. Their social media has blown up to over 26,000 followers in just a few weeks, and they are currently traveling the country for press tours. The opportunity to play James also allowed Germaine to venture into a type of role that was previously uncharted for them. "What is really significant and exciting about James is that he doesn't fall into typical trans tropes."
Germaine has historically struggled to fit into binary roles, both in their professional and personal life. In the past, they auditioned for parts that were more transmasculine-leaning but were often told they were not "masculine enough" by casting directors. "I can just be who I am," says Germaine about acting on The Politician, "without trying to put myself into a box."
With queer-identifying characters increasingly becoming accepted in the mainstream, Germaine hopes that there will be opportunities for trans actors in all types of roles. "I want to see more positive representation—where nobody dies," they say, explaining how transgender narratives are often turned into "trauma porn." They also highlight the need for diversity behind the scenes, "There is a need to have more people of intersectional identities writing or being paid as consultants."
Despite not having many queer or trans actor role models growing up, Germaine's youth was highly influenced by theater. "I went to see Cats, the musical, when I was 7 and was like, 'Fuck, I want to do this my whole life.'" According to Germaine, the androgyny and gender-bending of musical theater were formative in their decision to pursue acting and helped affirm their identity. "I was always a little flamer," they laugh, "I used to put shows on for my parents."
Despite the popularity of shows like POSE and Queer Eye, Germaine says that queer representation is only one aspect of what's needed. "You can't just have a queer representation; things have to build on each other." While television can be entertaining and readily accessible for mass audiences, Germaine maintains the need for action behind advocacy. "There needs to be demonstrations, and activism around policy, and difficult conversations with relatives—all of that is part of the die too."
Although the non-binary actor says they have previously struggled to get cast, Germaine now has a number of exciting projects coming up. They are set to co-star in a Showtime exclusive series called Work In Progress about a 45-year-old self-identified fat, queer dyke who unexpectedly ends up in a transformative relationship with a transmasculine person (Germaine's character).
Germaine is also looking forward to continuing to explore roles that push the limits of transness and challenge misconceptions of gender and sexuality. They aspire to be able to lift up other trans, gender-non-conforming actors as well. "I love acting," they state, "I hope this is an opportunity to show other content creators that we can just start casting trans people in everything."