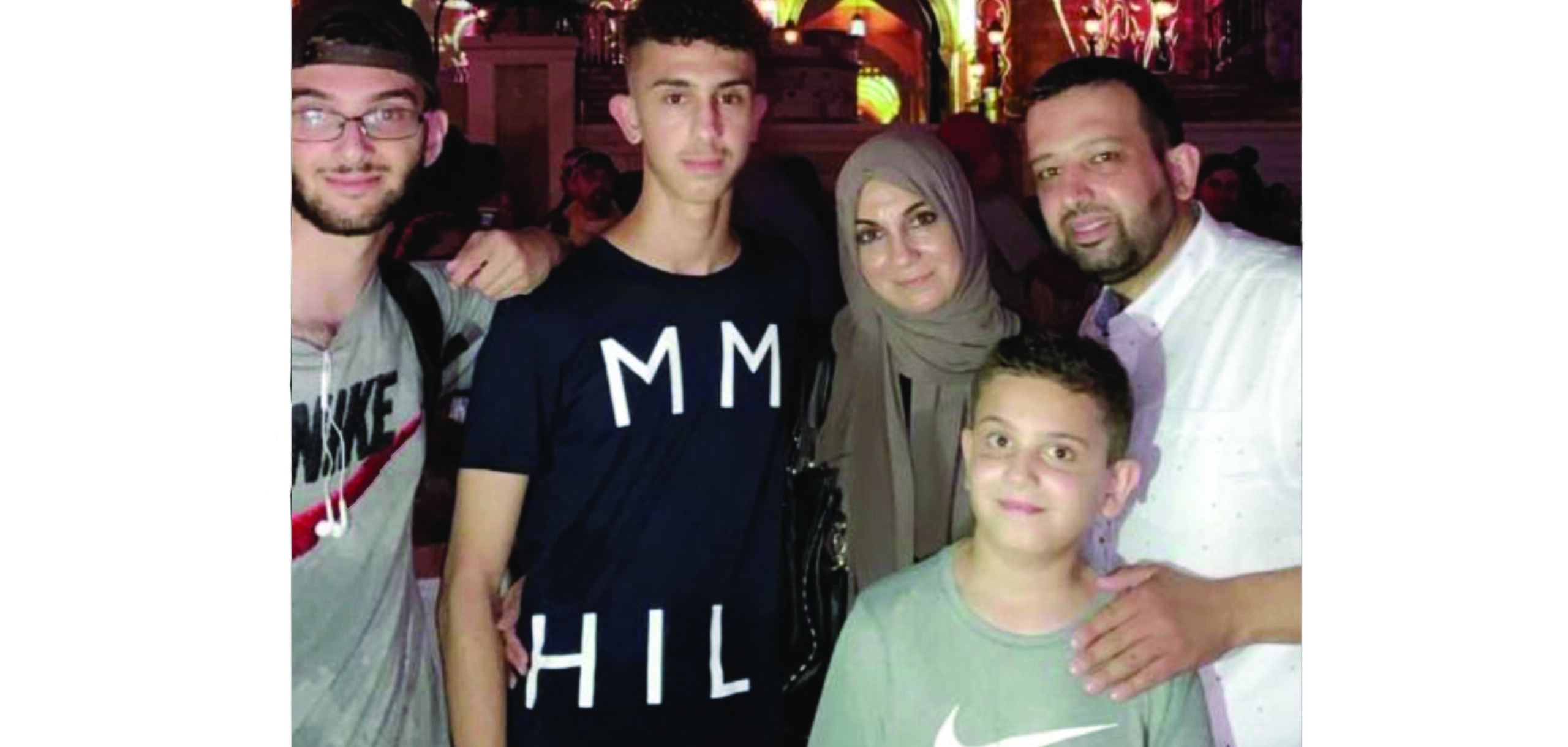 CHICAGO RIDGE, Ill.—Several Palestinian Americans here are expressing profound anger and disappointment with President Joe Biden over his backing of what many see, as Democratic Rep. Rashida Tlaib of Michigan calls it, the genocidal bombardment of the people of Gaza.
The anger was palpable enough when the president, early on in the Israeli war on Gaza, declared his opposition to a cease fire even as the death toll in Gaza escalated rapidly.
"Our anger grew to where we can almost not bear it when, on top of that, Biden questioned the death toll figures released by the Palestinian health authorities," Ahmad Qurt, a Palestinian American who lives here told People's World.
"Instead of expressing concern that thousands of Palestinians have been killed, he was complaining about figures as if a thousand less or more, when you talk about so many thousands, is really what matters. Stop the bombing, stop the killing, that's what he should support."
Ahmad said that if sentiment in Chicago Ridge and neighboring towns that make up "Little Palestine" west of Chicago is any indication, Biden's re-election campaign may be in trouble.
Although Biden won Illinois by a safe margin over Donald Trump in 2020, that was hardly the case in hotly contested "swing" states like Michigan, where Arabs account for 5% of the vote. Biden won Michigan with 50.6% of the vote compared to 47.8% for Trump. The number of Arab voters, especially when you include many new younger ones who could not vote in 2020, exceeds the president's 2020 margin of victory.
It's a real dilemma for Palestinian American voters here because they are under no illusion that Trump, Biden's likely Republican opponent, has anything good to offer Arab Americans.
"I went with my wife to O'Hare Airport to protest the Muslim ban put in place by Trump," Ahmad, a registered voter, said. He owns a small general store on the South Side of Chicago. He originally came to the U.S. in 1998 from the village of Beitunia in the Israeli-occupied West Bank.
Although he said he could never support Trump, after seeing Biden's support for "Israel's massive killing of Palestinian civilians," he cannot vote again for the president.
"How could he (Biden) say that a ceasefire only benefits Hamas? What about the Gazan people? What about the 3,000 dead children and more being killed daily? Are we Palestinians and our children not also human beings? What kind of man, especially a president of the United States, could say these kinds of things?
"We know Trump was bad. He moved the U.S. embassy to Jerusalem, and he issued a Muslim ban, and delivered so much hate speech. But now we have Biden, who betrays us and endorses Israeli bombing and attacks that amount to genocide against Palestinians, and he ignores the cause of all the problems—the criminal occupation of Palestine by Israel in the first place. My wife and I supported Biden, but what do we do now that we feel betrayed by him."
Ahmad said, "The only thing Biden should do now is to join the worldwide call for a ceasefire."
Like many of the Palestinian Americans living in both the city of Chicago and its western suburbs, Ahmad has struggled most of his life to make things better for himself and his family.
He left Beitunia at the age of 20. "The most you could earn was $300 a month, and that did not go far in the occupied Palestine because everything we purchased had to be routed through Israel, with all the extra costs piled on top. Everything, even what we ate every day, was coming through Israel."
He traveled to the U.S., where he was able to hook up with relatives and worked hard, seven days a week until he was eventually able to purchase the small "dollar store" he now runs on the south side.
He was not the only one to come to the Chicago suburbs from his small Palestinian village, nor was he the only one who's had a difficult life struggling against injustice.
Hanaan Shahin, the 32-year-old woman who lost her six-year-old son in Plainfield, Illinois, last month when he was murdered by their landlord, who said "Palestinians must die" as he stabbed the boy, also came from Beitunia.
She left the West Bank village 12 years ago after her uncle was attacked and killed by Israeli settlers who had camped near her home. It was her uncle then 12 years ago and now her son, whose lives were both taken by hatred of Palestinians.
In the attack in her home earlier this month, her son, Wadea Al-Fayoume, was stabbed 26 times and declared dead at the hospital. She herself was also stabbed by the attacker more than ten times.
"The suffering of Hanaan is something felt by so many Palestinians," Ahmad said. On the street, you see someone who looks like just an ordinary person, but when you look closer you see someone who is a hero. She survived and resists all the injustice, all the attacks."
Ahmad talked a little about what life was like in Beitunia before he left there for the suburbs of Chicago. "Just a mile away from my house, there was that Israeli settlement, and even closer there was a prison built by the CIA for the Israelis. I could see it from my window, and at night I could hear the screams of the Palestinian prisoners being tortured.
"Those horrors are over with for me now, but I cannot forget. It is not just anger and fear and sadness that we all feel. We also feel pride. I remember children in Palestine using little red wagons that in some countries are simply toys, but there they are tools the kids use to help their families survive. They piled discarded bottles and garbage, anything they could find, into their wagons and sold the things to raise a few pennies to help feed their families.
"Me, my wife, people like Hanaan, who went through so much, we still go to demonstrate at O'Hare Airport for justice for our people. We will never give up, and we hope people of goodwill everywhere will support us. One of my good Jewish customers counts himself as a supporter of justice for Palestinians. He is a fine gentleman. Let's stop the bombing and the killing. Let's end the occupation, and let's have peace."