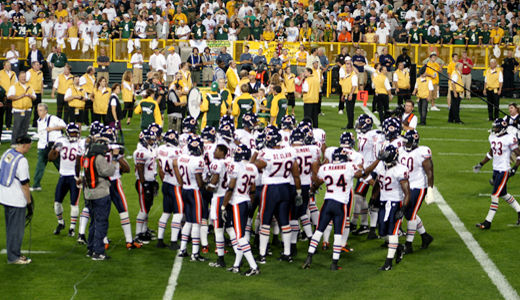 In a couple of weeks the Bears will play their first game of the 2010 NFL season. If you are a huge Bears fan, and can't wait until the season opener, you can see them in Bourbonnais at Olivet Nazarene University where they are attending training camp. Fans have very high expectations. Here is what they would like to see.
The offense has improved a bit, but needs work. The Bears didn't add any new receivers. They will have to rely on Devon Hester who has been put as wide receiver last year.
Johnny Know is a good receiver, but still has much to learn. Harvey Unga and Chester Taylor are two newly-added running backs that will make a great addition along with Matt Forte.
Unfortunately the Bears don't have a good supporting offensive line to help.
Quarterback Jay Cutler needs to step up and be the face of the franchise because frankly linebacker Brian Urlacher is not cutting it any more. Cutler has to start hitting his wide receivers and cut down on the interceptions.
Chicago has been known for its defense but all that can soon change. The drafted rookie defensive end Corey Wootton in the fourth round from Northwestern is a great addition because his speed and size that separates him from most defensive ends.
"I'm really excited about heading to training camp later this week. It's a dream come true for me to join an NFL team. Especially such a historic franchise like the Bears and this is a great opportunity." he said in one of his blogs.
The Bears have also added the once great Julius Peppers, who use to play for the Carolina Panthers. Fans don't know what to expect form him since he has never played outside Carolina. He is also not playing his usual position. He is past his prime and a step slower but hopefully he can still make a difference.
Urlacher makes his return after sitting most of last season out due to a wrist injury. He had surgery to repair his wrist, and some critics say he will not play the same.
"If someone says something I don't like, I'm not going to hold my tongue. It's not fair for us to have people go out there and say stuff about us but there are no consequences to what they say. The consequences are us firing back. They can say whatever they want to about me. There's nothing worse they can say about me. But I get irritated when they talk about my teammates and my coaches." he said to the Chicago Tribune.
Overall the Bears have to have a good upcoming season in order to keep Coach Lovie Smith. He cashed in after taking the Bears to Super Bowl XLI in 2006, signing a four-year, $22 million contract extension the following March. It all went down hill after three straight seasons missing the playoffs entirely.
"Lovie is one of the best coaches I've been around," Cutler said to BearReport.com, "and I know that everyone on this team has a great amount of respect for him, as he does for us. I know that some of the guys who have been here longer than me definitely have a lot of ties with him and want to go out there for him and play well."
Photo: The 2007 Chicago Bears huddle up during pre-game warmups. (CC)