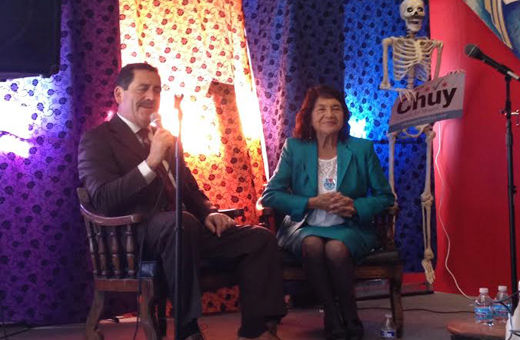 CHICAGO – Latina leaders from private, government, and non-profit sectors gathered in this city's Pilsen community, and engaged in an open dialogue with Cook County Commissioner and candidate for mayor Jesus "Chuy" Garcia.
Chuy Garcia, addressed Rahm Emanuel's recent comment "you can't protest a problem" by reminding the audience of the 19-day hunger strike that mothers took in 2001 to demand a long-promised high school be built in their community. Now Infinity High School boasts high marks in science and other scholastic achievements. "Yes you can protest a problem," remarked Garcia.
Dolores Huerta, co-founder of the National Farmworkers Association, which later became the United Farm Workers, a civil rights leader in her own right, joined the gathering and followed up Garcia"s comment by saying that "education is the new civil rights movement. Education is the foundation and soul of America and we must save public education."
"California is abuzz on this election and yes you can tax the rich," Huerta said. In California we passed a state tax which requires millionaires to pay three percent more and which has brought $6 billion more in revenues each year. Requiring the poor and working people to do all the heavy lifting has to stop," Huerta told the crowd of which 90 percent were women.
During the listening portion, community member Doris Salomon asked, "What would you do to insure cultural representation in Chicago? Garcia answer by stating that his administration will look like Chicago and that all of his appointments will include representation from all of Chicago, not just a select section.
Maria, an undocumented student who struggled to finish school, asked Garcia what he would do to support undocumented youth. Garcia replied that first he would have the schools do what the county has done and that is to have a non-cooperation policy. He would also push both political parties to address the issue and establish comprehensive immigration reform.
Garcia also asked Maria what she thought was needed to be done. Maria replied that more counselors are needed that are sensitive to the undocumented student. She said students need to be provided with information so that they are able to obtain the funds they need to further their education.
When asked what Garcia would do to address the homeless population in which families would rather live in on the streets than risk having their children taken to foster homes when they attempt to apply for services. Garcia said the mayor appoints the board and head of the housing authority and he would make sure that it is made up of culturally sensitive individuals. "There are 22,000 students in Chicago that are homeless, we need to make sure that they have adequate support to be successful in school.," Garcia declared.
Ariana, an undocumented youth, expressed her concern with regard to the increase in police that are in Garcia's plans. She said " I am concerned because of racial profiling and that many people stopped end up in detention centers." Garcia said that these new officers will look like the community they serve and they will be trained in community policing. "But what is also needed are jobs for our youth so that they don't turn to other activities. Youth arrested will be sent to centers that engage in restorative practices, this will help to end the school to prison pipeline.
"Stop and frisk in Chicago will not be tolerated," Garcia said. "There is a need to reduce violence in Chicago. One part is to add more police but the other is to add jobs for our youth."
Huerta ending the listening session by saying, "What we have seen is a good demonstration of what kind of mayor Chuy Garcia wants to be. We are in this movement of which our tactic is called voting. "Si Se Puede!"
Photo: Rossana Cambron/PW