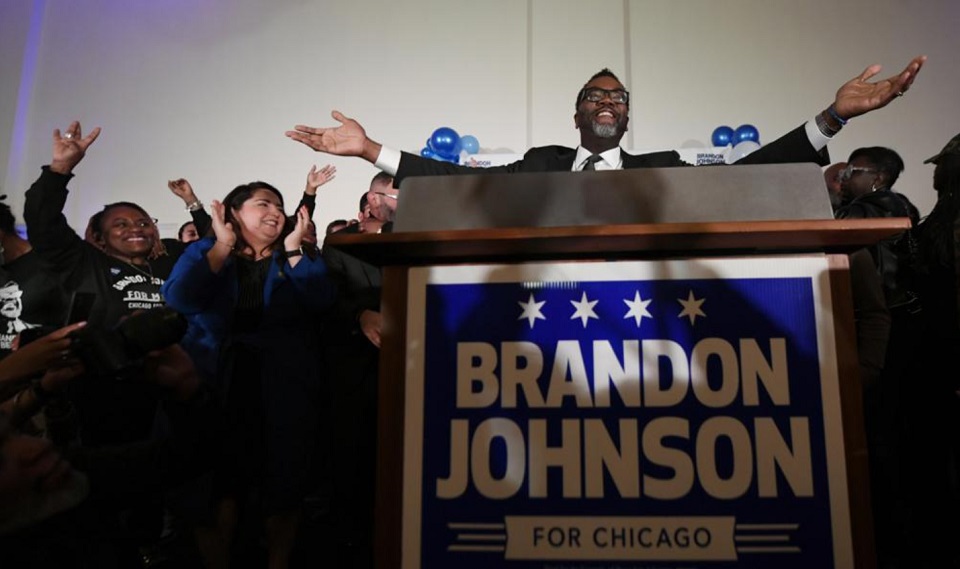 The Chicago mayoral race heads to an April 4 runoff between Cook County Commissioner and former Chicago Teachers Union leader Brandon Johnson and former Chicago Public Schools (CPS) CEO Paul Vallas. The contest offers voters a clear choice between two vastly different visions for the city. One is of a people-centered equitable democratic city and the other is one of going back to the days of machine control and racial division.
Incumbent Mayor Lori Lightfoot failed to make the runoff, becoming a one-term mayor. Lightfoot won in 2019 on a progressive reform agenda but then cast it aside once elected. She had the political misfortune of governing during an unprecedented global pandemic, economic crisis, and social protests around police murders. She could not overcome her low popularity and as the nation's first openly gay Black woman mayor was subjected to intense additional criticism.
Nine candidates made up the crowded field. With most of the vote in, Vallas leads with 35%, followed by Johnson at 20%. As the top vote getters, they head to a runoff because no candidate received over 50% of the vote. Lightfoot received 17%, followed by Rep. Jesus Chuy Garcia at 14%.
The city's progressive community had split between Johnson and Garcia, with many choosing not to endorse. They are expected to line up behind Johnson now.
Vallas won with a campaign focused solely on crime, calling for diverting more funding to hiring officers and locking people up. As the only white candidate, he employed dog whistles that appealed to racial fears.
Vallas has the backing of the corporate elite, real estate interests, the fascistic Fraternal Order of Police, right-wing elements, and Republicans, including failed GOP MAGA candidate for governor, Darren Bailey.
Vallas ran a slick media campaign that reinvented him from an anti-abortion supporter and public official who has failed at every level to a leader who will solve the city's deep problems. When he was CEO of the Chicago Public Schools, Vallas led the Chicago school privatization and shutdown efforts which deepened the school crisis. He led the privatization of New Orleans public schools after Hurricane Katrina and made a mess of schools in Philadelphia and Bridgeport, Conn.
Johnson, whose father was a public worker, AFSCME member, and pastor, grew up in Chicago's Austin neighborhood, an African American working-class community on the West Side. He was a middle school public school teacher, rank-and-file CTU activist, and organizer elected to the Cook County Commission in 2019.
Johnson built an energetic, intergenerational, multi-racial coalition and movement with a superior campaign operation and message. Crucial activist unions backed Johnson's grassroots campaign, like CTU and SEIU Local 73, and their massive resources and potent political operations enabled the movement to go citywide.
The victory is the result of 10 years of movement building and electoral activism by the CTU after progressives won the leadership in the union. The CTU built alliances with community groups and activists through the United Working Families Party. In addition to the UWFP, the campaign won the backing of eight alderpersons, many ward organizations, and DSA chapters. Young voters also powered the campaign which was allied with the citywide movement for police reform and the historic election of police district councils.
Johnson's campaign and Chicago's labor and social justice movement have an enormous challenge to unite a city historically fractured along racial lines. The campaign must present a unifying, all-inclusive, equitable vision for a modern city and build a campaign that goes well beyond the coalition that got him into the runoff. That includes building support in every community, winning voters who supported Lightfoot, Garcia, and other candidates, and motivating voters who sat out the first round.
Vallas and the corporate media immediately branded Johnson a threat to the city, defining him as a wild-eyed radical socialist, a pawn of the CTU that wants to take over the city, and committed to defunding the police and massively raising taxes to fund his utopian and unrealistic agenda. Vallas will inundate the political space with this message.
Johnson calls for massive investments in historically disinvested working-class communities, building up mental health, social workers, and other social services that have fallen on the police department, fully funding public education, and investing in affordable housing and public transit.
Johnson's approach to public safety sees a correlation between youth unemployment and violence, in addition to the widespread availability of firearms and drug trafficking. His program calls for historic investment in youth jobs and training, full funding of public schools, and front-line services like therapists, counselors, and social workers to deal with community trauma.
In the aldermanic elections, although results are preliminary, it seems gains may have been made by progressive candidates.
The April runoff sets the stage for a similar contest of visions that occurred in New York City and Los Angeles that pitted "tough on crime" candidates versus inclusive, progressive visions. In NYC, Eric Adams, the "tough on crime" candidate won due in part to a fractured progressive movement during the Democratic primary. In Los Angeles however, Karen Bass prevailed by building a broad unified coalition.