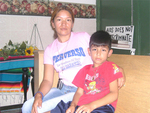 CHICAGO — Elvira Arellano, 31, an immigrant rights activist and mother of a 7-year-old child, has taken sanctuary in a church here, defying efforts by the U.S. government to deport her to Mexico. She told reporters, "I don't only speak for me, but for millions of families like mine."
On Aug. 15, Arellano, president of the immigrant rights group La Familia Latina Unida, said she would not report to the Department of Homeland Security for deportation, in an effort to remain with her son Saul, or "Saulito," who is a U.S. citizen.
Arellano was arrested in 2002 in an immigration raid at O'Hare Airport where she worked. The government ordered her deportation. Arellano, who is undocumented, has gained wide support in her struggle to remain in the U.S. Sen. Dick Durbin (D-Ill.) introduced a private relief bill in 2003, based on Saulito's health problems. Arellano was granted three stays, the last of which has expired.
Arellano has taken refuge at the Adalberto United Methodist Church in the heart of the city's Puerto Rican community. She says she hopes her actions will promote legislation that protects families from being torn apart by deportation.
In May, she carried out a 23-day hunger strike demanding a moratorium on deportations and immigration raids until Congress passes a more just immigration policy.
Arellano talked with the World in Spanish at the church about her decision to take refuge there. She said she plans to stay as long as it takes to win an agreement from immigration officials not to deport her.
"I understand my legal situation, but I'm here because I'm defending the constitutional rights of my son," she said. "I'm not going to abandon my child. We're going to stay together, and I have an obligation and a responsibility to ensure that my son grows up healthy with a future filled with opportunities here in the U.S."
She added, "The love of a mother for her child is unconditional and necessary. When a woman gets pregnant she also has rights, especially to struggle and fight for her children's rights."
Arrelano's attorney Joseph Mathews is seeking a temporary injunction to block her deportation. Deporting her would effectively lead to the deportation of Saulito, and thus violate his rights as an American citizen, Mathews told reporters. "And if you violate Saul's rights, you violate the rights of all people born on U.S. soil," he said.
Arellano said she feels in high spirits, bolstered by the daily arrival of supporters from community and immigrant advocacy groups, labor unions and churches as well as elected officials.
Saul Melendez, 28, a local high school counselor, is part of a team of young volunteers who have been taking one-hour shifts during the day and two-hour shifts at night, standing guard outside the church with the Puerto Rican flag.
Melendez said they are showing the unity between the Puerto Rican and Mexican communities. Arellano is " a symbol of resistance," he told the World. "It's important that she is taking a stand, saying 'You can't take me, I'm not going.'"
Beti Guevara, associate pastor at Adalberto Church and longtime friend of Arellano, calls her "a hero to me" and "to all single mothers, especially for our kids who depend on us and don't have father figures. She is fighting for the rights of all Latino women who are saying 'don't mess with my kids.'"
Arellano urged her supporters to register and vote in the November elections and to continue to flood Congress with phone calls demanding comprehensive and just immigration reform.
"The voters," she said, "are the most important players who can support undocumented workers and immigrant families. They can stop families from being deported in order to remain united and not divided."