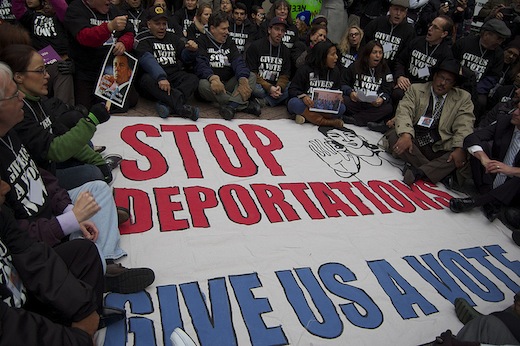 CHICAGO – It was supposed to be a joyous occasion. Karina and her family were celebrating her oldest son's birthday. As they were cutting the cake, they heard a knock at the door. Agents of Immigration and Customs Enforcement (ICE) entered, arrested Karina in front of her children and took her away for deportation proceedings.
Through tears, Karina told her story to a protest at the Chicago ICE office on Nov. 6 demanding an end to deportations and calling upon Republican leadership to quit blocking a vote on immigration reform in Congress.
Then in an act of civil disobedience, 150 leaders of faith, trade union and community activists and elected officials were arrested for blocking a street.
The protest follows similar civil disobedience actions in Washington D.C., where Illinois Reps. Luis Gutierrez and Jan Schakowsky were arrested, in Florida and in New York. Pressure is being ramped up on the GOP congressional leadership across the country to pass comprehensive immigration reform with a path to citizenship before the end of the current session.
"I have been here 14 years. I have three children who are U.S. citizens. I got a deportation order just because I was pulled over for a traffic ticket in Elgin, Ill. I spent a night in jail just like a common criminal," said Karina. "This is not fair."
According to Father Brendan Curran of St. Pius Church, over 2 million undocumented workers have been deported, the vast majority with no criminal record. They have left behind 3 million children.
"We are here to demand of President Obama: Stop deportations. Two million are too many!" said Curran. "Our families are sacred. Congressional gridlock is tearing apart our families and our communities are being destroyed."
"I want to ask Speaker John Boehner to give us a vote on a humane, comprehensive immigration bill," said Rep. Danny Davis, D-Ill., who was among those arrested. "I also want to ask my president, the Honorable Barack Obama, please stop these deportations of all these families who are being broken."
Alma Silva came to the United States from Mexico 17 years ago in search of the American Dream. She said it pains her that she hasn't been back since to visit her aging parents and she can't bring them here. Current immigration laws are dividing families.
"I have two children who are undocumented but are being protected by DACA (the executive order signed by Pres. Obama giving legal status to undocumented youth)," she said. "I have two more children who are American citizens. We constantly live in insecurity and fear of deportation and our family being separated. This is not just."
Silva called upon Republicans to allow a vote. "11 million undocumented immigrants can't wait any longer," she said.
Pro-immigration reform activists have been targeting Illinois Rep. Peter Roskam, a high-ranking leader of House Republicans and a leader of the obstruction. His congressional district covers fast-changing suburbs west of Chicago with growing immigrant populations.
A growing number of Republican elected officials are becoming alarmed that the GOP's reputation for opposition to immigration reform will dash any chance they have of winning votes from Latinos and other immigrant communities. With pressure mounting, Reps. Jeff Denham of California and Ileana Ros-Lehtinen of Florida became co-sponsors of HR-15, the comprehensive immigration bill similar to that passed by the U.S. Senate.
Photo: PW/John Bachtell