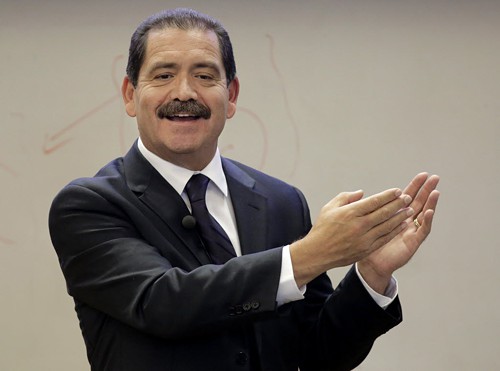 Calling for the revitalization of Chicago's neighborhoods, mayoral candidate Jesus "Chuy" Garcia pledged to halt the "hijacking" of the city by hedge fund operators and bankers at a campaign rally Saturday.
Vacant buildings in the city's neighborhoods are signs of disinvestment and neglect, Garcia stated. "The bankers brought us the Great Recession," he added. "The Recession put people out of work and that brought crime."
Garcia pointed proudly to the diversity of the crowd, which was predominantly young adults in their 20s and 30s, many with children and babies in tow. The Grand Palace Ballroom on the city's southside reverberated with the beat of an impressive display of the city's musical talents from R&B to son jarocha.
Many had come to see Chicago Teachers Union President Karen Lewis, a fierce opponent of incumbent Mayor Rahm Emanuel. Emanuel closed 50 Chicago schools in the wake of a bitterly fought teachers strike two years ago. Lewis, who had been planning a run for Mayor herself before being sidelined by emergency surgery for a brain tumor last fall, made it clear in one of her first public appearances that Chuy was the candidate to carry on the fight. "I hope I've taught you all here something," said the former high school science teacher, "And I don't mean just chemistry!" Lewis seconded Garcia's call to stop the flow of Tax Increment Financing funds to corporate people connected to City Hall, which totaled $1.7 billion under Emanuel.
Chicago's "non-partisan" primary will take place February 24. Emanuel hopes to achieve a 50 percent plus vote in order to avoid a run off. He has amassed a $12 million campaign chest, in large part from the same financial giants referred to by Garcia. Other candidates include southwestside Alderman Robert Fioretti and Willie Wilson, an African American supporter of newly-elected Republican Governor Bruce Rauner.
Garcia surprised many political observers by gathering over 60,000 signatures on his nominating petitions in just three weeks in November after Lewis dropped her candidacy.
Photo: M. Spencer Green/AP