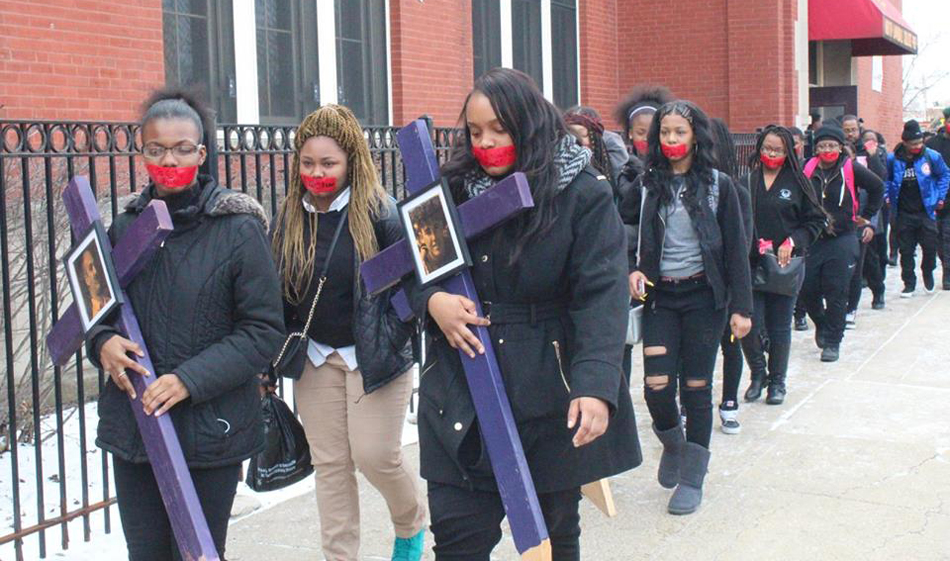 CHICAGO—Public school students here clashed with law enforcement Wednesday morning after officers arrested multiple youth who were protesting gun violence during National Walkout Day. Thousands of students from around the city organized peaceful marches as part of the nationwide student-led campaign for for stricter gun control legislation and safe schools. Chicago Public Schools students also took the opportunity to speak out about other issues they are facing, such as the threat of education budget cuts and public school closings in their city.
Police first grabbed student protesters off 47th Street near Lakeshore Drive. Footage that was originally posted to Twitter but has since been taken down showed police reportedly handcuffing and taking away a 16-year-old female student from Kenwood Academy. Video of the incident showed her being escorted into a CPD paddywagon while classmates shouted, "Let her go!" The Chicago Police Department's communications office responded with a statement saying that the high school junior had walked out into the street "disturbing the flow of traffic," and that she was placed into custody for reckless conduct. Glenn was eventually released and will not be facing criminal charges.
Students from North Lawndale College Prep also participated in Wednesday's protests, with dozens marching through the Southwest Side neighborhood carrying crosses with photos of gun violence victims attached. A number of demonstrators also held up banners with statistics comparing funding spent on incarceration in the city with the amount of money spent on public schools. Advocates have argued that city funds need to be redirected from jails towards supporting mental health and public education programs.
It comes as no surprise that the Chicago response to gun and school violence is being led predominantly by Black and brown youth. Middle and high schoolers have already been taking the lead in addressing the issues that their communities face daily. Just last month, Brighton Park Neighborhood Council youth leaders stormed city hall after the Chicago Board of Education voted to close down four Englewood schools. Students have also been vocal in their disdain for Mayor Rahm Emanuel's proposal to invest in a $95 million cop academy.
Southwest Side youth leaders and students from Simeon Career Academy held a press conference at Daley Plaza Wednesday at 4pm before marching to City Hall to present their demands to Emanuel. The press conference included students from Back of the Yards High School, Marie Curie High, Hancock High, Kelly High, Lindblom Math and Science Academy, Englewood schools, and Simeon Career Academy.
The comprehensive list of demands included an end to all school closings and the expansion of charter schools, an appeal for more funding for schools in Black and Brown communities, and investment in schools using Tax Increment Financing (TIF) money. There was also an emphasis on the need for an increase in mental health resources in the community, including the reopening of clinics and more counselors and full time social workers in every school. Students also again made public their stance on the cop academy proposal, stating they were fervently against it, and spoke on the need to end reliance on a gang database used by police which critics say is racially skewed.
Many of the youth who participated in the walkouts, and were present at the press conference, shared their own experiences with gun violence in Chicago. The nationwide gun violence epidemic has manifested in very different ways in Chicago than it has for Parkland students in Florida. Nevertheless, youth nationwide are finding strength in solidarity and are making the fight for more resources for their schools and communities a part of the campaign.