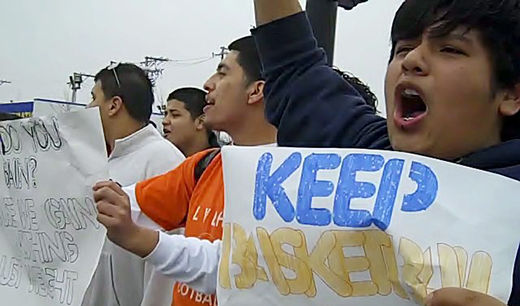 CHICAGO – Hundreds of high school students walked out of classes across the city March 10 to protest elimination of junior varsity sports programs. Chicago Public Schools (CPS) announced last week cuts to all sophomore teams for Spring sports, including softball, baseball and soccer.
CPS is in a severe fiscal crisis and trying to close a $500 million budget deficit that is expected to grow to $1 billion next year. By cutting sophomore sports programs, CPS expects to save approximately $1 million.
Last week CPS CEO Ron Huberman also called on the Chicago Teachers Union to reopen its contract and make big concessions. He demanded either reduced pension contributions, rescinding of a scheduled pay hike or larger class sizes, which would mean 600 teacher layoffs. In essence, teachers are being pitted against their students.
Students from Little Village-Lawndale High School were having none of it. They walked out of classes and stood on all four corners of 31st and S. Kostner near the school, urging drivers to honk in support.
Several of the students angrily criticized the nation's spending priorities, which they said were shortsighted and harmful to the nation's youth.
"The government should have enough funding for all schools," said Itzel, a junior. "It shouldn't just appear out of nowhere."
"Please don't take away what many have achieved. Bring back our funding. You've got hundreds of millions for war and can't spend $1.4 million on sports programs. That's bad government," said Carlos Cuevas, a sophomore who participates in football, basketball and baseball.
"They're wasting a lot of money on wars," said Jassel Curiel, a freshman swimmer. "Our soldiers are dying. Instead of wasting that money sending soldiers there to die, they could spend it here on sports."
"Why does the government want to cut these programs when they are wasting $21 million per mile to build a (US-Mexico border) wall. Why do they have to hurt the kids?" asked Leonardo Sanchez. He says his volleyball program is being eliminated.
Illinois is experiencing a $13 billion deficit and approaching meltdown. In his budget address to the state legislature March 9, Gov. Quinn proposed slashing education spending by $1.3 billion. To prevent the cuts he also called upon the state legislature to pass an increase in the personal income and corporate tax rate from 3% to 4%. The Governor dropped an earlier proposal to shield low income and poor taxpayers with an increase in the earned income tax credit.
The Responsible Budget Coalition, which represents many unions, community organizations, and service agencies across the state maintain the governor's proposal will not come close to filling the budget gap. In a statement, the Coalition said, "(We) believe the best and fairest way to adequately fund all our essential priorities–not just education but health care, human services, public safety and more–is through comprehensive tax reform like House Bill 174.
"(This) increase falls far short of the comprehensive tax reform that's needed. It is an invitation to put off real solutions yet again," the statement said.
Others believe HB 174 will not result in a true progressive income tax and in any case will leave the state far short of needed revenues.