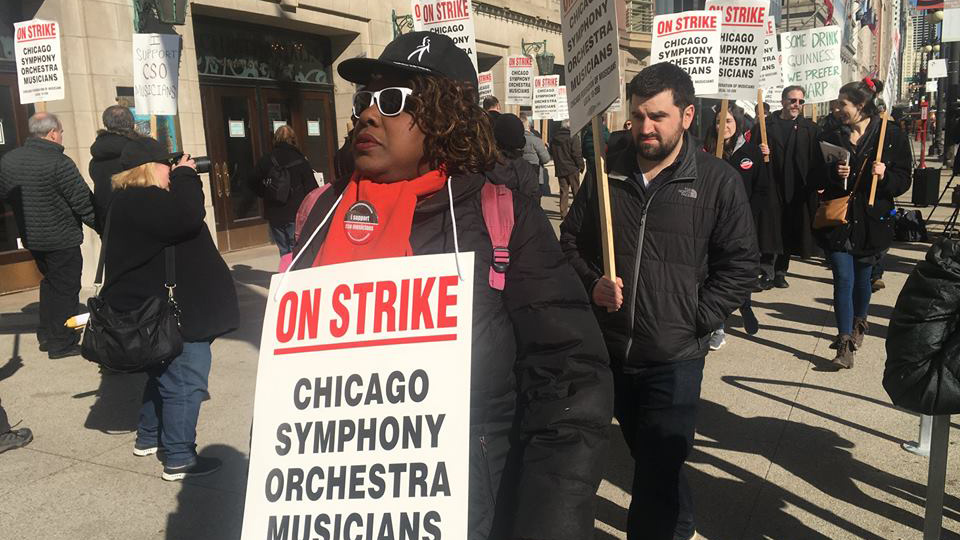 One of the most unusual and beautiful things that I have ever seen took place on March 23, 2019. I attended a free concert featuring the Chicago Symphony Orchestra (CSO). The members of the Orchestra are all members of the Musicians Union Local 10-208 who have been on strike for over two weeks.
The over 800 people who attended this concert gathered at the Chicago Teachers Union (CTU) building, donated by the members of AFT Local 1 CTU and supported by the Illinois Federation of Teachers (IFT.) The hall is named after Jacqueline B. Vaughan; the first African-American president of CTU. IFT President Dan Montgomery welcomed everyone to the Concert featuring selections by Mozart and Beethoven conducted by Jay Friedman.
The orchestra musicians' strike started on March 10, and the members are giving free concerts all over the city in addition to walking the picket line. Riccardo Muti, music director of the Chicago Symphony Orchestra, joined the picket line on March 12 and said, "I am with the musicians."
The settlement is being held up by the board of trustees led by Helen Zell whose husband Sam Zell is a major benefactor to the Chicago Symphony Orchestra.
Steve Lester, chair of the negotiating committee and chair of the members committee, also plays double bass in the Orchestra. Lester said that the sticking points are salary and proposed pension changes. "The trustees want to freeze the current pension plan and change it to a defined service plan where the members would be responsible for their own pensions." He goes on to say, "We are Chicago's orchestra, we have support from here in Chicago as well as around the world. We want to be compensated as a first-class orchestra."
Jessie Sharkey, president of the Chicago Teachers Union told me: "It fills me with great joy to hear such beautiful music in our Union hall. We stand in solidarity with the striking musicians Union."
Not only was the music outstanding but a new concept is being created. Instead of bringing the people to the music and charging high prices, the music is coming to the people for free.
Musicians should be compensated not by rich benefactors but by using tax money as well as donations.
The standing ovation for the Orchestra was directed to the musicians as well as the Musicians Union.