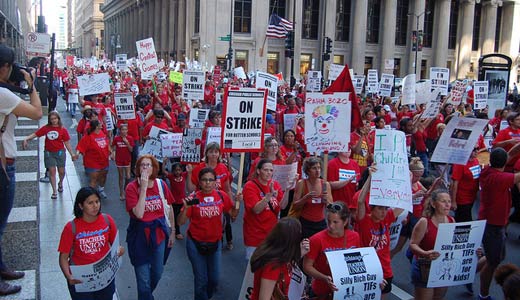 CHICAGO – "We didn't start this fight. The assault on public education started here and it needs to end here," declared Karen Lewis, president of the Chicago Teachers Union.
Lewis was speaking to a solid sea of red-shirted striking educators and their supporters Sept. 11, marking day two of a strike of nearly 30,000 teachers, nurses, librarians, counselors, social workers, aides and paraprofessionals. The teachers were rallying downtown at the Board of Education after picketing 144 facilities that have remained open during the strike.
Picket lines have been visible in every neighborhood of the city and even on highway overpasses. They have received broad public support.
According to late reports, the union and Board of Education appeared to be making progress toward a new contract. The most contentious issues center on teacher evaluations and rehiring laid-off teachers. Behind the disagreements lie vastly different views of public education by the union and Mayor Rahm Emanuel's administration.
The CTU says it is fighting for a collaborative voice in any education reform and seeks quality, fully funded public education, with smaller class sizes, fully staffed schools and a curriculum rich in art, music, physical education and language at every school.
Teachers see their fight as bettering not only their pay and benefits, but more importantly working and learning conditions benefiting the students.
The Emanuel administration is pushing a corporate-driven model of school privatization, which silences the voices of educators and community. It uses student standardized test scores as a significant factor to evaluate teachers.
The result will be to push out older more experienced and higher paid educators and hire young inexperienced educators many of whom will only stay on the job a couple of years. It will constantly churn low-wage workers in and out of the system and prep it for corporate takeover.
"People from the outside have decided they know what's best for our children," said Lewis. "They don't know our children or communities but they read spreadsheets and work in air conditioned buildings. They say our children don't deserve air conditioning, social workers and paraprofessionals."
"We have more in common with our children and parents than we do with these rich people," she said.
Lewis said class size does matter and fundamentally impacts working and learning conditions. The state legislature took away the right of Chicago teachers to negotiate on it.
"When they talk about laying off teachers what they are really saying is they will increase class sizes for our children," she said.
Solidarity for the striking teachers has been pouring in from around the country. Randi Weingarten, president of the American Federation of Teachers, brought greetings from the 1.5-million-member union, to which the CTU belongs.
"This is a struggle people all across the country are watching including New York City," Weingarten said. "During 9-11 public workers rushed into those burning buildings to rescue people. Every day in Chicago educators are rescuing children and should be treated as heroes."
"Chicago teachers are fighting for what public education should really be. Parents and kids are supporting you all across this country because they know you are supporting them," the AFT leader said.
"This is a fight for all God's children in our public schools to have a decent opportunity to learn," said Weingarten.
After the brief rally, strikers marched on the Chicago Mercantile Exchange, the largest futures market in the world, to illustrate the vast subsidies being handed to corporations and the wealthy at the expense of education and other public services.
For example, the Mercantile Exchange and Sears received state tax breaks of $371 million after they threatened to leave. In addition over $500 million in Tax Increment Financing (TIF) is being diverted each year from schools and parks to, as one protest banner said, "feed the 1%."
In one of the most outrageous examples, $5.2 million in TIF funds was given to the Hyatt Corporation to build a brand new hotel in the Hyde Park neighborhood. Meanwhile, $3.2 million was cut from the budgets for five schools in the neighborhood and 27 teachers were laid off.
The Pritzker family, one of the richest in the nation, owns Hyatt. Penny Pritzker sits on the Chicago Board of Education.
"We are fighting for better working conditions because better working conditions are better learning conditions," said a teacher. "We are trying to save public education."
Photo: John Bachtell/PW