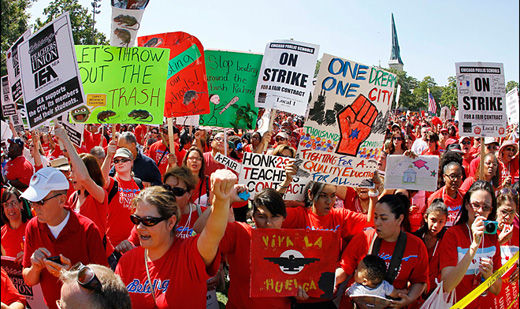 Hoping to send a clear message to the Chicago Board of Education, Chicago Mayor Rahm Emanuel, and Illinois Governor Bruce Rauner, the members of the Chicago Teachers Union (CTU) are set to walk off the job in a one-day strike this Friday. Nearly 80 percent of the union's governing body voted in favor of the job action to protest unfair contract negotiations and the continued starvation of public education. Pickets at local schools are planned to commence at 6:30 am and culminate in a massive afternoon rally downtown.
CTU's members have been working without a contract since June 2015, and months of negotiations have so far failed to produce a workable agreement. This latest escalation of the teachers' fight came in response to an announcement by Chicago Public Schools (CPS) that it would be laying off more teachers and instituting further cuts to deal with a projected budget deficit of $480 million.
Meanwhile, Republican Governor Rauner has refused to sign a state budget, resulting in a freeze of public monies. Funding for public education, home health care for seniors and the disabled, child care, and other public services have all been slashed throughout the state as a result of the budget stalemate in Springfield. State universities and community colleges have received no state funding for nine months, forcing the early closing of Chicago State University (CSU) and threatening other universities around the state.
"Public Education is facing a crisis of epic proportions", said CTU president, Karen Lewis, as she listed a whole series of actions planned to restore funding for public schools, public universities, and vital public services in Illinois. CTU said the April 1st strike is a "response to the funding crisis" and the Board of Education's refusal to bargain in good faith.
Chicago Mayor Rahm Emanuel has also been a central player in creating the crisis in public education. His hand-picked Board has closed over 50 schools, cut teachers' pay, and refused to go after the banks for hundreds of millions owed the city due to shady bond deals and "toxic swaps".
Emanuel's approval rating is at an all-time low, and he is under federal investigation for his role in withholding the video tape of the Chicago Police Department's 16-shot murder of Laquan McDonald. Although a Democrat, he has been accused of close association with GOP Governor Rauner who helped elect Emanuel in his first run for mayor.
The teachers of Chicago will not be alone on April 1st. In addition to their picket lines, a broad coalition will take part in other coordinated actions at many state universities. All will converge in a huge central rally at 4 pm. Over 30 organizations have pledged their support and will be joining with CTU members at the demonstration – including faculty and students from CSU, United Professionals of Illinois – AFT Local 4100, SEIU Healthcare Illinois, the NEIU Faculty Union, the Fight for $15 campaign, Black Youth Project 100, the Kenwood-Oakland Community Organization, and many more.
CTU has said that the April 1st Day of Action is just the beginning. Stay tuned.
Photo: 2015 teacher strike in Chicago.   |  Charles Rex Arbogast/AP