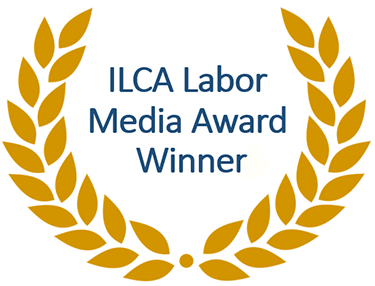 ILCA, First Place, Saul Miller Award for Political Action
CHICAGO – Nancy Hernandez stores sleeping bags in her second-grade classroom so her two children have somewhere to rest while she works hours past the 3 p.m. dismissal time. Hernandez says she often stays at school until 6 or 7 p.m. doing paperwork for the data-crazed school system.
"It's more like 'busy work,'" she said in front of Marsh Elementary School on the city's South Side. Hernandez is the Chicago Teachers Union delegate there and was busy welcoming her colleagues to the picket line on April 1 for the union's one-day strike.
The union called the strike to protest the dire lack of state funding for education and other public services. Illinois is entering its tenth month without a budget, which has forced layoffs and furloughs for both K-12 Chicago Public School employees and staff, administrators and faculty at many of the state's publicly funded universities in order to save money.
Illinois Governor Bruce Rauner has refused to sign a budget without legislators agreeing to his drastic "turnaround agenda" that rolls back worker rights and makes drastic budget cuts to public education, health, and human services. Various groups demand progressive tax reform that would make the wealthy pay their "fair share" to fund education and public services.
Teachers have been working without a contract since June, but the strike was called after CPS forced employees to take three unpaid furlough days.
"We're striking for funding and not striking for our contract," Hernandez said. "If they can't get a budget Rahm Emanuel is going to say we have no money. We can't do anything because Rauner has him in handcuffs. So we're looking at two evils right now: Rauner and Rahm. And luckily, for this one point only, Rahm and the teachers actually agree that Rauner needs to get a budget."
Rauner called the strike "shameful" and CPS CEO (or hatchetman as some call him) Forrest Claypool called the strike "illegal." Claypool announced that the district filed a complaint with the state labor board against the union seeking a "permanent injunction" that would ban the union from taking similar actions in the future and to recover costs associated with the strike.
"We think it's important that it be clearly established that whether children are in school and being educated is not subject to the whims of the Chicago Teachers Union leadership," Claypool said during a news conference April 1.
But teachers say the furlough days keep children out of school too, and students should not be subjected to the district's "whims." For example, Hernandez said, April 8 should have been a furlough day instead of March 27, which was an instructional day, because students will not be in school, but teachers will be for meetings and grading. "They just could have taken that day. In the past when we had to make up snow days that's how they would do it. They would take teacher institute dates first. And not this year. "Why not?" she asked. "They chose not to."
While the Chicago teachers action got the most attention as it affected some 340,000 students and 25,000 union CPS employees, the state's public universities face severe cuts and possible closures because of the budget dysfunction. In February, Chicago State University sent layoff notices to 900 of its employees and on March 29 announced it was preparing to collect keys from all its employees. CSU's president says that by the end of April, the nearly 150-year-old majority African American higher learning institution will not have enough money to keep the school open.
Universities have been using their endowments to keep running, and CSU, like the canary in the coal mine due to racism, is the first to run out of money. Costs that public universities – and private ones – have temporarily picked up are the state's Monetary Award Program, grants that help cover tuition costs at Illinois schools for 150,000 students statewide. Rauner vetoed a bill that would have funded MAP and community colleges and perhaps avoided the doomsday scenario of closings, cuts and mass layoffs that is currently playing out.
The theme of the day was unity and refusing to allow the governor to pit teachers against each other, communities or students against unions. The Chicago Teachers Union anchored the April 1 action, however other unions, student and community groups mobilized and held press conferences and teach-ins throughout the day, joining CTU at the citywide rally and march of thousands in downtown Chicago. Events were held at Chicago State, Northeastern Illinois University (NEIU) and University of Illinois-Chicago focusing on higher education.
Workers held a rally in front of Nabisco, which announced it would close, shedding 700 jobs. Activists gathered in front of Cook County Jail to demand "education not incarceration" and to protest the "school to prison pipeline." The Fight for $15 movement joined in and announced an April 14 fast food workers strike.
As the crowd of an estimated 2,000 at NEIU chanted "Recall Rauner," American Federation of Teachers President Randi Weingarten took the microphone telling the billionaire governor to do his job.
"Do your job Gov. Rauner! And your job is to not hurt schools and not disinvest. Your job is to help us help our children," she said, adding that included funding MAP Grants for the 150,000 college students who depend on them.
In rousing speeches, elected officials Illinois State Rep. Will Guzzardi and socialist Seattle City Council member Kshama Sawant both urged the crowd to stand strong. Guzzardi, a progressive, said the corporate rich are "wealthier than ever," yet they claim the state doesn't have "enough resources to go around."
"They are lying to us," he said. "We are not going to let them pit teachers of kindergartners versus teachers at universities. We're not going to let them pit electricians against janitors. We're not going to let them pit fast food workers against public workers. Working people are going to stand together and demand that the very wealthy pay their fair share just like the rest of us do."
To loud cheers, Guzzardi said, "We are going to fund our futures with those taxes those rich folks are finally going to pay. Let's send a message loud and clear: Working people stand together, an injury to one is an injury to all, solidarity forever."
Photo: Union delegate Nancy Hernandez, front and third from left, stands with her colleagues at Marsh Elementary School April 1 in the fight for fully funded and quality public education.  |  Teresa Albano/PW