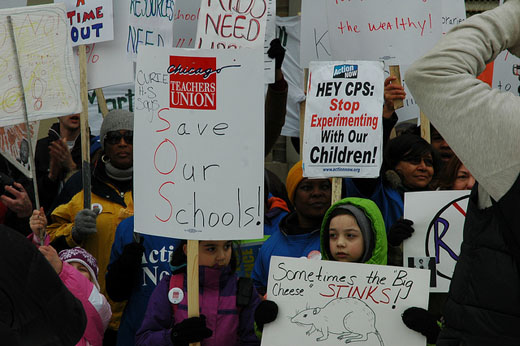 CHICAGO – Fed up with discrimination, the Chicago Teachers Union filed a complaint Feb. 9 with the Equal Employment Opportunity Commission charging the Board of Education's mass teacher layoffs last year unfairly impacted African American teachers.
The union's attorney, Robin Potter, told the media that the school board "is illegally terminating and laying off African American teachers who are highly qualified and excellent teachers… It is a systematic effort to rid the Chicago Public Schools of tenured teachers who are African American."
Black teachers make up 29 percent of all CPS teachers, but were 43 percent of all those laid off last year, the union says. White teachers are 47 percent of the total but were 36 percent of the layoffs.
"To make it right they have to stop these layoffs, they have to step back and they have to put these good teachers back in the schools," Potter said.
The EEOC complaint comes at a time when the CPS and Mayor Rahm Emanuel are pushing through education policies that education historian Diane Ravitch calls "corporate school reform." The city and board are enacting mass school closings and privatizing them by bringing in well-connected charter school operators.
Today, the Chicago Teachers Union was at Cook County Courthouse filing for an injunction to stop the board's Feb. 22 approval to close or "turn around" 17 additional neighborhood schools.
Corporate school reform has a distinctive racist edge, the CTU charges. The Chicago Public Schools board is violating Illinois law because the "proposed actions disproportionately target African American student populations," the union said in filing for the injunction.
Powerful corporate forces are circling around the nation's third largest school district to implement their version of reform.
For example, the University of Chicago's Consortium on Chicago School Research released today preliminary findings that purportedly show a slight uptick in reading and math, after four years, among elementary schools that followed some "turnaround" model. There were no improvements among any high schools, the report said.
But even the progress proclaimed is open for debate since it was minimal.
"The Board of Ed needs to be responsible to understand these programs are not working," said Julie Woestehoff, executive director of Parents United for Responsible Education, reported the Chicago Tribune. "In order to do something devastating to the community, the results need to be clear and compelling. And these results are not."
According to the Sun Times, "Consortium researchers rushed the analysis into print, releasing only an 'overview of findings' and not the final report, because they said they wanted to inform the current debate over Chicago's turnarounds."
CPS jumped on the findings to promote a controversial charter school company, Academy for Urban School Leadership, which was part of the consortium's study, and is slated to get the majority of "turnaround" contracts if approved Feb. 22.
"I would say the report shows there's promising and encouraging data about our turnaround models in particular and about AUSL as an example," said CPS Chief Education Officer Noemi Donoso. Donoso has her main experience in charter schools and "turnaround" models, according to CPS website.*
AUSL is a national charter school operator started by Chicago venture capitalist Martin Koldyke. The mayor, too, has a close relationship to AUSL including the fact that the principal of AUSL's Bethune School of Excellence was a co-chair of Emanuel's mayoral campaign.
Also in the corporate-political cabal is the Chicago Board of Trade, whose president, David Vitale, is the head of the Chicago Board of Education. Vitale had been on the board of directors of AUSL.
CPS CEO Jean-Claude Brizard, who came from Rochester, N.Y. school district, has extensive ties to the charter school/corporate reform world as well. Brizard is a graduate of Broad Superintendents Academy, funded by Los Angeles billionaire Eli Broad.The Broad foundation, along with Bill Gates and the Walton Family of Wal-Mart fame, make up the unholy trinity of mulit-billionaire philanthropists (some call vulture philanthropists) attempting to re-make public education in their corporate image.
In addition to the battle around school reform, teachers and the board entered contract talks last month. The union's contract expires June 30.

*In a previous version of this post, CPS leaders Donoso and Brizard were incorrectly identified as former employees of AUSL. We regret the error.

Photo: Teachers, parents and students demonstrate for good schools and against mass closings on Martin Luther King Jr. Holiday, Jan. 16, 2012. (Chicago Teachers Union)