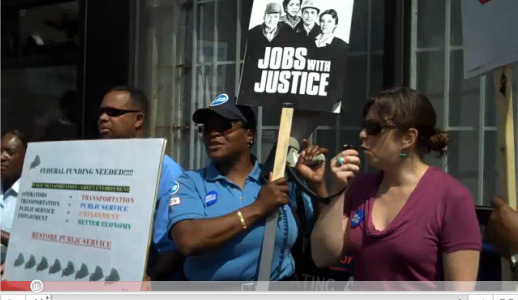 CHICAGO – Unemployed workers took to the streets here the day after Memorial Day to demand jobs and extension of unemployment benefits.
The newly formed Chicago Unemployed Workers Council organized its first action at an Illinois Department of Employment Services (IDES) office in the Pilsen neighborhood. The unemployed council was formed at the initiative of Chicago Jobs with Justice, with the participation of several community and labor groups and unemployed workers.
The group gathered petitions calling for jobs and unemployment extensions and talked to people entering the IDES office. Many people walking by the office stopped to talk and to sign petitions. Some were not aware, and shocked to find out, that Congress had recessed for the Memorial Day holiday without authorizing funding to extend unemployment benefits for the long-term unemployed.
The council plans to take action weekly at area IDES offices and other places where the jobless gather.
Video: PW/Scott Marshall