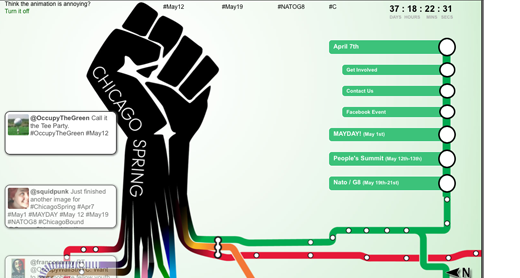 CHICAGO – Spring has come early here. Today, Leap Year Day, it's blue skies and 60 degrees. February. Chicago. 60 degrees.
There's another springtime swirling here: the rebirth of the Occupy movement. Organizers, "citizens of the Internet," global activists and undoubtedly the infamous Black Bloc are planning to make a journey to the city that g,ave birth to May Day and the fight for the 8-hour day beginning on International Workers Day, May 1.
Now, pledging non-violence, Occupy Chicago and Adbusters, the group that brought us Occupy Wall Street, have sent out calls far and wide via YouTube, Tumblr and Facebook for 50,000 to descend on Chicago in May. Why? That's when Chicago will be hosting meetings of G8 and NATO, two of the most powerful multilateral groups in the world, representatives of the global 1%. G8 represents the eight largest capitalist economies in the world and NATO is their military force.
Already there have been battles over the meetings. In January, activists forced Mayor Rahm Emanuel to back off his dubbed "sit down and shut up" ordinance that would have severely curtailed people's right to protest. Now local businesses and residents are concerned about the lack of information from the city about the security plan, such as whethe their businesses are going to be closed down because streets have been sealed off.
Ironically, one of the selling points Emanuel used for hosting the meets was the immediate economic benefits for Chicago businesses, plus the opportunity to "showcase" Chicago as a global city. Meanwhile the mayor has forced major cuts in education, transportation, libraries and other public services because of budget deficits. Media reports point out that despite the mayor's promise that the extra costs associated for the G8 and NATO meetings would be covered by the federal government and a public/private host committee, the city hasn't received any extra cash.
The Chicago Police Department is getting outfitted with new riot gear, including horses, in excess of their trimmed $2.7 million budget. It's expected that the city will be highly militarized during the May 19-21 meetings.
Chicago-based labor and community groups are strategizing on how to connect the meetings and protests to what's happening here in the public schools, in the city's neighborhoods and with its young people, with the economy, unemployment and budget cuts. For years, local labor and immigrant rights groups have celebrated May 1 with marches and actions (sometimes massive). Building on that, May 1this year is planned as the kickoff for the G8/NATO protests, teach ins and other actions. Labor unions, immigrant rights and community groups and Occupy Chicago are sponsoring a May Day March for the 99%.
StandUp!Chicago, a coalition of community and labor groups, is planning to tie the G8 meeting with the groups "community jobs plan," according to the coalition's communications director, Catherine Murrell.
As part of the jobs creation plan, Murrell said, StandUp!Chicago delivered a letter to the mayor proposing that for every dollar given to cover the costs of the meetings by the highly-profitable corporations that make up World Business Chicago, the G8/NATO host committee, an equal amount be given to a "community fund" that would be tasked to fund job creation and restore central services decimated in recent budget cuts.
Iraq Veterans Against the War has called on its members to protest the G8/NATO "policies of economic exploitation and militarism." A coalition of predominantly left groups, Cang8, is organizing a permitted march on May 19 and a People's Summit on May 12-13.
Adbusters called for 50,000 "redeemers, rebels and radicals" to "pack your tents, muster up your courage and prepare for a big bang in Chicago this Spring."
"With a bit of luck, we'll pull off the biggest multinational occupation of a summit meeting the world has ever seen," the call read.
Promising not to abide by any police repression reminiscent of the 1968 Democratic National Convention, the Occupy activists promised "to march and chant and sing and shout and exercise our right to tell our elected representatives what we want … the constitution will be our guide."
What they want, for starters, includes a Robin Hood Tax (on the rich), a binding climate change accord and an all-out initiative for a nuclear free Middle East.
"And if they don't listen … if they ignore us and put our demands on the back burner like they've done so many times before … then, with Gandhian ferocity, we'll flashmob the streets, shut down stock exchanges, campuses, corporate headquarters and cities across the globe … we'll make the price of doing business as usual too much to bear," they said.
Photo: chicagospring.org.