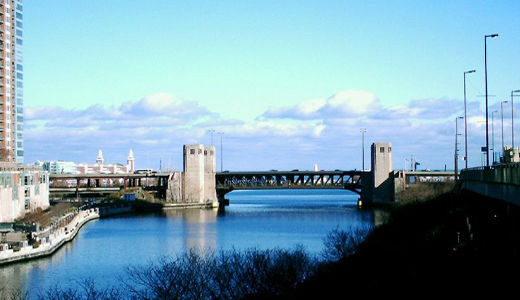 CHICAGO – Rumors that a plan to privatize this city's drinking water is in the pipeline have residents alarmed.
"Access to water is a human right," a woman who lives in the city's Little Village neighborhood told a gathering Monday evening. "It's a natural resource and water ownership plays out as a matter of life and death."
"I've seen what happens when private industry controls water," added former Peace Corps worker Jon Keesecker, an organizer with the Water Campaign of Food & Water Watch. "They can just turn off the tap."
The water issue takes on special urgency in this city on the shores of Lake Michigan. Chicagoans are still fuming over the secret privatization of the municipal parking meter system last year. They got soaked when overnight the cost of parking on public streets – often in front of ones workplace or residence – quadrupled, and the rate increases are not over yet.
Water defenders here hope that the experience of the parking meter debacle will help hold back the floodgates of privatization. Word has leaked out that Mayor Richard Daley has met with consultants to explore selling off more public assets to for-profit corporations. "Everything is always on the table," he told the Chicago Tribune last fall.
Over 100 city residents attended the city-wide meeting April 19 held in the basement of a community theater on the city's near north side. At the podium 32nd Ward Alderman Scott Waguespack was joined by representatives of several environmental organizations. The event was publicized on 20 different web pages and through activists' Facebook networks.
Privatization effects percolate down to consumers
Keesecker described the dangers of privatization:
1) rates can go up. Privately run systems in the state of Illinois average rates 36 percent higher than those publicly owned.
2) Services decline. Privately-run systems rack up more violations of water quality standards.
3) Local control and transparency suffer.
A city truck driver attending the gathering added his personal experience to the list. In a city reeling from unemployment, his job as a city truck driver was recently privatized. He described what happened next: "The rate paid to the drivers goes from $30/hour to $10. And the contractor keeps the difference. The new drivers with little experience are pushed to drive unsafe speeds and long hours. And they get no pensions, no benefits and no union," he said bitterly. "The private contractors are stealing our work and selling to their friends. The city residents pay a corruption tax."
Chicago model
Privatization is a global phenomenon, but "Chicago is ground zero for a particular model that involves leasing the infrastructure," explained Rachel Weber, professor of Urban Planning and Policy from the University of Illinois. In 2005 the Chicago Skyway became the first toll road in the nation to be privatized. It had been owned and operated by the city's Department of Streets and Sanitation since it was built in 1958. The Daley administration sold it in a 99-year concession to an Australian-Spanish consortium for a $1.83 billion.
Global funds thirsty for investment opportunities are driving pressure on privatization schemes. With turmoil in other markets, publicly-owned infrastructure becomes an attractive opportunity. Transparency and democratic control are urgently needed in this sector, said Weber. She pointed out that financial giants like Goldman Sachs and Morgan Stanley have unregulated conflicts of interest. After they act as financial advisers urging municipalities to sell their assets, they then collect enormous bonuses on the transactions.
Phineas Baxandall representing the Public Interest Research Group explained why privatization of water systems inevitably leads to higher consumer costs. Investors, he said, don't purchase assets with upfront money. Rather, they borrow the purchase money, and at higher rates than government agencies typically can get for financing infrastructure repairs. Then, in order to pay back the big loans, the investors raise rates and cut services along with wages and jobs. In the case of the toll road industry, analysts estimate that the tolls must be raised 30 percent to cover the financing costs.
Profiteering from a revenue stream
Baxandall compared the threatened water privatization to the sub-prime mortgage debacle. The dominant business model, he said, is, "You've got a revenue stream, a private investor buys it, then wants to cash out quickly. Then," he continued, "It's securitized and sold to a thousand investors" who own it but have no stake in running the system well. "Then who's looking out for the water users?" he asked. The Department of Water's revenue stream is the $420 million Chicago homeowners and businesses pay in fees.
Alderman Waguespack is seeking support for a modest measure he has introduced in the City Council to slow down the drive to privatization. The Assets Lease Ordinance would require public hearings and financial disclosure before future deals are signed.
Meeting attendees pledged to get the message out through their electronic networks and to approach their aldermen for support of Waguespack's ordinance.
The room that had filled up even before the scheduled meeting time of 7 p.m. quickly emptied out just before 9 p.m. For those of us who drove, the two-hour maximum time on the parking meter was about to expire.
Chicago River at Lake Michigan, photo by Jay Carriker
This file is licensed under the Creative Commons Attribution-Share Alike 2.5 Generic license.