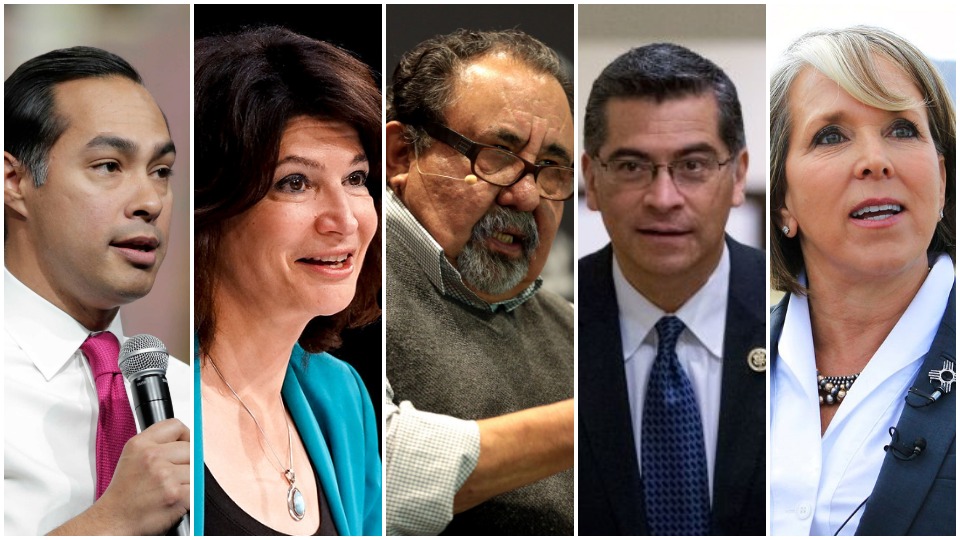 With the successful bid to gain the presidency behind him now, President-elect Joe Biden's new task is to plan for the future. While national attention continues to focus on the Trump administration's failure to address the COVID-19 pandemic, as well as his refusal to cooperate on the transition to the succeeding administration to the other, Democratic activists are also focusing on potential Cabinet appointments.
The Chicano and Latino Spanish-speaking community, and Chicano/Latino Democratic Party activists are particularly concerned about representation in the new administration.
Chicanos are U.S.-born Mexican-Americans. The broader term Latinos (otherwise seen as Latinx or Latino/as and more rarely nowadays as Hispanics) may trace their origins to any of the Spanish- (or Portuguese-) speaking countries of Central and South America. Even members of these communities differ as to this shifting nomenclature. Then there are also immigrants and native-born descendants of people from various Caribbean places such as Cuba and the Dominican Republic (both Spanish-speaking), Haiti (French-Creole), Guyana, Jamaica, Barbados (English), etc. Puerto Rico is a U.S. possession whose language is Spanish.
Generally speaking, Chicanos felt that issues related to them were avoided by both campaigns—not surprising from the Republicans. But Democratic Party Chicanos felt particularly slighted, knowing that today they are the nation's leading minority group.
Pre-election social problems remain in focus for the largest non-white population in the United States. Issues surrounding the concentration camp cages for babies and children separated from their parents were particularly salient for Chicanos who witnessed the horrific conditions the children were exposed to.
Nationally, Chicanos and Latinos, who are mostly working class, and many classified as "essential workers," were exposed, contaminated, and died in the highest numbers given their minority status as a result of the COVID-19 pandemic, while testing and treatment continued to lag behind throughout the nation. They have also experienced the nation's highest unemployment rates while also suffering from grinding poverty and hunger. In some industries, like meatpacking and agriculture, Latinos are represented far above their percentage in the general population. These groups stand to gain significantly from passage of the HEROES Act, funding stimulus checks, rent forgiveness, food programs, and continued unemployment relief.
It comes as no surprise, then, that Latino Democratic Party activists are turning to the critical issue for the Biden Cabinet to reflect them and their needs at the executive level.
Thus far, several prominent names have begun surfacing within the Chicano/Latino community as subjects of serious discussion. They include former Rep. Xavier Becerra from California, currently serving as the state Attorney General; Democratic National Campaign Director and former Housing and Urban Department Secretary Julián Castro; past National Education Association President Lily Eskelson García; former Secretary of Labor Tom Perez; Rep. Raúl Grijalva from Arizona; Gov. Michelle Lujan Grisham of New Mexico; and Rep. Ruben Gallego, also from Arizona. All have shared the national spotlight in recent years.
In California, Becerra, known to be more of a liberal, is considered to be a prime candidate for the U.S. Attorney General position, currently held by William Barr. He is considered a "sure thing" by many Democratic Party activists, having made it known that he is interested in returning to Washington now that he has sealed his credentials as a successful California AG. He served as a Congressional Representative for 24 years.
Julián Castro's history as a progressive Secretary of HUD has made him somewhat problematic as an appointee. During the Democratic primary race for the presidential nomination, he openly clashed with Biden on a variety of issues, although Sen. Kamala Harris did as well. From San Antonio, Texas, Castro championed the social and economic needs of the Chicano/Latino community, positioning himself in defiance of the moderate stands of the Democratic National Committee and the Democratic Congressional Campaign Committee. Some who might lobby against him could also point to Texas as having voted for Republican Donald Trump, with Chicanos, many employed in the fossil fuel industries, allegedly an important factor in Trump's victory there.
New Mexico Governor Michelle Lujan Grisham has had a significant profile in the Chicano/Latino world, having also served as a representative in Congress. She is known as a powerful advocate for early childhood education, and for research and treatment on the COVID-19 virus. She has a background in public health care. Her expertise and advocacy for health care and for senior care and rights while a member of New Mexico's Department of Health Care made her a favorite target of right-wing New Mexico Republicans, but also helped her to secure the support of Chicanos in New Mexicans when she ran for the Governor's office.
Past President of the largest teachers union in the country, the moderate National Education Association of Education, Lily Eskelsen García has also surfaced as a potential Cabinet appointee. She is rumored to be a close friend and ally of President-elect Biden's wife, educator Jill Biden, Ed.D., who is also a member of the NEA. Eskelsen García served in various elected capacities that led to her ascendency to the presidency of the union up to earlier this year. She was also named Teacher of the Year by the Association. In her capacity as NEA president, she nurtured a fruitful relationship with the Teamsters and other allied unions, and has a solid reputation as an advocate for hard-to-place and educate foster children. She has also published numerous articles on educational issues in a broad variety of magazines and journals. Informed Chicano/Latino party activists consider the Utah-based educator a likely candidate for Secretary of Education.
Rep. Raúl Grijalva, a staunch progressive, has been an advocate for his state's wildlife and natural parks. He was vital in turning Arizona's voters in Biden's favor. Critical to that effort was the support of Chicanos and especially Native Americans. This population consistently felt betrayed and threatened by the policies of the Trump administration, selling off cherished natural areas that were part of the Native American land space and rich in natural minerals, long objects of lust by powerful mining corporations. Chicanos have also been victimized by Republican law-and-order frontmen such Sheriff Joe Arpaio, who dehumanized incarcerated prisoners in tents and forced them to wear pink-colored prison garb. Secretary of the Interior, perhaps?
With a history in civil rights and advocacy for tighter control over police department relations with minority communities, and as director of the Democrats' 2020 national presidential campaign, Tom Perez is also considered a serious candidate for a Cabinet position, most likely as Secretary of Labor, the position he occupied under Pres. Obama from 2013-17. Perez's work directing the Democratic National Committee provided him a direct link to Vice President Biden's efforts to secure the party's presidential nomination. He earned much credit for helping to elect Biden.
U.S. Rep. Ruben Gallego from Arizona has received attention for his advocacy for bringing COVID-19 treatment to ameliorate his state's exploding rates of infection and death, especially for Native Americans and Native American veterans in particular. As Chair of the House Sub-Committee for Indigenous People, he was a principal supporter of H.R. 6237, a bill that requires the Veterans Administration to reimburse tribal health facilities for Native American health care. He was also a supporter of the successful Arizona Get Out The Vote that turned Arizona into a blue state by giving Democrat Joe Biden a victory.
There are other Chicano/Latino names being discussed by both elected party leaders and grassroots activists—including former Labor Secretary Hilda Solis, for example, who is now a powerful Los Angeles County Supervisor—but these individuals appear to have reached some prominence in the pantheon of potential Cabinet members. The Latinx community all across the nation will be eagerly awaiting to see themselves importantly represented amongst the highest levels of the incoming executive branch.
Update: Immediately following publication of this article, news broke that President-elect Biden had decided to nominate Alejandro Mayorkas to serve as Secretary of Homeland Security, where he would oversee U.S. immigration policy. If confirmed, he would be the first Latino to hold that position; he is of Cuban-American heritage. Mayorkas previously served as deputy secretary at Homeland Security from 2013-16.