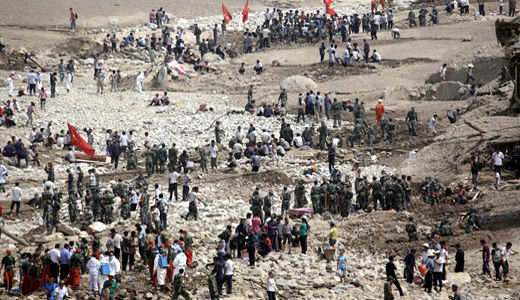 The toll of deaths in mudslides in Northwest China has reached 337 and keeps rising, as rescuers and diggers use their bare hands in a desperate search for more than 1,100 others that are still missing.
Three villages were overwhelmed by an avalanche of mud and rocks caused by heavy rain in different several of China. The latest deadly disaster has ocurred as China battles its worst flooding in a decade.
Rescuers noticed a sign of sign of life and pulled 52-year-old Liu Ma Shendeng from the rubble. He had been stuck for 60 hours. His nephew said Liu was disabled and bedridden, but somehow survived. Medics examined him briefly then took him away for immediate treatment. Elsewhere there were still families in despair.
The landslide tore through Zhouqu County in the middle of the night, leaving behind mud and rock several stories high. Some buildings, including the police department and part of a primary school, were crumbled to bits
The rescue operation has been very slow. Most of the town is covered in sludge. Heavy machinery sinks into the sludge as if it were quicksand, forcing rescuers to dig manually with picks, shovels and their bare hands. When rescue workers finally find a body, it takes hours to pull it out.
"It's very hard to locate the people washed away by floods. It's hard to say what their chances of survival are," He Youxin, an officer organizing rescue efforts in Zhouqu, told Xinhua news agency.
The situation became even worse by the blockage of the river upstream, which created a long lake that overflowed and sent massive waves of mud, rocks and water crashing down into Zhouqu. The government has been using explosives to break up the river debris, in an effort to release the water steadily and safely.
"A preliminary estimate is that 50,000 people have been affected by the disaster," State broadcaster CCTVsaid. "About half of the county seat was covered. 45 thousand people have been evacuated from the area."
Back on land, people who passed away are wrapped in blankets and carried out on stretchers or planks of wood. Bodies cover the streets which serve as a morgue where family members come to identify the dead.
For the survivors, the future is uncertain. "Now I have to rely on the government," says a man who lost his home and several family members. "I don't even have a pair of chopsticks to eat with."
Chinese rescue workers and residents dig in the mud for victims of mud slide that swept into the town of Zhouqu in Gannan prefecture of northwestern China's Gansu province, Aug. 10. (AP Photo/Ng Han Guan)