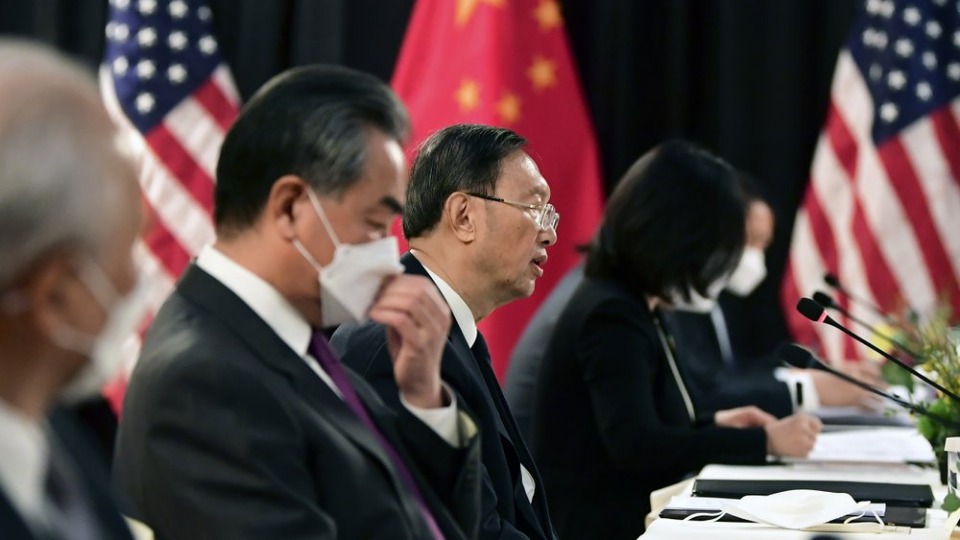 Top officials from China and the United States exchanged verbal blows at the Alaska Summit last week, after U.S. Secretary of State Antony Blinken and U.S. National Security Adviser Jake Sullivan opened the session by making false and unwarranted accusations about China's governance and international affairs.
In the summit's opening remarks, Blinken accused China of threatening a "rules-based order that maintains global stability" by their actions regarding Xinjiang, Hong Kong, and Taiwan; through alleged cyberattacks on the U.S.; and economic coercion in other nations. In an attempt to put additional pressure on the Chinese officials, he pointed out that U.S.-allied countries, as well as important neighbors and trading partners of China—South Korea and Japan—were also concerned.
Chinese Foreign Minister Wang Yi and Chinese Director of the General Commission for Foreign Affairs Yang Jiechi responded in an uncustomary way by pointing the finger back at the U.S., saying the country should address its own human rights record and stop interfering in China's internal affairs. The Chinese delegates assertively clarified that the U.S. does not represent international public opinion and that China would not be shaken by unwelcoming and threatening behavior.
The U.S. maintains a military presence in the South China Sea and Taiwan Strait, and just days before the summit put sanctions on Chinese ministers. While the mainstream media describes these actions as essential for countering human rights violations and cyberattacks, the reality is that China has improved living conditions for its population and sustains a non-interference policy with other nations. The U.S. government's demands are in no way an effort to "maintain global stability," but rather to maintain global hegemony.
While the Trump administration was instrumental in hardening the U.S. approach towards relations with China, the new Biden administration appears to be relying on an illusion of U.S. moral superiority in its early dealings with China. Sullivan lectured the Chinese officials on the "secret sauce of America," that is, the ability to confront challenges and come out more united as a country.
In turn, Minister Yang countered that the U.S. does not have the qualifications to speak to China in such a condescending manner, especially given that the U.S. is a country with ongoing human rights concerns of its own and regularly interferes politically in nations around the world.
It is uncommon for Chinese officials to publicly criticize other countries, and it is perhaps unlikely this would have resulted under different conditions. Firstly, how the U.S. officials engaged when the Chinese ministers were guests in their country was likely seen as deeply insulting and provocative, an abrupt break from shared protocols. Secondly, China is making massive strides in building fruitful ties with nations worldwide and continues to develop its own country peacefully. It is in a stronger position than it has been in the past and has more confidence to defend its own interests.
For instance, at the Boxer Protocol in 1901, an unequal treaty was signed when eight Western powers invaded China. The treaty allowed Western troops to be stationed in China and forced Beijing to pay the equivalent of $10 billion in today's value of silver. But times have changed, and power has shifted in the last 120 years.
Yang was able to point out the hypocrisy of the U.S. at the Alaska summit, citing examples such as the repression of the Black Lives Matter movement, the Capitol riot and attempted Trump coup, and endless U.S.-led wars. The United States is no longer in a position to lecture and dictate discussions on matters of domestic concern.
A hopeful outcome of the summit was the long discussions held in private following the opening remarks. Martin Sieff, Senior Fellow at American University in Moscow, remarked that when private meetings tend to last for longer than expected, it often means that both sides seek to understand each other and make progress. This means that rules could be established and some level of diplomacy and cooperation on shared issues such as the pandemic, climate change, and economic stability could be managed.
However, Sieff also remarked that there are concerns about whether the U.S. government will be able to change its outdated perspectives. "They are not looking at China as it is; they are looking in terms of their own past assumptions, which were not even true ten, twenty, or thirty years ago."