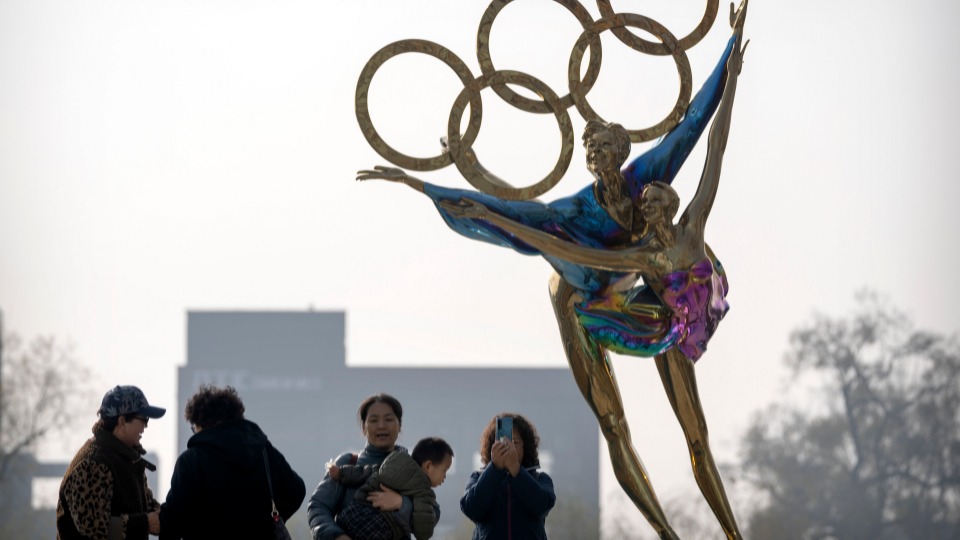 China is hitting back at the U.S. government's decision to stage a diplomatic boycott of the Beijing Winter Olympics, saying Washington was acting "out of ideological prejudice and based on lies and rumors."
The Biden administration said on Monday that its diplomats would stay away from the February games in protest at what it said were human rights abuses in China's Xinjiang region. The boycott does not extend to U.S. athletes, and Washington said it would be supporting them as normal.
But it flies in the face of an overwhelming U.N. General Assembly vote for an "Olympic truce," and Chinese Foreign Ministry spokesman Zhao Lijian said it "seriously violates the principle of political neutrality of sports established by the Olympic Charter and runs counter to the Olympic motto 'more united'."
"The U.S. will pay a price. Stay tuned," Zhao told reporters.
China's Washington embassy said the boycott had been announced "for [U.S. politicians'] own political interests and posturing," adding: "In fact, no one would care about whether these people come or not," while its U.N. mission said it was a "political farce."
Washington's decision comes in the week the administration plans to host a "Summit for Democracy" that China views as a thinly-veiled exercise in anti-communist propaganda.
There was little sign initially that very many other countries would follow the U.S.'s lead, with only allies U.K. and Australia joining in. Speaking from Ottawa, the U.S.' new ambassador to Canada, David Cohen, informed that country's leadership that Washington expected them to be "aligned" with U.S. policy. Japan's Chief Cabinet Secretary Hirokazu Matsuno, however, said he wasn't sure what a "diplomatic boycott" of the sporting event would even mean.
"In any case, Japan hopes the Beijing Winter Games will be held as a celebration of peace in line with the principles of the Olympic and Paralympic Games," he said.
The Biden administration has accused China of "genocide" in Xinjiang directed against the autonomous region's Uyghur Muslims. China retorts that the Uyghur Muslim population of the region has grown significantly over the last decade, points out that Xinjiang's Governor Shohrat Zakir is himself a Uyghur, and says U.S. claims of mass internment are bogus.
It says it has established re-education camps for jihadists from terrorist organizations such as the East Turkestan Islamic Movement, who seek a separate state in Xinjiang run along theocratic lines.
The last time the U.S. undertook a boycott of an Olympics was in 1980, when it refused to send athletes to compete in the Moscow games hosted by the Soviet Union. The excuse used by the U.S. was the dispatch of military assistance by the USSR to Afghanistan, which Washington called an "invasion."
This article features material from Morning Star and other sources.