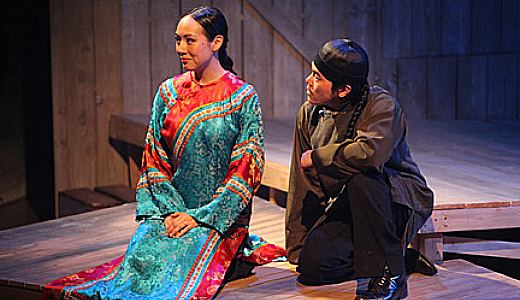 Theater Review
If Karl Marx wrote, "The history of all hitherto existing societies is the history of class struggle," one can add that American history is also the history of ethnic struggle. In The Chinese Massacre (Annotated), playwright Tom Jacobson takes a Howard Zinn-like "people's history" look at Los Angeles, revealing a little-known, yet significant, episode. In 1871, long before the 20th century's Zoot Suit, Watts and L.A. riots, there was a pogrom against L. A.'s then-200 inhabitants of Chinese ancestry.
There are few more important, serious subjects than ethnic cleansing and genocide. Jacobson and Circle X Theatre Co. are to be commended for rescuing this butchery and burning 140 years ago from our collective amnesia. The killing of 18 Chinese men – almost 10 percent of Chinatown's population – surpassed the number of victims of the Manson tribe, yet is as forgotten as Squeaky and Charlie remain remembered.
Massacre weaves a multicultural fabric of a far smaller, yet still ethnically complex, city of not such Angels, with competing groups of American, German and French-born whites, Jews, Hispanics, newly freed blacks, and Chinese. The solidarity that historical figure Biddy Mason, former slave turned community leader, extends to the beleaguered Chinese in their moment of need is moving, especially in light of today's antagonisms between Korean immigrants and African Americans here.
Jacobson also takes some pointed jabs at racial and religious stereotypes, delighting in lampooning the hypocrisies of Christianity. And there's a startling bit of Jew-against-Jew content that forms a piece of the ethnic background of L.A. Who knew of the Paris Commune's impact on L.A.'s fledgling population?
East West Players' literary manager Jeff Liu directs the sprawling drama and large ensemble, with most of the actors performing multiple roles. Along with the cast, the technical and scenic designers convincingly evoke what may have been L.A.'s first race riot. The play features one rather stunning special effect that I can only describe as Harry Houdini meets Ku Klux Klan.
Massacre makes reference to subsequent racial clashes between Angelinos, up to the early 1990s. In view of the troubled history of Chinese immigrants 140 years ago, it's astounding to consider the impact of today's large Asian-American and Asian population in Los Angeles County. Parts of communities such as Monterey Park or Koreatown seem more as if one is in Asia than America. Melding and conflict between people of Asian ancestry and those of other ethnic backgrounds continue today: An infamous recent incident involved a UCLA white female student's YouTube rant about Asian pupils in the library. Racism, alas, remains with us, and Massacre provides some needed historical context.
Playwright Tom Jacobson unfortunately undercuts not only the seriousness of his content but its power and cohesive flow with a self-reflective, self-indulgent form that repeatedly disrupts and distracts from what otherwise would be compelling storytelling. So-called "Annotators" frequently interrupt the drama, interjecting relevant commentary, in the mode of Bertolt Brecht's "Epic Theatre," we are told, so as to "alienate" viewers from sentimental emotionalism. The Annotators reveal, for example, that the fact-based play is fictionalized, the dialogue derived from sources outside the domain of the action.
But for me, Jacobson's technique not only militates against an intellectual grasp of these atrocities, but weakens any cathartic outrage and passion to these crimes against humanity. The L. A. Times reviewer called Jacobson's formal exercise "pretentious," which may aptly define that full "annotated" title.
In spite of Massacre's self-referential methodology, viewers who enjoy dramatizations of history, and their drama brewed strong, will likely welcome this dip into the annals of our not so La-La-Land. In the immortal words of that great philosopher King (Rodney, not Martin Luther): "People, can we just get along?"
The Circle X Theatre Co. production of The Chinese Massacre (Annotated) runs through May 28 at Atwater Village Theatre, 3269 Casitas Ave., Atwater Village (Los Angeles), on Thursdays, Fridays, and Saturdays at 8 pm; and Sundays at 2 pm and 7 pm. Reservations: (323) 644-1929; www.circlextheatre.org.
Photo: Elizabeth Ho and West Liang onstage in Chinese Massacre. Courtesy Shane William Zwiener.