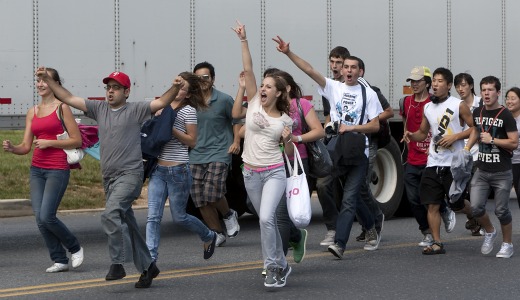 Hundreds of student guest workers from countries worldwide walked out of a Hershey's chocolate company packing plant in Palmyra, Pa., August 17, demanding the company stop exploiting them.
The students say the summer program they're participating in was supposed to be a cultural exchange. But the program ended up with them being overworked and underpaid, they charged.
Four hundred university students from China, Turkey, Ukraine, Moldova, Mongolia, Romania, Ghana, Nigeria and Thailand were recruited from their home countries to participate in the U.S. State Department's J-1 visa program.
The students hoped to enhance their English skills, make American friends, work for three months, make some money and learn about American culture.
They found themselves packing chocolates and loading boxes at wages from $7.85 to $8.35 per hour. After automatic weekly deductions for rent and other expenses, most were only netting between $40 and $140 per week after 40 hours of work. They have also been forced to live in company housing, for which they are being charged twice the market rates paid by American tenants living in the same housing complexes. They say the situation leaves them with little to no chance to even earn back the thousands of dollars they paid to be here.
So they decided to demand justice and staged a walkout with broad support from unemployed workers in the Palmyra area along with local labor leaders. A large rally was held Wednesday after the students walked off the job.
Statements from many of the speakers at that rally were reported on the website of the National Guestworker Alliance, the labor group representing the students.
Godwin Efobi, a Nigerian student leader, said the students got organized and gathered hundreds of signatures in support of their demands in spite of threats of deportation by their supervisors.
"We were tired of being exploitable labor for the Hershey's Company," said Efobi. "Every one of us paid $3,000 – $6,000 to come to America for what was supposed to be a cultural exchange. Instead we became captive workers at the Hershey's plant."
Harika Duygu Ozer, a medical student from Turkey, said it's not right that unemployed people in Pennsylvania are desperate for jobs. "Why did [Hershey's] bring us here? Because they want to make profits from us instead of giving good jobs to local workers," she said.
The students tell their heroic story in a powerful video on the Guestworker Alliance website.
They say they will remain on strike until Hershey's agrees to meet their key demands: end the exploitation of student guest workers at the plant and give living wage local jobs to Pennsylvania's workers.
After staging a civil disobedience action in front of the plant's main entrance, several local labor leaders supporting the students at the protest were arrested.
Moments before, they each addressed the crowd.
"The workers of Pennsylvania are with you," said Rick Bloomingdale, AFL-CIO Pennsylvania state president. "The fight for good jobs isn't just your fight, it's our fight."
Neal Bisno, president of Pennsylvania's SEIU health care branch, added, "We'll stand with you and demand that Hershey's be held accountable."
Kathy Jellison, SEIU Local 668 president, also expressed support for the students. "It takes courage, what you did today," she said. "You stood up for working families of Pennsylvania, and we're proud to join you."
Saket Soni, executive director of the National Guestworker Alliance, noted "If these jobs had been living wage jobs under a union contract, 400 workers in central Pennsylvania could have made at least $18 an hour." He added, "That's $15 million over the past year that did not come to Pennsylvania's working families because Hershey's subcontracted to have its chocolates packed by exploitable student guest workers instead."
Members of Chocolate Workers Local 464, SEIU, AFL-CIO, and Jobs with Justice also joined the protest.
The students are demanding that Hershey's return the $3,000 – $6,000 that they paid for the supposed cultural exchange. They, along with the National Guestworker Alliance, also filed an official complaint with the U.S. State Department alleging serious violations of the rules in the J-1 visa program. The program was created to give university students from distant countries a chance to be immersed in everyday American life. However in recent years, the program has drawn complaints from students about low wages and unexpectedly poor working conditions.
The State Department announced it is looking into the Hershey's complaints.
According to the students and their supporters much of the blame falls on the organization that manages the J-1 visa program for the State Department – the Council for Education Travel, U.S.A., based in California.
Rick Anaya, chief executive of the council, told the New York Times his group has brought about 6,000 J-1 students to the U.S. this summer. He claims he's tried working with the students on their complaints at the Hershey's plant.
"We are trying to work with these kids," said Anaya. "We would go out of our way to help them, but it seems like someone is stirring them up out there."
Meanwhile an independent commission of experts in labor and international law from several universities is conducting its own investigation into the labor practices of Hershey's and its subcontractors at the Palmyra packing plant. The group expects to release its findings next week.
Photo: Hundreds of foreign student guest workers leave work to join a protest outside the Hershey's Co. warehouse, August 17, in Palmyra, Pa. (AP/The Patriot-News, John C. Whitehead)