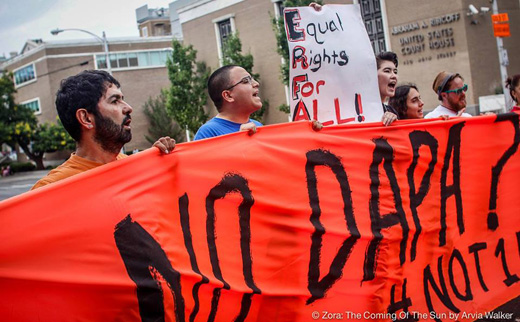 HARTFORD, Conn. — Chanting "undocumented, unafraid," and carrying a banner with the message "No DAPA – No Deportations," immigrant rights activists blocked traffic on Main Street in front of the Hartford immigration office Monday in a civil disobedience action demanding a moratorium on deportations.
A similar action blocking the entrance to ICE headquarters in Atlanta was held earlier in the day by immigrant rights activists from the Georgia #Not1More Coalition. Civil disobedience actions are expected to spread to more cities around the country.
The protests follow the Supreme Court's split decision last week  in U.S. v. Texas, effectively allowing 26 Republican governors to block implementation of President Obama's executive order deferring deportation of the parents of immigrant children (DAPA) and an expansion of Deferred Action for Childhood Arrivals (DACA).
The decision leaves five million in limbo and increases the daily fear within immigrant communities that their families will be separated and torn apart by deportations.
Nearly 200 undocumented immigrants and community leaders from across Connecticut marched with the Connecticut Immigrant Rights Alliance (CIRA) in downtown Hartford.  When they reached the Federal Building, nine of the participants courageously sat in the street in civil disobedience with their banner stretching across Main Street.  After issuing a warning, police began arrests as the rally continued on the sidewalk.
"We spent years struggling with fear and disrespect until acquiring citizenship," said Gabby Rodriguez, a Bridgeport resident and daughter of Costa Rican immigrants.  "I am risking arrest today because I am willing to do anything to ensure that others do not have to face the indignity and insecurity that my parents faced," she said.
Lucas Codognolla said he was blocking the street "for the tens of thousands of people here in Connecticut whose freedom has been blocked by the Supreme Court split decision.  I take action against the criminalization of immigrant communities of color, against this police state that terrorizes our communities, breaks up families, and deports people to their death.  I demand an end to deportations now!"
A record number of 2.5 million people have been deported during the years of the Obama administration, often forced to return to dangerous conditions.
Earlier this year, word of a new wave of deportations targeting Central American families created fear so deep in Connecticut that children were afraid to go to school.  In response, community leaders incorporated street theater and role playing into their protest actions.
"If ICE is going to be out in the streets then we will be on the streets too," said John Jairo Lugo, who helped found Unidad Latina en Acción (ULA) in New Haven after surviving immigration prison and many years as an undocumented immigrant before becoming a citizen. "Our organizing has won municipal IDs, in-state tuition, and driver's licenses, and we won't stop until all our immigrant sisters and brothers are freed from prison and freed from deportation."
ULA is a part of the Connecticut Immigrant Rights Alliance (CIRA), which held a special meeting to organize the rally and civil disobedience after the Supreme Court split decision was announced.
They also joined with groups across the country to launch a  national petition  calling on President Obama  to declare an immediate moratorium on deportations.
National immigrant rights organizations have vowed to bring out the biggest Latino vote ever in the 2016 elections, noting the extremist anti-immigrant positions of Donald Trump and the need to organize until comprehensive immigration reform is acted on by Congress.
United We Dream (UWD), representing immigrant children and youth, called  on President Obama to end deportations and launched a national voter pledge campaign #HereToStay to "stop the hate and defend the immigrant community."
"We will remember this day and these conservative politicians when we turn out our allies to take to the polls in November. Enough is enough!" says UWD.  "We are here to keep our communities safe, unified, and protect their full dignity. We can't stop and won't stop because we're home and here to stay!"
Photo: Unidad Latina en Acción